10 Minute DIY Simply Citrus Aromatherapy Playdough
This post may contain affiliate links, which means I may receive compensation if you make a purchase using one of these links.
Making your own playdough is a fun and frugal activity! Not only does it save money, but it also ditches the synthetic dyes and scents and embraces the ability to customize color and aroma. It's also probably easier to make than you thought! You can make Simply Citrus 10 Minute DIY Aromatherapy Playdough in a snap!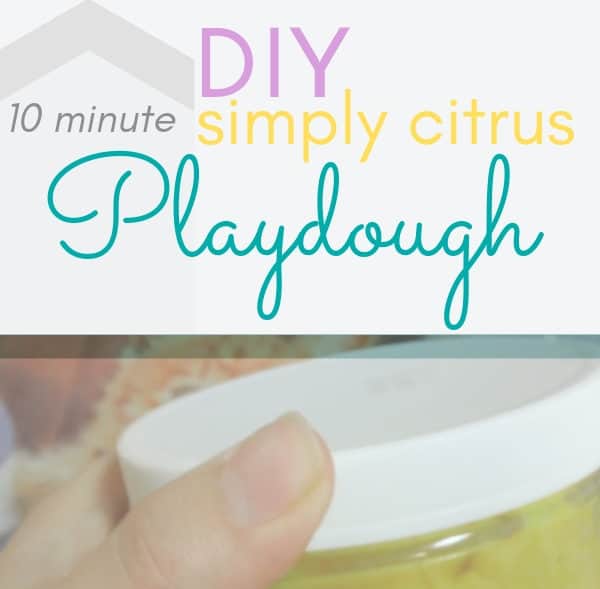 Step 1: All Natural Color
It's totally possible to create vibrant color without chemical dyes. Start by heating up 1 cup of water and mixing in 3/4 teaspoon of a rusty colored spice (I used Tumeric to get yellow).
Stir until the spice dissolves (for the most part). For other colors you can experiment with a variety of fruits and veggies or if you're not up for making your own, try a nature-derived food coloring like this.
Step 2: Mix the Dough
In a medium kettle, mix the dough ingredients.
1 Cup All-Purpose Flour
1/2 Cup Sea Salt
2 Teaspoons Cream of Tarter
1 Tablespoon Olive or Vegetable Oil
Gently stir the ingredients together. Add the colored water mixture or natural food coloring. Stir everything together.

Step 3: Cook it Up
Turn your stove on to Low/Medium, and stir your playdough mixture while it cooks for 3-5 minutes. It will thicken quickly, so watch carefully. Gently work the dough together. You want it to stick, but not to burn.
Step 4: Knead & Add Your Scent
Scoop the playdough from your kettle and place on a flat surface. Knead the dough to become smooth and pliable. This is a great time to add some soothing essential oils to your dough.
For the citrus scent, add a few drops of your favorite pure citrus essential oil. I used Citrus Fresh Vitality here.
Please note: while this playdough recipe is in essence "edible", always supervise young children when they play with it and store out of their reach. Please choose your essential oil carefully, such as Young Living's Vitality line, which are Non-GMO Project verified and safe for culinary use.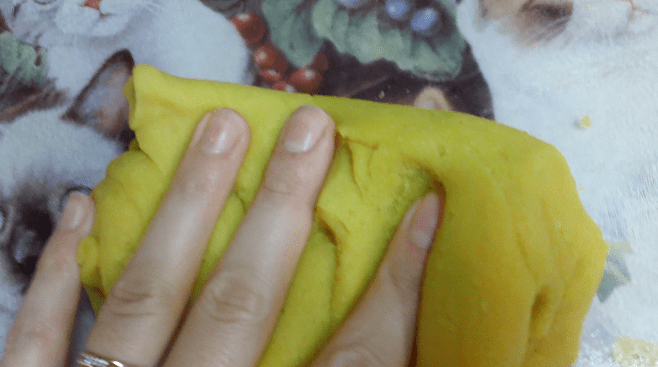 Step 5: Store & Play!
And that's how simple it is to make your own aromatherapy playdough! DIY activities like this are a fabulous way to gently and safely children to the wonderful aromatic benefits of essential oils without
You'll want to store your playdough in an airtight container. I love reusing glass jars like those from ghee or jam preserves. This playdough will last for several months if stored properly, but it will dry out if left out.
Try More Simple Kid's Activities:
DIY Back to Nature Bubble Wands
DIY Sensory Cloud Dough || Aromatherapy for Kids