Decluttering Through the Seasons || A Year of Organizational Maintenance
This post may contain affiliate links, which means I may receive compensation if you make a purchase using one of these links.
Did you know there's a simple structure for maintaining home organization each year by focused decluttering based on each season?
If you find yourself desperately decluttering on January 1st every year, and fizzling out by the 15th, it's probably because you're trying to do too much too fast without a guide to walk you through the process strategically.
Following a seasonal framework creates a simple path over the course of a year to declutter, organize and maintain your home with ease. Grab your downloadable worksheets at the bottom of this page!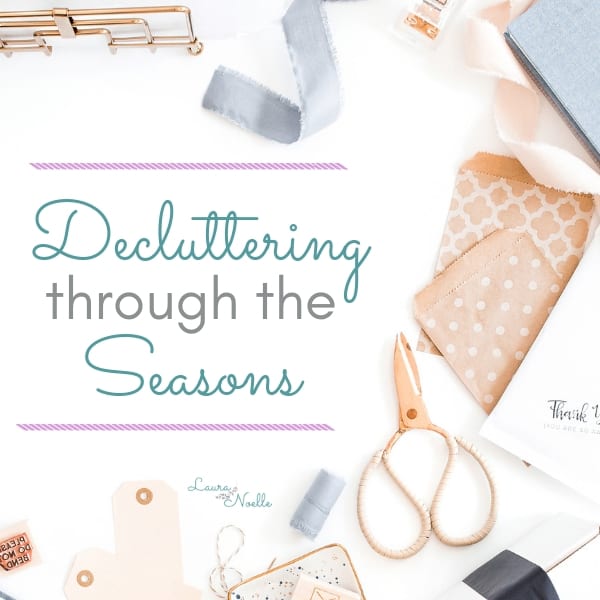 Winter Decluttering – The Season of Clearing Out
December, January, and February are months typically full of busyness, holidays and, let's face it–lots of clutter. Our home, time and schedules are jammed with long to-do lists, and the overwhelm is real. This is why we start our yearly decluttering in December, instead of in January. You want to gear up for the new year with some specific tasks.
December – Prepare to Jumpstart
Declutter to prepare for Christmas gifts with the one-in-one-out rule (you can use approximate numbers or a general clear out).
As you decorate your home, discard any broken or unwanted holiday decorations.
January – Dive In
Evaluate holiday gifts and set aside any that won't benefit your life: return/exchange, donate or store to regift.
As you take down holiday decor, decide if you love, value and want to keep each item for future years. If some decor didn't even make it out of the boxes, consider if that has a place in your future, or if it should be discarded or donated.
Focus on decluttering living spaces to ensure a cozy, comfy winter vibe. Minimize the living room, family room, and bedrooms.
February – Tie Up Loose Ends
Declutter kitchen and dining areas.
Declutter and curate your bookshelves.
Go through your jewelry box and sort: what you wear, what are keepsakes, and what can be passed on.
Spring Decluttering – The Season of Making Space for New Life
March, April, and May are the start of new blooms and sunnier days. Take advantage of the natural shifting of the seasons to motivate and inspire areas of the home that we often overlook (or put off): paperwork, entryways and outdoors.
March – New Starts
During tax filing season is a great time to organize and declutter paperwork, receipts, business records, and the home office.
If you run a business, look through your supplies, books, courses, and materials for any that can be moved on.
April – Prepare the Way for Outdoor Days
Pay attention to the doorways of your home: declutter and clean the entryway, mudroom, front room, porch or sunroom.
During the winter to warmer day transition, go through your clothing and closets, letting go of anything unworn, unloved or poor condition and storing out of season clothing.
May – Get Outside
Freshen up the yard, including plants, outdoor toys, decor, sports, and entertaining. Declutter anything that's broken or beyond repair. Wash, wipe, and clean surfaces. Clear cobwebs. If you're feeling handy, add a coat of paint to any chipped wood.
Rethink how you store and organize outdoor toys and equipment. Open the shed or storage containers. Clean out unneeded items.
Summer Decluttering – The Season of Intentional Time
June, July, and August bring on summer days, kids home from school, vacations, and intentional family time. Later nights outside and BBQs and entertaining mean guests are probably a part of the picture. Take advantage of focused time with your kids, especially school-age children to work on the toys, bedrooms and school supplies.
June – Ready to Entertain
Declutter and organize the bathrooms. Make sure counters are as clear as possible to ensure it's easy to wipe down and clean for guests without hassle.
Check and clean the ceilings, fans, and windows for cobwebs and dust.
July – Call in the Kids
August – Back to School
Prepare for back to school by going through kids' clothes, school supplies, backpacks, lunch boxes, etc. What is outgrown or in poor condition? What needs to be replaced? What can they do without?
If you have hobby areas (crafting, tools, supplies) sort through and make sure to only keep and store things that you are planning to use in the near future. If you're keeping stuff for "someday", you'll want to read this.
Fall Decluttering – The Season of Transitional Schedules
September, October, and November can be a tough transition for families. Children go back to school, fall activities start, the weather shifts dramatically and the days get dark quickly, often leading to emotional challenges. It's a season of cozying up in your house and preparing for the holidays.
September – Warm Days and Chilly Nights
As the weather shifts, go through your clothing and closets. Anything unworn, unloved or in poor condition should be let go. Store out of season clothing.
Evaluate the laundry room, minimizing your products, cleaning out trash and organizing for ease of use and visual appeal.
October – Digging Deep Into Storage
It's time to go deep… into all the storage areas: closets, attic, basement, or garage. Start small in bite-size chunks, and work regularly toward letting go of unneeded things and properly storing and labeling the things you want to take into your future.
November – Prepping for the Holidays
If you have guest rooms, give them a good clean out and freshen them for holiday guests.
Go through your gift collections, holiday supplies, and gift wrap. Let go of things you know you won't use and organize neatly what you will.
Final Thoughts on Decluttering Through the Seasons
Using a strategic plan, such as decluttering and maintaining home organization month by month based on seasonal influence allows the process to occur naturally over time, without a lot of extra stress.
Looking for a step by step guide to declutter your entire house? Here's the complete guide.
Have you ever decluttered based on the season? How would this change your home organization schedule?
Grab Your Free Printable Seasonal Worksheets
Get free access to 4 seasonal worksheets in my free simple living resource library by filling out this form.
Subscribe (it's free!) to my newsletter with updates & tips and get instant access to the resource library with all my printables and challenges! Once subscribed, I'll send you a weekly newsletter with more tips to help you declutter your home and slow down family life in a heart-centered way!
Related Articles
WANT TO SAVE DECLUTTERING THROUGH THE SEASONS || A YEAR OF ORGANIZATIONAL MAINTENANCE FOR LATER? PIN TO YOUR FAVORITE PINTEREST BOARD HERE:
Decluttering Through the Seasons || A Year of Organizational Maintenance