What a Minimalist Kitchen Really Looks Like
This post may contain affiliate links, which means I may receive compensation if you make a purchase using one of these links.
What does a minimalist kitchen really look like? You might imagine it only has the bare essentials, but think again! You can have a functional, beautiful kitchen and still only store the items you use, need, and love. This means fewer dishes to wash, less deep cleaning and less stress!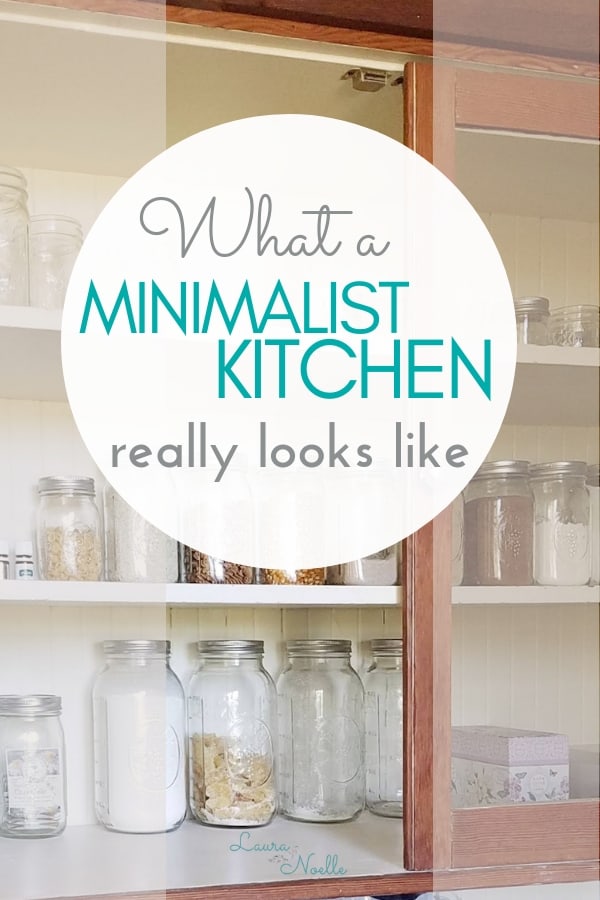 The Journey to a Minimalist Kitchen
Becoming a minimalist family changed everything in our home. Without excess filling every room of our house, there is space to breathe, play and create. The whole family is grateful for that!
It's important to remember that minimalism isn't about having no stuff. Instead, it's about having only the items that improve our lives and less of the excess that causes stress.
Please remember that minimalism looks different for everyone because it's about keeping and highlighting the things that are important to you.
I'm not a chef or a cook, so I've chosen to keep my simple kitchen down to the essentials for cooking and baking family meals. I made the choice to not keep unused fancy tools around.
If you choose to keep some fancier tools, that's totally okay! You may want to check out 5 simple ways to minimize your kitchen here.
My simple living, minimalist kitchen has been an evolution over the past three years with intentional decluttering and purging sessions. It began with "wave one" in our previous home, and then we further downsized to fit in the smaller home we live in now.
Our Minimalist Kitchen Organization Tour
Here is our minimalist kitchen organization for our quaint, small home.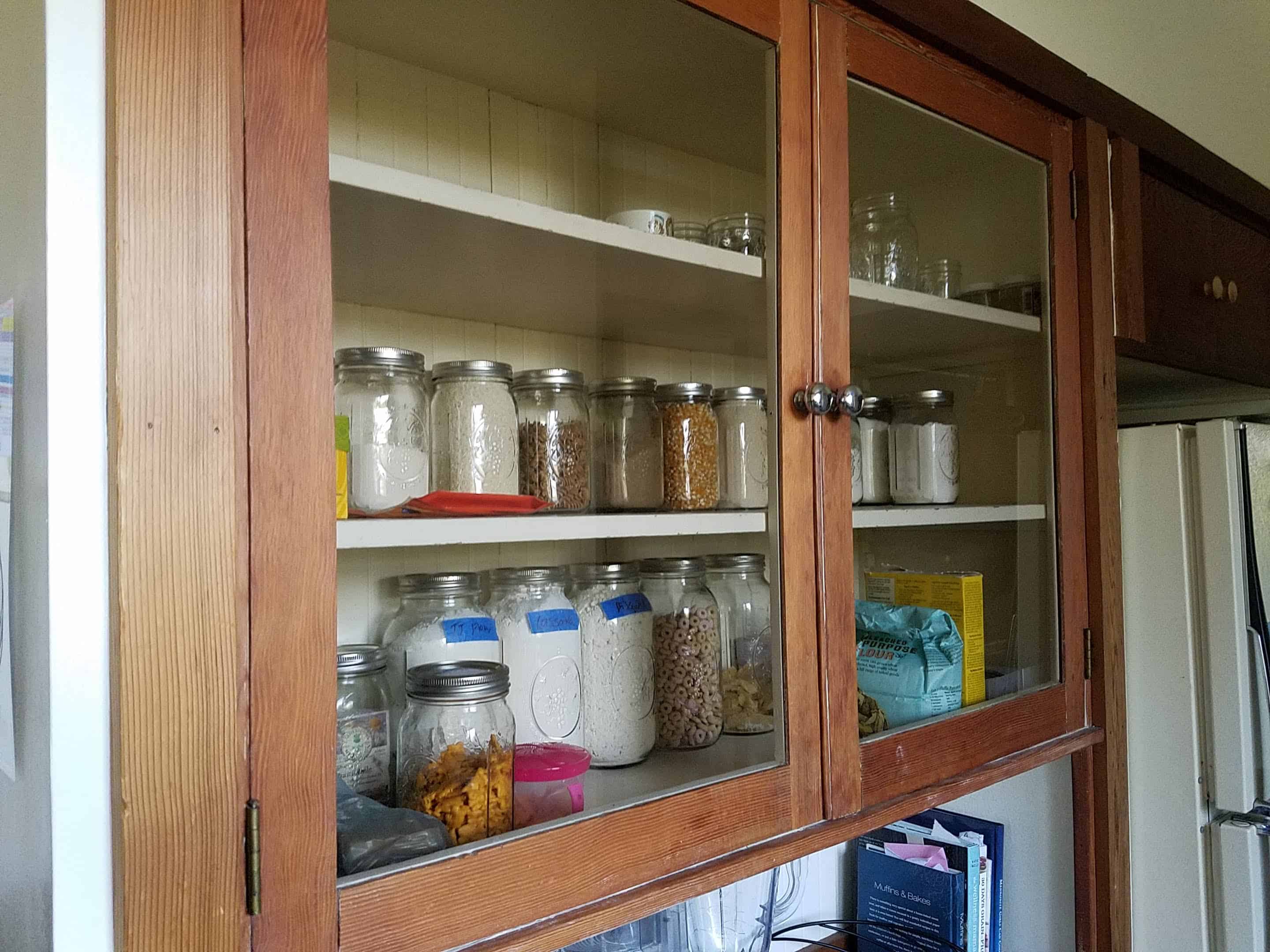 I truly love that our home is older and filled with rustic charm, like this glass cabinet. I store all my Mason jars here.
While I'm still working on making pretty labels for the jars, I keep this area basic with dry goods, snacks, cereal, and tea.
Below this cabinet is a shelf where I keep my 5 favorite cookbooks and store the few occasionally used appliances: blender, food processor, crockpot and coffee maker when not in use.
Minimalist Cabinet Storage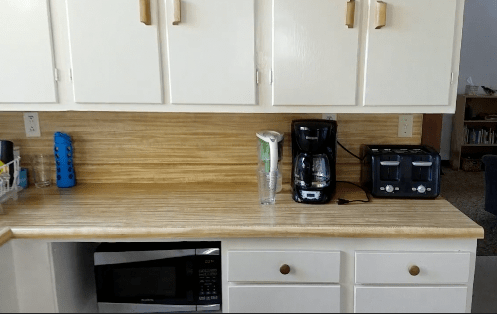 The white cabinets in my minimalist kitchen are one of my favorite things. While they don't really have anything to do with simple living, I love that they brighten up the space!
They have a simplicity and old charm to them that helps me feel relaxed, as long as I keep the counters clear.
Since this kitchen is older, we don't have an abundance of cabinet space, so I choose to keep our appliances out. This counter holds the toaster, coffee maker and water pitcher. When the coffee maker isn't in use, I place it under the glass cabinet to free up counter space.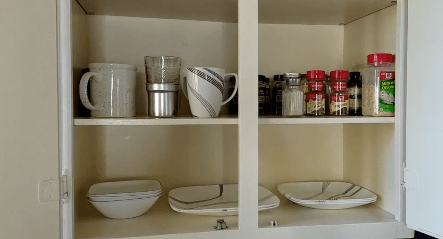 As a family of three, we live by the rule of three. This means I only keep out three mugs, cups, bowls, and plates of each size. I do have a complete set of 8 dishes, but the extras are kept in a cupboard above the refrigerator and are only used for company.
The reasoning behind this is that most people will automatically reach for a clean utensil or dish before they will wash a dirty one.
That means the dirty dish pile often grows far beyond the size of your family, and that's what we're trying to avoid!
I handwash our dishes throughout the day. Since we use fewer dishes, it doesn't get overwhelming. Our kitchen is small and we don't have a dishwasher so I also dry dishes by hand from the dishrack throughout the day.
Our bakeware is very simple as I'm not a chef or baking enthusiast. Over the years I've collected fancier pieces and never used them, so I let them go.
What remains are the basics that we use frequently: casserole dishes, Pyrex baking dishes, and small loaf pans.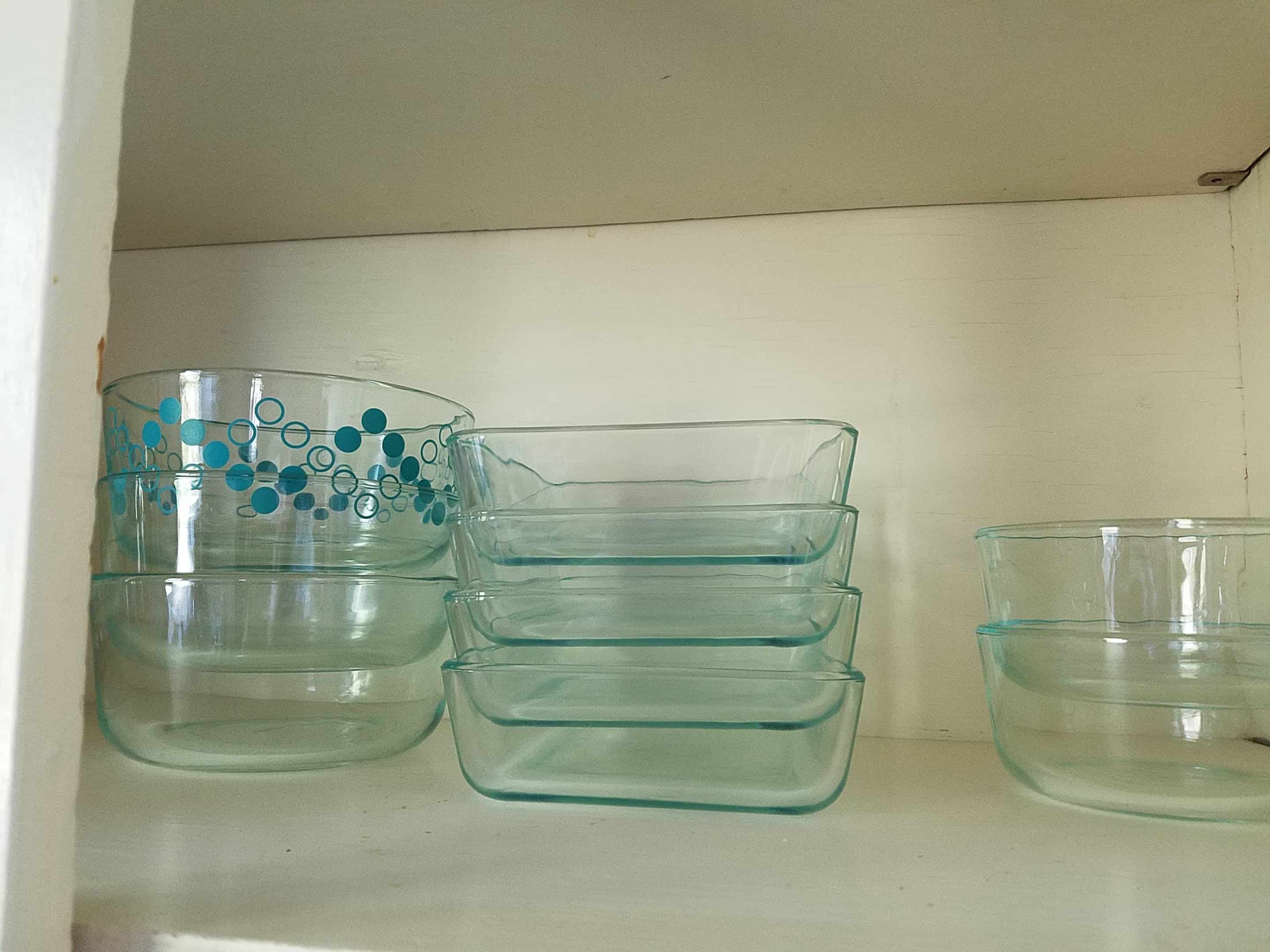 A few years ago we decided to declutter and ditch all the plastic storage containers and now use only glass Pyrex containers and Mason jars.
I have a decent number of both of these as we use them to store leftovers, pack lunches and store fresh food in the fridge and freezer. I keep the lids to all of these in a drawer beneath the cabinet.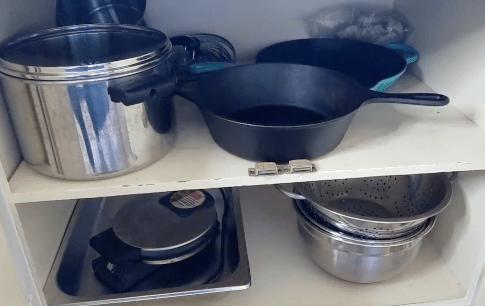 Pots and pans are also fairly minimal in the kitchen. One set of stainless steel kettles and two cast iron frying pans. One set of stainless steel mixing bowls. One strainer. Waffle maker. Roasting pan.
The same theme you see repeated in every cabinet–it's the basics, the things we use and not a lot of extras.
Minimalist Drawer Storage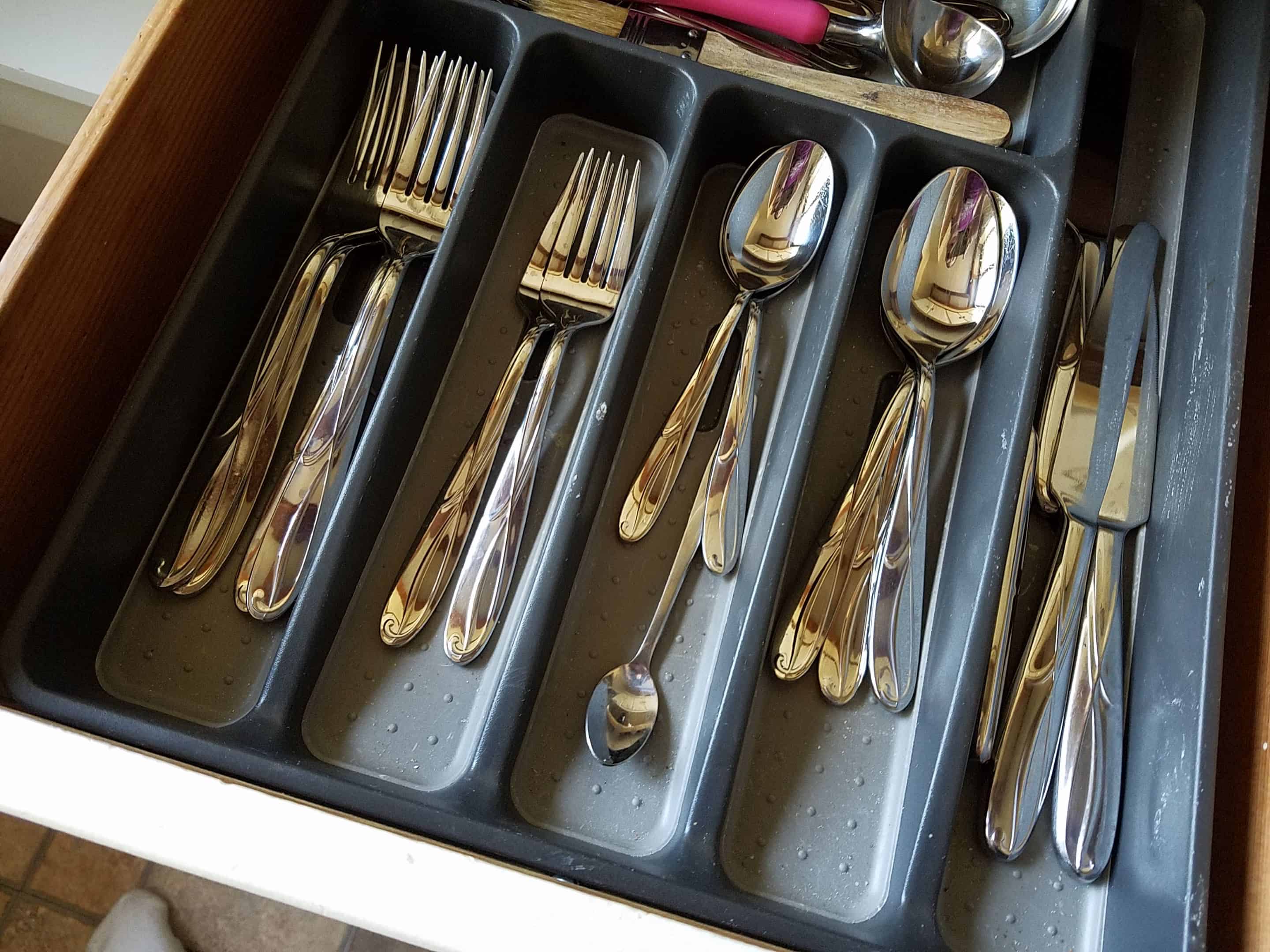 For silverware, I keep four of each size out, with the rest of the set stored away. This made a huge difference in our pile of dishes right away!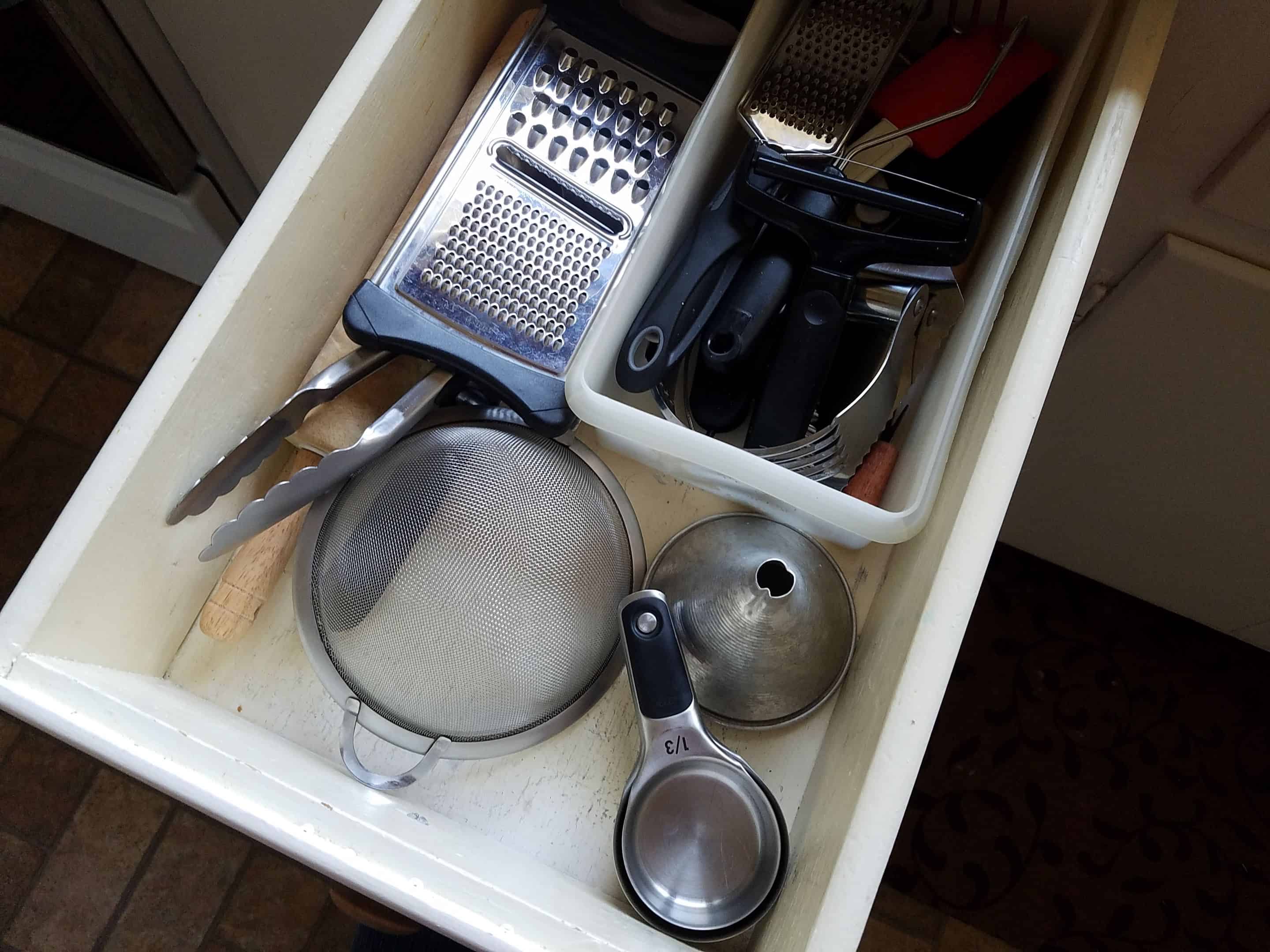 Cooking and baking utensils are kept all in one drawer. It's simple, and we use every single item in there on a daily or weekly basis. I focus on keeping the items that have multiple uses instead of specialized uses.
Instead of keeping and using multiple utensils, I will rinse off or wash them while cooking rather than creating a larger pile of dishes at the end!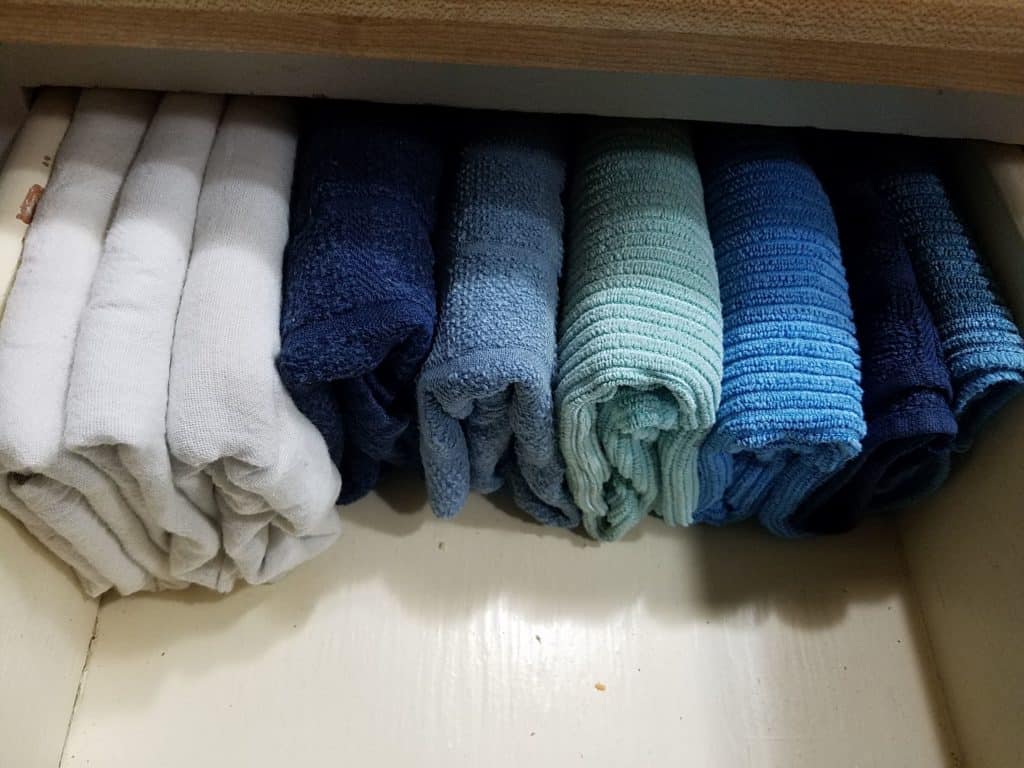 Pot holders and towels are kept in the next drawer. I've downsized that collection considerably over the years. I recently learned to KonMari fold my towels and I love the tidy, minimalist way they reduce visual clutter.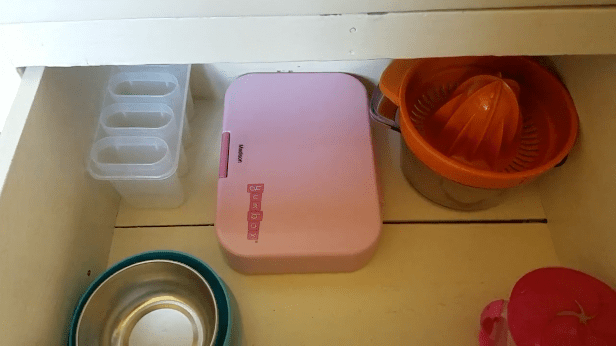 The final area we decluttered was the dreaded kid's drawer. Infants and toddlers attract all sorts of dishes. Bottles, sippy cups, snack cups, bowls, and silverware. It can quickly get out of hand.
We had a good amount of all those things too, but now that our daughter is three, I decided it was time to get rid of all the sippy cups except one (our favorite Munchkin 360) and the excess snack bowls and cups. They are easy to wash and dry so we just don't need a whole stack of them!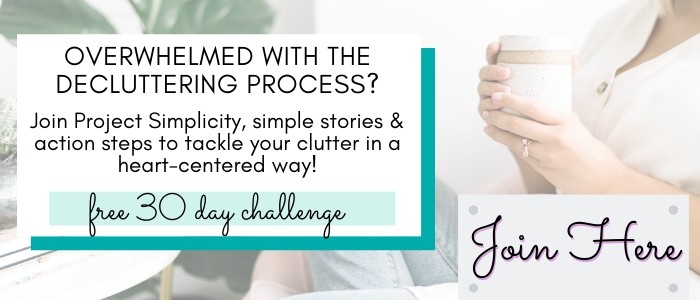 How My Minimalist Kitchen Changed Everything
It took time to downsize my kitchen and figure out exactly what I wasn't using and didn't need. There were things I let go of that I enjoyed looking at, but I just didn't use often enough to warrant keeping them.
There were holiday towels and plates. Cute knick-knacks. Gadgets galore. Tiny mugs I loved that weren't practical.
But the change was worth it. My kitchen doesn't stress me out. I can easily find the utensil I'm looking for.
I actually enjoy cooking and baking in my kitchen.
It didn't happen overnight, but it was step by step and day by day. Every single item you minimize means a little more space and freedom.
What's Next?
Ready to declutter your home but need some inspiration? Join Project Simplicity, a 30-day heart-centered decluttering challenge here!
Related Decluttering Articles
WANT TO REMEMBER THIS? SAVE WHAT A MINIMALIST KITCHEN REALLY LOOKS LIKE TO YOUR FAVORITE PINTEREST BOARD!