This post may contain affiliate links, which means I may receive compensation if you make a purchase using one of these links.
A life of simplicity starts with the basics, and for my two-year-old daughter, I want the essentials! Capsule wardrobes caught my eyes years ago, and I love that they are diverse–you can set a number of each item, or a total number of items, or just par down to what works for you. Here's my California Summer/Fall toddler capsule wardrobe!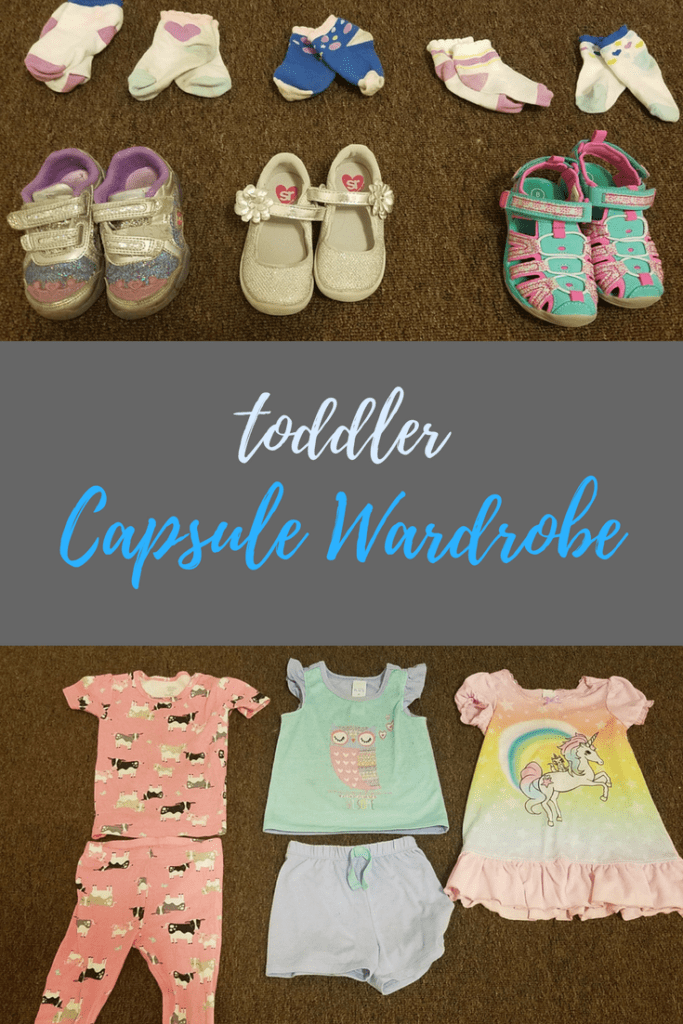 Like many first time moms, I began collecting baby clothes even before I was pregnant. But while I picked up a few cute dresses in toddler sizes, the thought to pre-buy essentials was not at the front of my mind back then.
This means we have to create an entire wardrobe for each size as she grows. And yikes that can hurt the wallet!
I often try to shop second hand and clearance, but many of those items are random and don't fit the category of "essentials". I've had good luck shopping seasonal clearance at The Children's Place, Kohls, Target, but also local mom resale groups.
I use this sheet to track her clothes in each size. The number of boxes and lines do not correlate with an ideal number, they simply give room for me to write what may have been gifted or purchased.
Toddler 2T Capsule Wardrobe
A few factors to keep in mind when creating a capsule wardrobe: it has to fit your life. I didn't put an exact number or restriction on us because I only do her laundry once a week, we pack extra clothes every time we leave the house, and she goes through several outfits a day that get food or liquid spilled on them or otherwise dirty. Extras are okay for toddlers!
PANTS

Currently she has 9 pants, though one of the pink leggings is still 18-24 months and she's about outgrown it. I like to have several pairs of jeggings, play pants, leggings and yoga pants.
Since we cloth diaper, stiff pants like jeans don't work well for us, so they aren't a part of our wardrobe.
SHIRTS
10 short sleeve shirts is more than I would usually have, but a few were gifted or hand-me downs and at the rate that my daughter spills on herself…this seems to be a good number for now!
Moving into fall, she has 7 long sleeve shirts, though I'm not sure how long the white and light colors will last!
PAJAMAS
She actually has 2 pairs of cotton pajamas, but the other was in the wash. We have pretty warm summers so a nightgown and shorts are essentials.
DRESSES
Dresses are primarily worn on Sundays, so we keep our choices simple.
SUMMER BOTTOMS
For warm weather, she has 2 pairs of shorts, 1 capri and 3 skorts. Several of these were gifted to us, and she loves them!
JACKETS & SWIM


Two hoodie sweatshirts keep her warm in our mild winters, and she also has a rain jacket from last year that we aren't sure if it still fits. She also has a swimsuit and swim diaper.
SOCKS & SHOES
Finally, she has three pairs of shoes: sneakers, dress & sandals, and six pairs of socks (one was missing). This will of course change as she gets older, and that's the way of life!
Have you ever made a capsule wardrobe for your child? What were your essential pieces?
WANT TO SAVE TODDLER CAPSULE WARDROBE FOR LATER? PIN TO YOUR FAVORITE PINTEREST BOARD HERE: