How I Simplified My Toddler's Toys & Unearthed Creativity
This post may contain affiliate links, which means I may receive compensation if you make a purchase using one of these links.
All the whining. All the meltdowns. Life with a toddler is stressful! When I looked at the chaos around me, I knew I wasn't the best mom I could be, and she wasn't being equipped to be her best self either.
Cutting household clutter has been important to me for a few years, but the toys were still a little overboard. It became so necessary to simplify my toddler's toys and it ended up unearthing creativity in her that I hadn't seen before.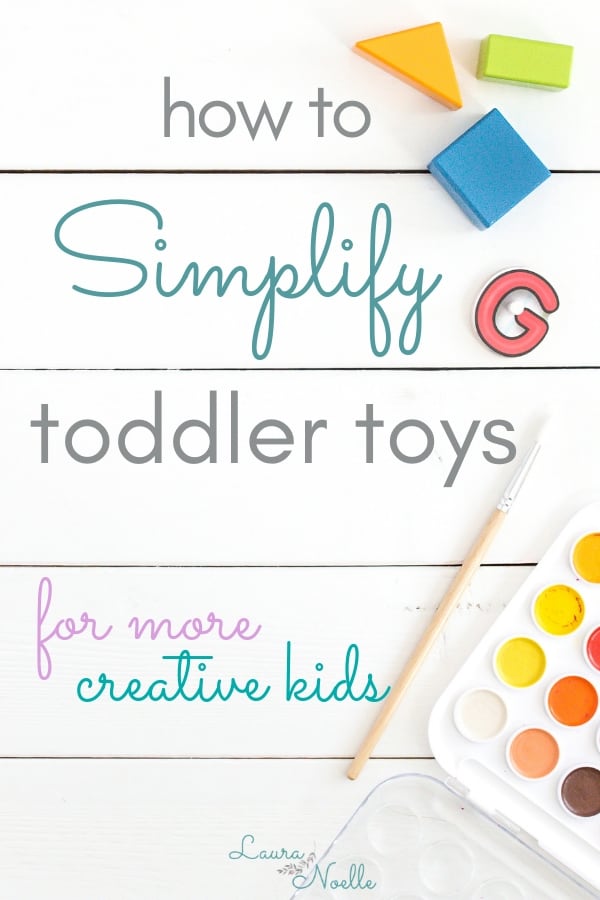 Downsizing Matters
Even though we didn't have an immense amount of toys to begin with, it was still too much for my toddler to handle. Little pieces strewn everywhere (ouch), larger toys smashed together so she wouldn't even play with them. I knew it was time to take action when our 9 cube organizer of toys wasn't being touched for weeks at a time.
It's not about where you're starting, it's about where you choose to go from here.
Overwhelm is easy to spot in toddlers. Overly dramatic behaviors that are out of character, extended meltdowns, techno-stress, lack of imaginative play, and simply not playing with the toys in their space.
It can swing to the extreme of organizing all the toys, or destroying all the toys. I started to see these tendencies in my daughter and it was clear that she needed a life overhaul. She needed simplicity.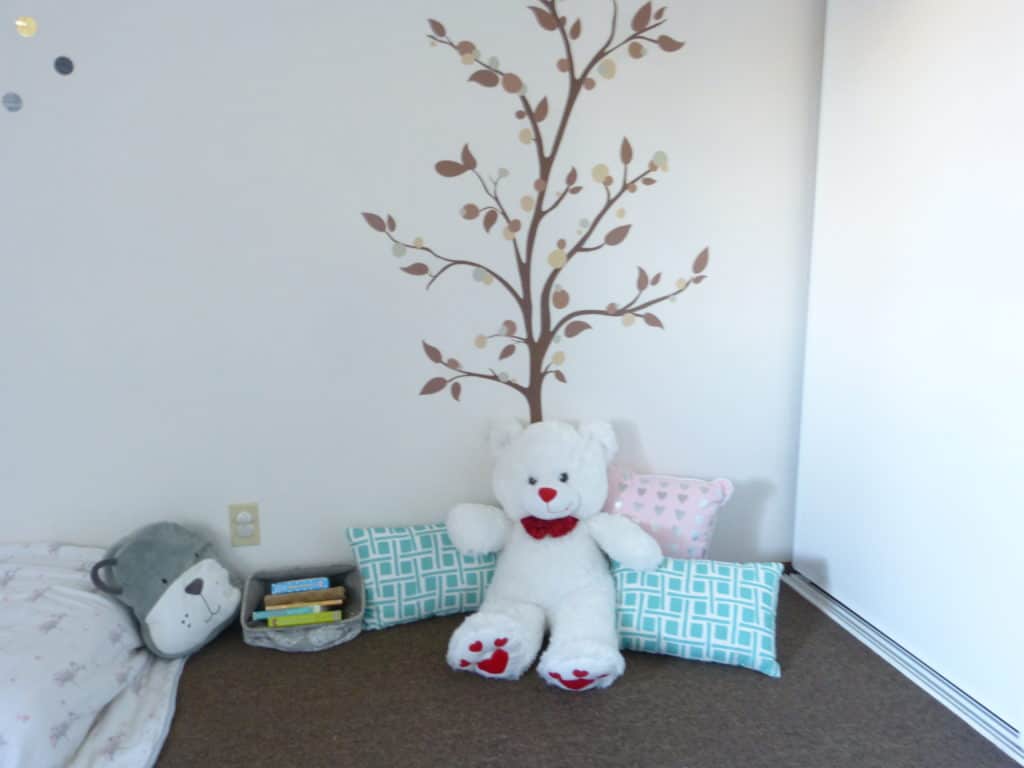 Oftentimes, kids' rooms are filled to the brim with toys, clothes, furniture, and all the odds and ends. In the name of simplicity, we choose to keep our daughter's room extremely bare. Only a few toys and the bare essentials.
Her capsule wardrobe, a few storage bins out of her reach. She is given only 5 books at a time in her reading area and they are rotated on a regular basis. Her kitchen has no play food and is only equipped with two sets of plates, cups and utensils with 2 cooking pans.
Her bed, a bin of stuffed animals and dolls and a few rotated toys in her cube storage and that's it. The floor is completely open so we can get out blocks and play. It's easy to clean, appealing to the eye and soothing for her to sleep. It's probably my favorite room of the house!
Simplifying Kids' Toys in Shared Spaces
Toys often live in shared spaces, especially for babies and toddlers. Our living room once housed two 9 cube organizers, multiple riding toys, chairs, a table, large toys and a billion little pieces (well, not quite, but it feels like it!).
This was our living room and I hated it. I was stressed, she was stressed and it was most definitely not working! So I shook things up.
I picked my focus, and took away all the excess. Some were discarded or given away, and some were put into storage.
I created white space. Only 5 of the cube spaces have items in them. 5 books, a pull toy, musical instrument, hands on toys. These are rotated regularly to keep them fresh.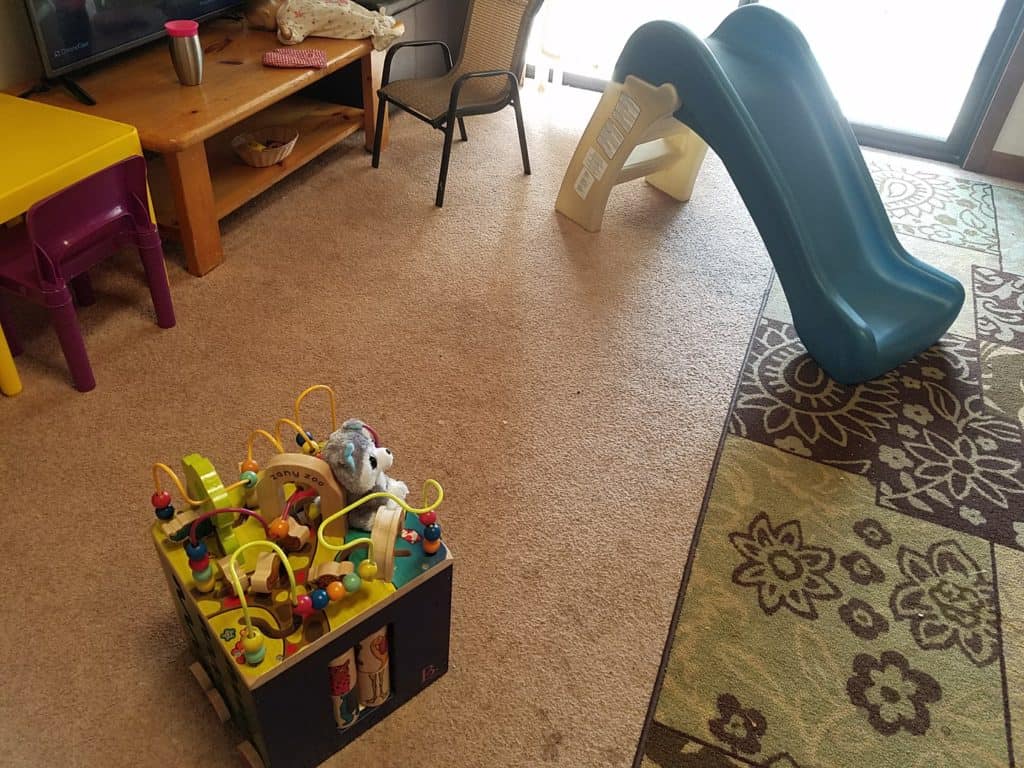 Her riding penguin, table and chair. Slide. Zany Zoo Activity Cube. It's active and there's open space–lots of it! This is where creativity comes in. Now with space in physical and mental form, she sits down and plays deeply.
She gets to experience a little boredom and with that, she starts to use her imagination. Her animals and dolls speak and act. She colors for longer periods of time. She is more engaged by sensory activities.
Each day we go into the Toy Closet and pick a toy or activity like wooden blocks, mega blocks, puzzles, cars, lacing toys, shape sorter, etc. This activity is engaged with and when she's done, we clean it up and put it away.
As an incentive to myself, I gave up one of my two laundry baskets to store her balls. Now I have to get laundry done promptly because I don't have an extra basket, and it keeps these contained!
Toy Closet Storage
I knew I wasn't ready to totally clean out her toys, and I love how excited she gets when we take out a toy that she hasn't played with in a while. Now she is more able to fully engage in deep play with the toys she has out.
I decided to take one of our 9 cube organizers and put it in our hallway closet. It's been working really well!
WANT TO SAVE HOW TO SIMPLIFY TODDLER TOYS & UNLEASH CREATIVITY FOR LATER? PIN TO YOUR FAVORITE PINTEREST BOARD HERE: