Let's Tell Stories || Imagidice Review
This post may contain affiliate links, which means I may receive compensation if you make a purchase using one of these links.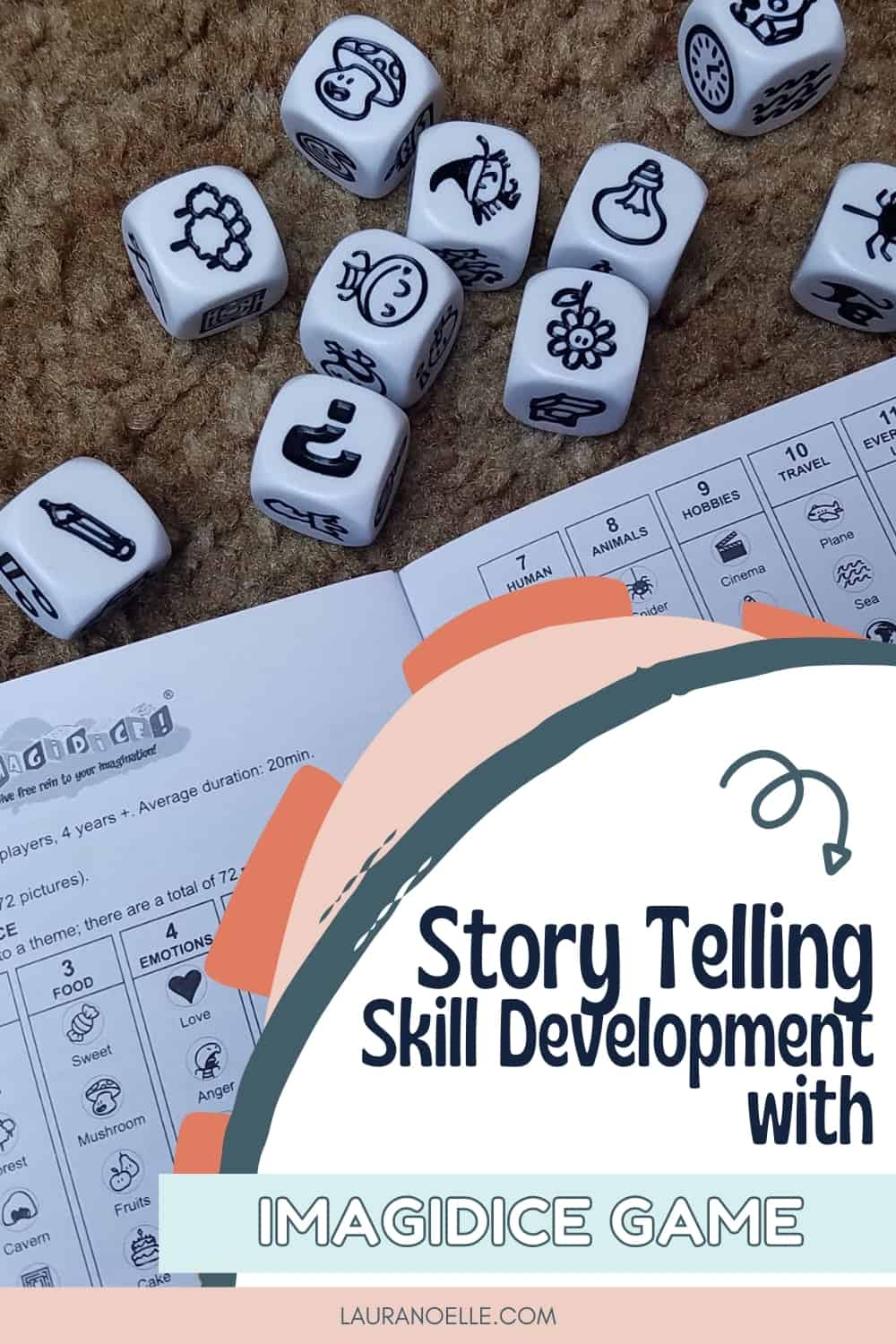 Building a confident writer starts young, before they even put pen to paper, with prewriting and storytelling skills. Now these skills can be built in a fun family game!
Imagidice is a compact, fun family game for 2 to 12 players, and recommended for ages 4 and up.
A special thanks to Timberdoodle Co. for graciously sending us a complimentary copy of Imagidice in exchange for our honest review.
Imagidice Overview
I was intrigued right away with the vast amounts of ways to use the dice for imagination, storytelling, vocabulary, sentence construction, and memory.
The Imagidice game includes 12 dice with 6 etched pictures on each dice for a total of 72 unique images. Each die has a theme: sky, places, food, emotions, actions, fantastic, human body, animals, hobbies, travel, everyday life, and history.
Most of the pictures are ordinary, but it should be noted that the "fantastic" die does include pictures of a ghost, witch, dragon, etc. If these images don't work with your family values, you may want to remove that die from the set before use.
Playing Imagidice
To start the game, the players select the number of dice they want to play with (it's recommended that young players may want to use less dice, but we don't follow this). Shake them all up and throw them all. Then play begins as the first player picks a die and starts the story with the shown picture. Each player continues the story by selecting a die that appeals to them until all the dice are used in the story.
The instructions mention that you can pick a particular type of story to focus on if you wish, such as a fairy tale, travel tale, adventure, or fantasy.
Other variations of the game can be played to practice vocabulary and synonyms of rolled dice, practicing sentence construction with images on multiple rolled dice, and sharpening memory and recall skills with viewing and hiding rolled dice.
Beyond typical game play, I could see these clever dice acting as story starter prompts for elementary writing projects, and exploration of different story types.
What We Thought
My 5.5-year-old was excited to play this game because of the eye-catching images on the dice. After a quick explanation of the rules, she caught on easily. We found that if she was overwhelmed by the amount of dice to pick from, sometimes it worked better to have each player roll one die at a time and add that element to the story. It definitely works either way, and I appreciated the flexibility of the game to tweak it to work for our needs.
We also like the open-ended definition of "storytelling". For young children, simply forming one or two sentences around an image can be enough, but older students could be challenged to create a paragraph, dialogue, plot sequence, or character development.
When playing the game with my kindergartener, I tried to use my storytelling turn to introduce her in subtle ways to elements of storytelling, including dialogue, cliff-hangers, problem-solving and more. While she may not understand these elements, she was fully engaged in the imaginative process and the game was filled with laughter.
The only difficulty we encountered was that some of the images on the dice are not clearly identifiable, and I had to keep referring to the instruction booklet. This can be overcome, however, by becoming familiar with them after a few rounds of the game, or by letting your child interpret the picture in whatever way they prefer. We did both ways, and ultimately just went with the flow.
Final thoughts on Imagidice
My kindergartener and I really enjoy playing Imagidice together. I can see us using this game in our language arts and thinking skills lessons for years to come!
Imagidice is available from Timberdoodle Co individually, and also as a part of the Timberdoodle 2020-2021 First-grade curriculum kit.
Related Homeschooling Content
Let's Tell Stories || Imagidice Review