Building Robots for Kids || Robotis Play 600 Pets Review
This post may contain affiliate links, which means I may receive compensation if you make a purchase using one of these links.
Have your kids ever wanted to build a robot? Now even young children can experience the hands-on wonder of creating a robotic pet!
Robotis PLAY 600 Pets is a part of the Timberdoodle 2020 First-grade curriculum kit, and recommended for ages 6 and up, but I felt like my engineering-minded 5-year-old could start enjoying it with assistance.
A special thanks to Timberdoodle Co. for graciously sending us a complimentary copy of Robotis Pets in exchange for our honest review.
How to Build Your Own Robot
Robotis pets are designed to be an "entry-level" build your own robot kit. It comes with enough pieces to create one pet model at a time.
The box includes a booklet with instructions for three robots: puppy, bird, and cricket. To build four more robot designs, you have to download a free app (available on both iTunes and Google Play). Those include a whale, goldfish, polar bear, and tank. At first, I wasn't thrilled that we had to download an additional app to get the rest of the model instructions, but after installing the R+ Design app on our iPad, both my daughter and I fell in love.
Unlike the flat paper instructions, the app gives you a short 3-D video or step by step demonstration of how to build each model. The touch screen can move the model on the screen to show different angles, in addition to zooming in and out. This was incredibly helpful for me as a visual-spatial challenged person. I'll admit I had to analyze the paper instructions a few times because I wasn't sure where certain pieces were supposed to go. The app makes it so much more clear and we prefer using it for all the models!
Each pet is designed around a motor box that requires 2 AA batteries. There is a button that turns the robot on and off. Each model moves differently. The puppy walks on 4 legs. The cricket walks on 6 legs. The polar bear rolls on wheels and moves with 2 legs. The goldfish and whale move their tails. The bluebird and the tank roll on wheels.
Level of Difficulty
My daughter is an only child who likes to do hands-on projects with an adult. While I do find her playing with her STEM toys on her own once she's familiar with them, she typically isn't pulling out instruction booklets to make models on her own (yet at least). I knew this going in, and expected to be sitting down with her to create the robots.
The pieces are sturdy and don't come apart easily. This is great for keeping the robot together, but also makes the assembly and deconstruction a challenge for little hands. There is a special tool that helps take the pieces apart, and though it took some practice, my daughter was able to grasp the proper use. However, she still needs some assistance in snapping certain pieces together.
I think the instructions are fairly easy to follow, but there are some tricky spots where pieces need to be placed in the exact right spot or the robot won't move correctly. As I mentioned above, I personally find the R+ App to be more interactive and helpful in these spots than the paper instructions.
In my opinion, even a child in first grade may need an adult or older sibling's assistance to complete the models. This will entirely depend on your child's skills and for our family, this isn't an issue of concern.
The Robot Pets
The squeal of delight from my daughter when each pet takes form is priceless. It's safe to say that she adores them. We don't have any live pets in our home, so pretend pets are especially beloved.
And here's where I find these STEM kits to be so valuable. Yes, they teach beginning engineering and design skills. Yes, they teach kids to build and create. Yes, they stimulates the sense of "how does this work?". But it also invokes imagination, emotional intelligence, and role playing. To my five year old, these pets are members of the family. They play, they need a vet checkup, go for walks in the kitchen, and join her for meals. It fills my heart with joy to see her light up with creative play.
The robots that walk on legs (mainly the puppy and cricket) can walk on smooth carpet, but work best on hard floors. We found that the wheels needed hard floors to run properly. The motor makes a "whirring" noise that is definitely not quiet, so we have established a rule that they can only run for a few minutes at a time.
Final Thoughts on Robotis Pets
We are enjoying Robotis Pets and I look forward to my daughter getting more creative with the models as she grows older. In the meantime, we feel it's a great introduction to motorized robotics without being too complicated.
Robotis Play 600 Pets is available here from Timberdoodle Company.
Related Homeschooling Content: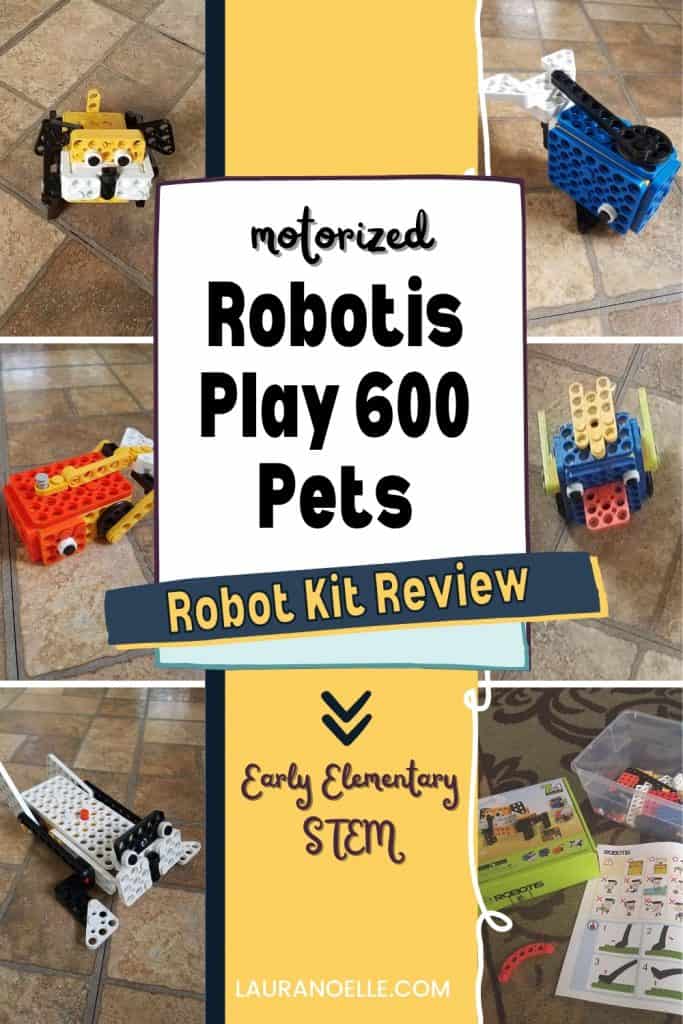 Building Robots for Kids || Robotis Play 600 Pets Review