How to Declutter for a Simpler Christmas with One-In-One-Out
This post may contain affiliate links, which means I may receive compensation if you make a purchase using one of these links.
Parents first complaint about Christmas usually revolves around the clutter. The piles and piles of new toys and the old forgotten ones. It gets out of hand! Here's how to declutter for a simpler Christmas with one-in-one-out.
Simply put, for every new gift you give your child (we like to do just 3-4 presents), an old item must be given away, sold or tossed.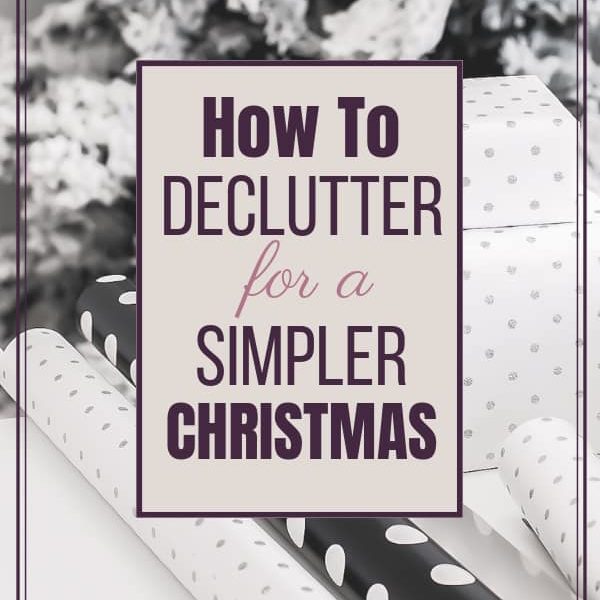 For example, this year my three-year-old is getting this awesome bouncing hippo she can ride around the house, so I decided we would part with her rocking musical penguin that she's outgrown and doesn't use anymore.
Our biggest goal in the next few weeks is to clean out the unused, unneeded toys and living room clutter so she has more open space to ride that hippo around the house after Christmas!
Keys to Make "One-In-One-Out" Work
• Look for similar sizes
If you're really looking to keep the clutter down, first look for an old item that is about the same size (or bigger) so the new item won't take up more space.
• Look for "like" items
If you're gifting a book, let go of a old, outgrown or damaged book. A new outfit? Toss or pass on an outgrown one. New, more advanced set of legos or blocks? Sell the forlorn set of little kid ones.
• Get creative
If all else fails, do a sort through of all the toys and clothes looking for broken, damaged, missing pieces or simply trash. Weed that stuff out first. Ripped clothes or stuffed animals (be sure it's not a favorite that can be repaired!). Kids grow so fast, there are often outgrown toys at the bottom of toy boxes that never get any love.
For one of my daughter's gifts (a set of SnuggleBuddies emotion stuffed animals) I had to get a little creative and find a bunch of little items including toys from the dentist, old ColorWonder markers and ripped stuffed animals.
How to Get the Stuff Out
First, toss broken, damaged or useless items. For good condition or like new items, common choices are to donate to thrift store or local nonprofit, pass down to a family member or friend, or list for sale of free on websites or apps such as Facebook marketplace, Nextdoor or Let Go.
Selling takes more work, but if the item is desirable, good condition and you can use the extra cash, it can be worth it!
Who Picks the Stuff – You or Your Child?
Here's the hardest part… Who picks the stuff that goes out? If your child is under the age of three, I think it's the parent is in charge of this choice. Again, I don't recommend getting rid of your child's favorite toys.
Picking outgrown and forgotten items ensures that your young child won't likely even remember the item, or notice it's gone.
Once your child is on the older side of 3, and on up, you will have to work with them. Explain that they will be getting "x" number of gifts for Christmas from you, and in order to enjoy those new gifts, we want to make room by sharing older toys we don't play with or need anymore with other children. Help them evaluate their items and choose wisely.
Ask them questions like:
• When was the last time you played with this?
• Do you like this/why do you like this?
• When do you think you'll play with it again?
• Is there someone else we know that you think might enjoy this more than you?
Helping your older child to learn how to be generous and give their toys away, or possibly, to sell for a little profit, is a valuable life lesson. They may want to donate their toys to a church nursery, family shelter or a specific family in need.
When you teach your child these skills, oftentimes they learn to go through their toys on their own and decide to give away things they don't need on a regular basis. Cultivate those skills to last a lifetime!
The One-In-One-Out rule also can apply to adults and anyone in the household and works after Christmas too!
Want to remember this for later? Pin How to Declutter for Christmas with One-In-One-Out to your favorite home Pinterest board!