Tiger, Tiger, Burning Bright!
This post may contain affiliate links, which means I may receive compensation if you make a purchase using one of these links.
Literature is invaluable for all ages, but in today's technological world, the intentional exposure of quality literary works can't be underestimated. For young children that otherwise wouldn't be interested in poetry, Tiger, Tiger, Burning Bright! brings enchanting illustrations and a vast variety of engaging animal-themed poems to spark the imagination and warm the heart.
A special thanks to Timberdoodle Company for sponsoring this post by graciously sending us this complimentary copy of Tiger, Tiger, Burning Bright! to see what we think. All opinions are our own!
Tiger, Tiger, Burning Bright! is available individually, and also as a part of the 1st grade curriculum kit.
The book is set up by each month of the year, with each page featuring one or more numbered poems for each day of the month (1st, 2nd, 3rd, etc.). With this design, you could read one poem each day for an entire year. Alternatively, you could read 2-3 poems each day to complete within a school year.
Featuring poetry spanning the continents (over 22 different country origins), and running traditional to contemporary (from the last 400 years), this beautiful (and hefty) collection of poems is directed towards ages 3-7, but they will appeal to readers and learners of all ages. My daughter is 7 and certainly doesn't understand the depth of all the poems, but she begs for more to be read to her.
The pages are filled with rhythms and rhymes, a few words and whole pages, Haiku and free verse, creative spacing and type, silly sayings and epic tales.
The beauty of the pictures matches the animals in each poem, and some of my favorite spreads include two poems entitled the same animal, but using their verse to share a completely unique perspective about that animal, often in a very different poetry style as well.
Introducing our children to the beauty of poetry cadence is so important. Language in our culture and media seems to be continually devolving, and the loss of imagination, description, and painting a picture with words abounds around us.
Anthologies like Tiger, Tiger, Burning Bright! offer an opportunity to meet children in their interests and expose them to a creative world they might otherwise miss out on.
Into the world of foxes, whales, birds, porcupines, spiders, hippos, bulls, zebras, snakes, and so many more critters both big and small from all over the globe, we step into vivid story pictures that spark conversation, questions, and meanings.
Tiger, Tiger, Burning Bright! has become a treasured book in our household and we are enjoying reading it during our school days, play days, and also during Poetry Teatime. My daughter listens intently (most of the time) and loves looking at the pictures.
More Articles About Homeschooling: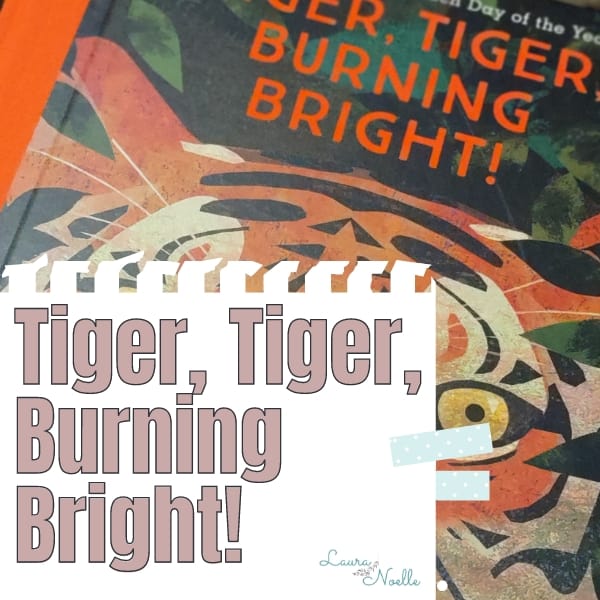 Want to Save Tiger, Tiger, Burning Bright! for later? Pin to your favorite Pinterest Board here: