1st Grade Curriculum Picks (Homeschool Year 2022-2023)
This post may contain affiliate links, which means I may receive compensation if you make a purchase using one of these links.
It's back to school for our homeschooling family and here's what we are using for first-grade curriculum!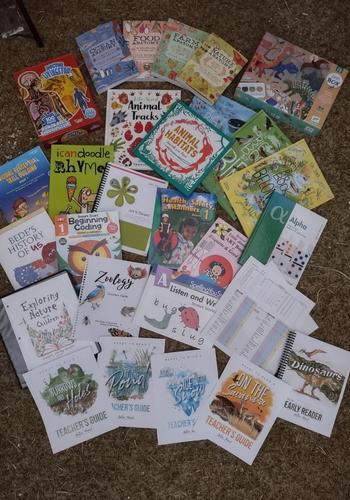 Math
We are finishing up the last few lessons of Math-U-See Primer, before heading into Math-U-See Alpha. My daughter and I enjoy so many things about Math-U-See from the manipulative pieces to the DVD lessons that supplement what I'm teaching.
Gather 'Round Unit Studies
(Covers Science, Bible, Phonics, Geography, Art, Social Studies, and some Math)
This year we will be completing the Ready to Read Series: Burrows and Holes, At the Pond, In the Snow, and On the Savannah. If we happen to complete these books early, we will begin our first Early Reader unit study: Dinosaurs.
We spent the last two years slowly going through the Letters and Numbers series, and I love the connection, interaction, and rabbit trails the curriculum encourages. The Charlotte Mason inspired copy work, oral narration, and focus on literature also appeals to me.
History
Bede's History of US provides short simple lessons to introduce kids to timelines and Christian history. I've found it to be a gentle introduction to history for our family.
Language Arts
Spelling – We are doing Spelling You See A this year because she wasn't ready for it in Kindergarten.
Literature – Our co-op has a class where they read GoldTown Beginnings books and complete Lap Books.
Writing/lifestyle – We are using Brave Writer's Jot it Down curriculum to read and tell stories. We are also going to be doing occasional Poetry Tea Times and Nature Exploration.
Health
We will be doing one semester of Abeka Health, Safety, & Manners 1, a short and simple textbook about basic health topics. We will also be continuing Little Annie's Art Book of Etiquette & Good Manners.
Art
In addition to the art included in Gather 'Round, we will be completing the doodle book I Can Doodle Rhymes as well as the Djeco World of Dinosaurs Box (full review soon), and independent watercolors.
Thinking Skills
We will be working through Visual Perceptual Skill Building 1, another text from Kindergarten that we didn't get through last year.
STEM
We are already loving the Smart Start Beginning Coding 1 book. A full review will be up soon! STEM building kits also are in abundance in our home. ThinkPlay Gears, Plus-Plus blocks, Robotis Pets, and Legos are always available for play and construction.
PE
Our co-op features an excellent PE class the kids love.
Science
In addition to Gather 'Round, I will be teaching a Zoology class for our local co-op. We will be studying habitats, tracking, and so much more. I also want to keep working on Exploring Nature with Children. Throughout the year we will also keep completing the Dr. Livingston Human Body Floor Puzzle to learn basic anatomy.
First Grade Schedule
Because every day is different at our house, some subjects are done four days a week (math and Gather 'Round), while others are done twice a week or just once a week. I like to create a Google sheet with checkboxes to keep myself on track and make sure we are completing (most) of the curriculum in the 36 school weeks.
Some days we complete our work in 30 minutes and other days it takes an hour or two. Co-op day also logs about four hours of class time. Some days we do school in the mornings, and other days it ends up being the afternoon or early evening. Homeschooling offers flexibility! We also have playdates, park days, and church activities throughout the week for social engagement.
Related Articles about Homeschooling