Dr. Livingston Jr. Human Body Floor Puzzle
This post may contain affiliate links, which means I may receive compensation if you make a purchase using one of these links.
Hands-on science makes memorable experiences for parents and kids! Here's what we thought of this nearly life-size human body puzzle.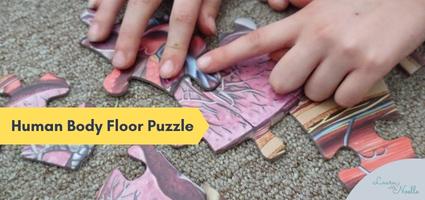 The Dr. Livingston Jr. Human Body Floor Puzzle features 100 thick, durable pieces of the entire human body. Beautifully colored and detailed, the pieces show bones, muscles, arteries, and veins for an exciting 4 feet tall science lesson.
A special thanks to Timberdoodle Company for sending us a complimentary copy of the Human Body Floor Puzzle to see what we think. All opinions are our own!
The Human body puzzle is available individually and is also a part of the 1st Grade Curriculum Kit.
My first grader has an insatiable curiosity about the world. She's always asking questions about how our bodies work and about blood and brains and bones. We absolutely loved sitting down and putting this puzzle together, and even got Grandpa in on it.
As we put together the pieces, we were able to talk about what is found inside our head, chest, belly, arms, and legs. I also appreciated that this puzzle does not feature reproductive details, making it applicable to everyone.
The pieces are large and easy to handle and I was very impressed with how thick and glossy they are. I would consider them to be above-average quality! It's recommended for ages 6 and up, and I would say that most children around that age will still need some assistance in putting this puzzle together.
Since our bodies are head-to-toe muscles, bones, veins, and arteries, many of the pieces look alike and if this isn't something kids have studied before, they may feel overwhelmed by the similarity of pieces. My daughter wasn't sure how to start putting the pieces together because it's not a traditional shape and she's not familiar with human body science.
However, I felt like this puzzle was an excellent introduction to the human body and greatly piqued her curiosity to learn more about how the body works under our skin. Rather than starting our science study with a book lesson, we got to explore, laugh, and have conversations about how the body works in a natural and fun way. As a kinesthetic learner, my daughter enjoyed that much more than a traditional lesson!
Once I helped her get started and figure out what to look for in the pieces, she was eager to put together the brain, head, and chest.
To further the educational value, this puzzle comes with a sturdy card that not only names each part of the body seen on the puzzle pieces, but also flips over to list fun facts about body parts. So while your child is visually putting together and looking at the body part, you can read a short fact about it that they'll probably remember much better since it's a multi-sensory approach.
Our family really enjoyed this puzzle and we look forward to pulling it out regularly to refine our learning and have many more fun discussions about how the body works! You can find the Human body puzzle individually and is also a part of the 1st Grade Curriculum Kit.