Timberdoodle Tiny Tots Birth to 2 Curriculum Kit Overview (2022-2023 Homeschool Year)
This post may contain affiliate links, which means I may receive compensation if you make a purchase using one of these links.
Tot School is underway and we are so excited to unbox our brand new Timberdoodle Tiny Tots curriculum kit!
When I was pregnant for the second time, I began eagerly researching options for Tot School. I knew I wanted to intentionally work on his developmental milestones and support his growth and learning in every way I could.
By far, Timberdoodle won my heart with their Tiny Tots Birth to 2 Curriculum kit! We've used Timberdoodle for Preschool, Pre-K, and Kindergarten, and absolutely love their hands-on, kinesthetic, sensory, and STEM-based learning approach.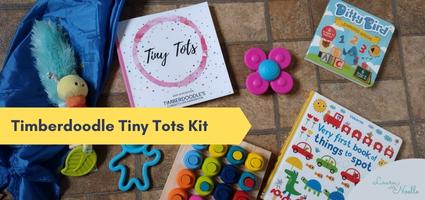 A special thanks to Timberdoodle Company for sponsoring this homeschool series of posts by graciously sending us this complimentary curriculum kit to see what we think. All opinions are our own!
Most people think of homeschooling starting when a child begins elementary school, but in reality, children begin learning the day they are born. Almost all daycares and preschools feature "play-based curriculums" for infants and toddlers, so it's not a far stretch for homeschooling to also have these options.
As a trained infant/toddler teacher myself with an Early Childhood Development degree, I've seen the benefits of intentional activities, sensory experiences, and the interaction from creative play. Many parents naturally do some of these things without any prompting, but rarely does it happen on a regular basis without some kind of structure and guidance.
This is where Timberdoodle's kit comes in. Tiny Tots doesn't have any workbooks or full-year curriculum to work through. Instead, it has many different toys, activities, and books for you to use over and over again while your baby is working on certain developmental skills.
I'll be diving into each subject area they cover over the next few months, but first, here's an overview look at what's included!
Tiny Tots Kit Options
Infant – Designed for 0-12 months (shown below in the "infant" categories)
Toddler – Designed for 12-24 months (shown below in the "toddler" categories)
Birth to Two – The complete set for 0-24 months (everything shown below!)
You can browse all three kit options on the Timberdoodle site here.
Curriculum Kit Guides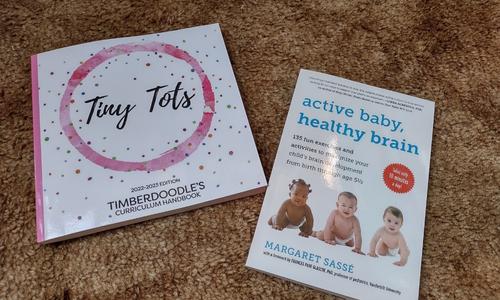 All three kits–Infant, Toddler, and Birth to Two–come with two guidebooks. The Tiny Tots Handbook is the guide that gets you started, boosts your confidence, and shows you exactly how to use each item in the kit.
Active Baby, Healthy Brain is packed with activities for you to do with your child from birth to age 5 to help their body and brain develop.
Infant Language Arts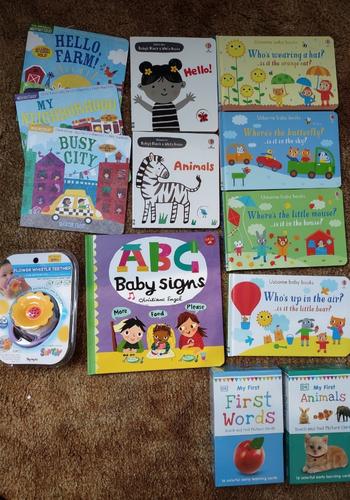 Infant language arts is all about building connections and relationships. They provide plenty of material to read together for parents, grandparents, siblings, and other caregivers.
I love that they provide a balance of black and white books for early visual learning, in addition to bright colors that attract attention and also touch and feel cards for sensory experiences. It's truly a well balanced mix of reading materials.
Infant STEM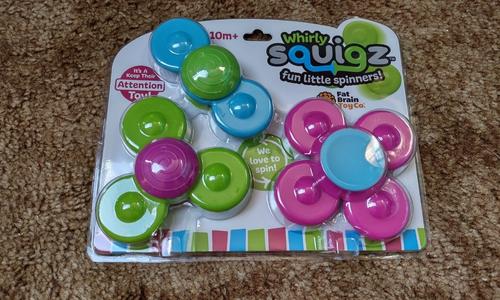 Infant STEM comes with these fantastic little spinners for visual and mental stimulation. Each of the three spinners has a suction cup on the back so they can be placed on home or car windows, floors or any hard surface.
Infant Emotional Intelligence
Infant emotional intelligence begins with recognizing faces, so they include a really neat baby mirror and a book featuring facial expressions.
Infant Motor Skills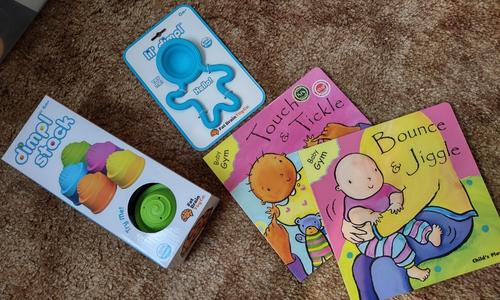 Infant motor skills covers both gross and fine motor with fun interactive books for parent and child and a toy and teether with a popping input! It also features a peanut ball (not pictured) that has so many incredible uses, especially in combination with the Active Baby, Healthy Brain book.
Infant Sensory Skills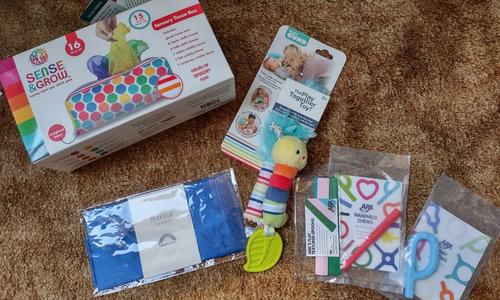 Perhaps my favorite category of all in early childhood development–sensory skills! Infants will be amazed at these soft, squishy, and textured toys designed to stimulate all the sensory input and develop neurological pathway connections.
Toddler Language Arts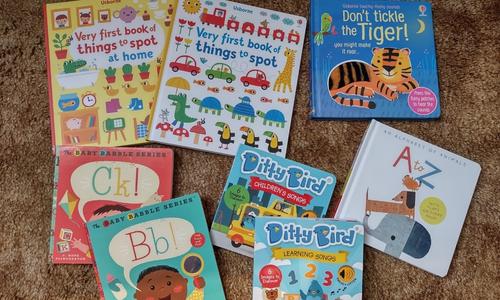 Moving on to toddlers! That one-year-old is on the move and ready for new adventures. These language arts books feature sounds, noises, shapes, colors, and letters to engage and practice early language skills.
Toddler Math
Toddlers are ready to begin working on very early math readiness skills such as color recognition, shape formation, sorting, stacking, and matching. Both of these sets visually and mentally engage young children in a hands-on way.
Toddler STEM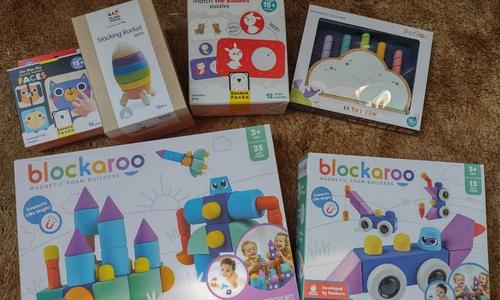 As little hands and minds grow, they need new challenges that grow with them. I'm in love with these STEM materials: toys and puzzles for building, stacking, matching, and learning about cause and effect. My older daughter also adores the building block set and can't wait to show her brother how to use it!
Toddler Emotional Intelligence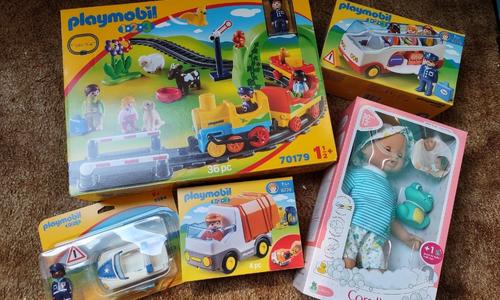 Toddler emotional intelligence focuses on building community awareness, nurturing, and connecting with others. Cuddling a baby doll and playing with the durable Playmobil town helps little ones to learn and express emotions in the best way–play!
Toddler Motor Skills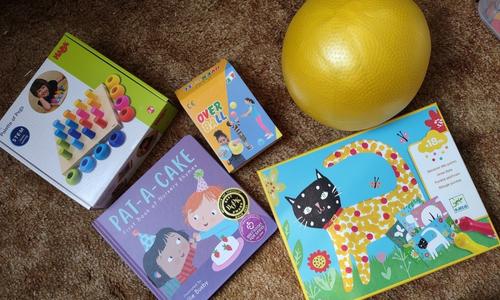 Every child needs to practice those fine and gross motor skills! Timberdoodle put together the perfect beginning ball, simple art, hands-on manipulatives, and a book full of rhymes and motions to help parents guide their children in learning.
Toddler Sensory Skills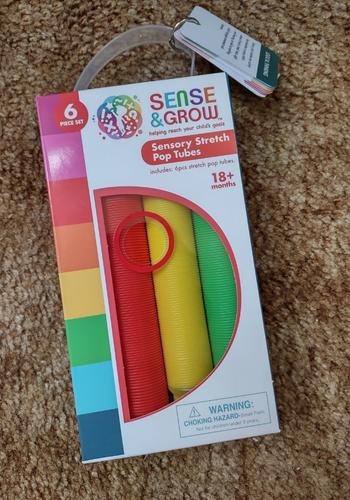 The infant sensory materials will grow with your child, but be sure to add on these fabulous pop tubes! With a fun noise and plenty of ideas for play, these are bound to be a hit.
Watch the Overview Video to see flip throughs and more about what we are most looking forward to this year!
Final Thoughts on Timberdoodle's Tiny Tots Birth to Two Kit
Thank you again to Timberdoodle for sending us this fabulous curriculum kit to review. We can't wait to dig in and show you more about each item! Look for upcoming reviews and videos talking in depth about each subject area and how we are using the kit as baby grows! Check out all the Tiny Tots kit options here.
Related Articles on Homeschooling
Want to Save Timberdoodle Tiny Tots Kit Overview for later? Pin to your favorite Pinterest board here: