Baby Sign Language Flash Cards Review
This post may contain affiliate links, which means I may receive compensation if you make a purchase using one of these links.
Teaching baby sign language can seem daunting, but resources like these Flash Cards make it simple!
When my first child was born, I had great aspirations to teach her baby sign language. It's well known in early education that baby sign language can help to improve communication skills, reduce frustration for the child (and parents/caregivers), as well as improve their early language development. Alas, I never got around to it, and I feel like the reason was because I didn't have easy access tools to help me.
Now with my second child, I have felt so much more empowered and equipped to use signs in our daily life and he is slowly starting to pick up on them. Baby Sign Language Flash Cards are available individually or as part of the Timberdoodle Tiny Tots kit.
A special thanks to Timberdoodle Company for sending us this complimentary copy of Baby Sign Language Flash Cards to see what we think. All opinions are our own!
This deck of 50 American Sign Language cards features full-color glossy cards with a picture on one side and a photo of someone doing the sign with a sentence description of the action on the other. The set also comes with a quick start guide to give parents tips and tricks to get started.
I like the suggestion to pick 10 cards to start with — 5 that are used in a daily routine such as milk, eat, and more, and 5 that are fun and new like ball, dog, and light. Then you begin to use these signs in your daily life, always saying the word and making the sign where baby can see.
You can also have playtime where you show baby the flashcards and work on signs together too.
For a few months now, I've been trying to be consistent with some basic signs like milk, more, eat, all done, thank you, bubbles, sleep, and drink. My 13-month-old will occasionally sign all done, milk, and up. I do think he recognizes and understands more signs but he hasn't chosen to do them himself yet.
I appreciate how they created the cards with proper nouns, such as Mommy, Daddy, Grandpa, and Grandma. Instead of featuring a picture of a person the child won't recognize, there is a space for you to attach a picture of that person in your child's life.
Right now I'm mostly using the cards as a reference and reminder tool for myself. I have sat with my little one and showed him the cards a few times, but usually, he just wants to grab them and bend them. I plan to introduce a new word every week and start using the new sign regularly.
I'm so thankful for tools like these Baby Sign Language Flash Cards that empower us as parents to educate our children even from the youngest of ages. If you're looking for more Tot School materials, you can check out my full overview of last year's Tiny Tots 0-2 curriculum kit here.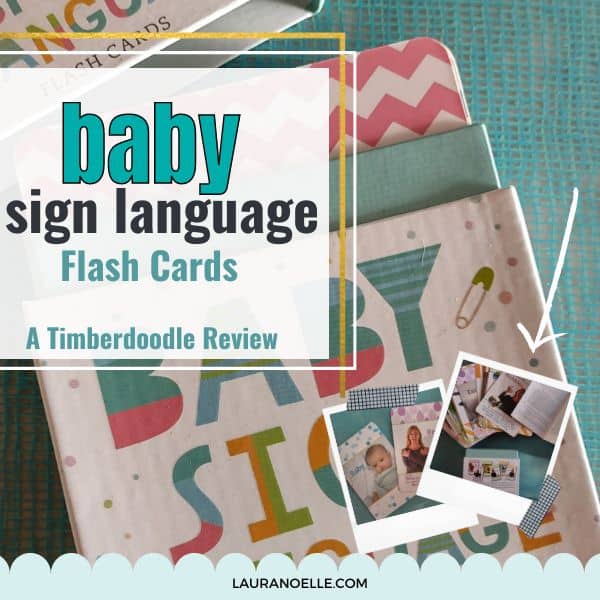 More Tot School Resources:
WANT TO SAVE BABY SIGN LANGUAGE FLASH CARDS REVIEW FOR LATER? SAVE TO YOUR FAVORITE PINTEREST BOARD HERE: