STEM for Infants & Toddlers || Timberdoodle Tiny Tots Kit
This post may contain affiliate links, which means I may receive compensation if you make a purchase using one of these links.
Science, Technology, Engineering, and Math (STEM) is the new buzzword in school, but what does it have to do with infants and toddlers? Certainly, more than you'd think!
Babies come from the womb observing how the world works, and as they grow, that curiosity and exploration just grows stronger. The concepts of STEM are foundational for problem-solving and critical thinking as a child grows.
Timberdoodle curriculum kits are packed with STEM components in all areas, including math and sensory skills, but they also feature dedicated STEM materials. In the Birth to 2 Tiny Tots curriculum kit, there is one tool for infants and five directed for toddlers, though we have been using several of those already!
A special thanks to Timberdoodle Company for sponsoring this homeschool series of posts by graciously sending us this complimentary curriculum kit to see what we think. All opinions are our own!
Whirly Squigz
I love Whirly Squigz SO much. They are quite possibly my favorite item in the entire kit (though how could one ever choose a favorite!). These amazing little spinners are constructed with food-grade silicone and plastic bearings that make them safe for babies of all ages to touch and chew, and for you to wash!
The set comes with three colorful spinner, each with a different design to draw baby's eye and engage their brain. On the back of each spinner is a sturdy suction cup that sticks to any smooth surface (any…I'm talking high chairs, tables, floors, windows, etc). At home or on the go, these little spinners will make your little one's jaw drop in amazement.
They spin easily, super fast, and go for a seriously long time! I am beyond impressed with the quality of these gems!
My baby is 6 months old (cue the tears), and he is completely in awe of the spinners. He hasn't figured out how to make them spin yet on his own (intentionally), but in time he'll get it. My favorite is to put them on his high chair table to entertain him while I do schoolwork with his older sister or work myself (full disclosure, he's sitting beside me playing with it as I type this blog!).
As baby grows to toddlerhood, these spinners won't enchant on a daily basis anymore, but they can still be pulled out for special occasions when you need a quiet fidget toy.
Faces Puzzle
The adorable Faces Puzzles are two-piece puzzles by Banana Panda make learning the symmetrical images of faces perfect for little hands. Designed for ages 15 months and up, the big, sturdy pieces are easy to match and fit together. 7 different animals, plus one human baby, are colorful and help little ones to develop visual perception and dexterity skills.
The Timberdoodle manual suggests pulling the Faces puzzles out around 12 months of age and helping baby put the pieces together. As the months go by, they will be able to start finding the matching pieces and eventually master this on their own.
Working with puzzles regularly (Timberdoodle suggests 3-5 times a week), will help budding learners build lifelong skills. I'm impressed with the quality of these puzzles and look forward to using them soon!
Rainbow Cloud Pop
Rainbow Cloud Pop is one of the cutest toys in the curriculum kit and introduces toddlers to a Montessori inspired pop-up peg toy. With 5 whimsical pegs and a smiling cloud stand, this is a toy beautiful enough to display in your living room!
With a tap, the pegs bounce and bob, and with a firm push, they jump out. Each peg has a color-coordinated hole so color-matching and hand-eye coordination are important skills being mastered.
Between 12-18 months, littles will become interested in Rainbow Cloud Pop and can engage at least once a week with the toy by removing the pegs, pushing them, and placing them back into their holes.
While my son is not anywhere near being able to use this as directed, I have pulled it out during tummy time for distraction and he enjoys watching me and big sis pop the pegs out!
Once Upon a STEM
When my 6-year-old daughter saw the Once Upon A STEM Block-a-roo boxes, she squealed with delight and demanded to take a bath with them immediately. They were a hit! I'd call them kid-tested and kid-approved, even by older kids. Baby doesn't have much interest in them yet but I can see them becoming a favorite in the 1 to 3-year-old range during bath and playtime.
When I was a kid, I loved my set of foam bath blocks that stuck to the bathtub walls when wet. These are a major step up from that in that they are magnetic–in and out of the bath!
The two collections included in the Timberdoodle kit include 48 foam blocks in 15 shapes along with wheels to engineer all kinds of creations. The foam is durable, safety tested, and even washable in the dishwasher. However, they are foam, so watch baby closely to ensure they are not biting the blocks.
Young babies can manipulate the blocks, experiment with the magnetic pull, and begin to knock down towers. As they grow, they will learn to build and knock down their own towers before moving on to more advanced designs. The Timberdoodle manual has several other ideas for using the blocks to learn such as counting, colors, shapes, sizes, and matching.
Match the Buddies Puzzles
Another fantastic toddler puzzle by Banana Panda, Match the Buddies is a cute and durable activity for around one year olds on up. The buddies are similar, yet distinctive, and you can use these differences as conversation points while you help your little one do the puzzles.
Pushing the matching buddy circle into the puzzle card space works on manual dexterity, while their little brains are working on logical thinking, concentration, and language skills. The twelve puzzle pieces feature darling animals with bright illustrations and add to the weekly puzzle routine.
PlanToys Stacking Rocket
Ready to blast off to space? This rainbow-colored stacking toy is made of preservative-free rubberwood and colored with organic pigments and water-based natural dyes. This toy is another one that is display worthy with it's sleek and classy design.
Featuring four rainbow-colored discs, each with a shape piece to place inside it, a little astronaut, a solid base, and the rocket's top nose, the intricate details of the stacking rocket can be used in various ways. You can simplify it by stacking the discs alone, work on shape recognition with the shape pieces, and slowly help your toddler to master the puzzle of adding the shape piece to the disc and stack them all in the right order.
Again, my son isn't close to enjoying this as intended, but he does like to hold the rings and knock the rocket over. Infants can learn so much from these experiences even if they technically aren't designed for them!
Final Thoughts on STEM for Infants and Toddlers
Timberdoodle offers world-class STEM materials for school-age children, so it's no surprise that they knocked it out of the park for babies as well! The foundational skills of motor dexterity, logical thinking, and problem-solving are the basis of engineering, math, and science.
I'm so glad that we get to start our little one young with exploring, solving puzzles, and building. It's the key to understanding how things work!
Check out the Timberdoodle Tiny Tots Birth to 2 Kit here.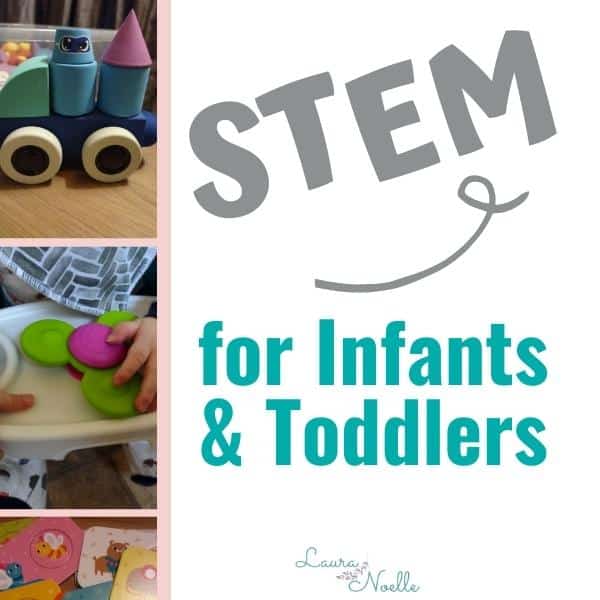 Related Articles on Homeschooling
WANT TO SAVE STEM FOR INFANTS AND TODDLERS | TIMBERDOODLE TINY TOTS KIT FOR LATER? SAVE TO YOUR FAVORITE PINTEREST BOARD HERE: