Why We Love Timberdoodle as a Minimalist Homeschooling Family
This post may contain affiliate links, which means I may receive compensation if you make a purchase using one of these links.
Minimalism in homeschooling is a hot topic. What's considered "minimal" and what's not? Here's why our minimalist family loves the traditionally stuff-filled Timberdoodle curriculum kits!
I'm a second-generation homeschooler. Which means that having been homeschooled all my life, I'm now integrating my own childhood experience with the new experience of homeschooling my young daughter.
In many ways, there are huge benefits. I've been through the ups and downs of homeschooling days and I know what worked and didn't work for me. The challenge is that as the mom, I now get to walk through many of those same challenges as I figure out what works with my kiddo!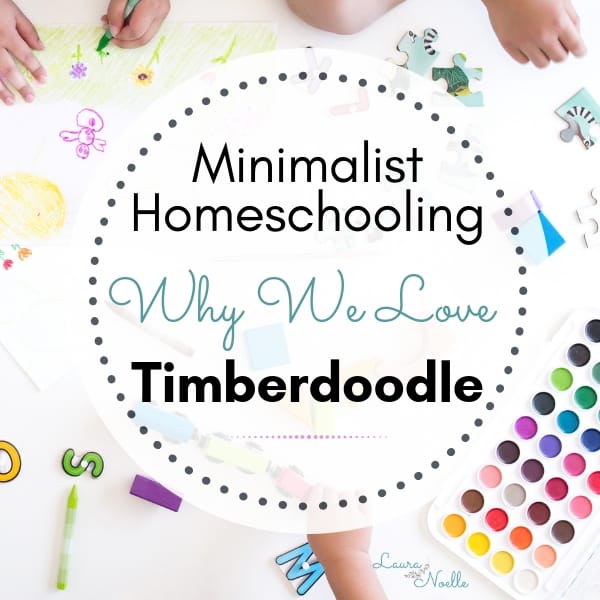 I didn't grow up minimalist, and we often had a dedicated "schoolroom" filled with books and materials to learn with. I loved that.
As our family has taken on minimalism and simple living, I've evaluated what stuff means to me in each aspect of our lives. Homeschooling has been an area of flux–I don't want to be too minimal, yet I don't want to go overboard.
My downfall is that I want to give my daughter the best education, and so when I saw used, free or inexpensive materials…they somehow ended up in my house. Boxes and piles of educational materials stacked up…before my daughter even entered school.
I recognized pretty quickly that to be a minimalist homeschooling family, I was going to have to streamline things and set boundaries.
I found that the structure, boundaries, and flexibility of Timberdoodle curriculum kits was the perfect fit for us! Here's why:
Timberdoodle is a Hands-On Approach
Traditionally, Timberdoodle Company is known for its many pieces. That's because they are a STEM-based (actually STEAM-based) learning system. Science, technology, engineering, art, and math are the absolute cores to their curriculum kits.
Yes, you still get language arts, spelling, thinking skills, history, geography, etc, but you will find specific materials and programs that simple book-based programs do not offer.
This is super important for young children and kinesthetic learners! In fact, research is showing that drawing, doodling, and writing are all basic skills that support our brains in learning-retention, which is decreasing because of computer-based learning.
As we limit screen time in our family, the importance of working with our hands goes up.
Timberdoodle Kits Save Me Time & Money
If you like to shop and plan and dream about curriculum (like me), it can be a blessing or a curse. For some homeschoolers–it's their favorite part and they love piecing together their curriculum each year (if that's you–awesome!!).
But, I know myself pretty well, and I love that aspect too much. So much that every piece of good looking curriculum ends up in my house. Not only is that not minimalist, but it can also waste my time and money.
As a planner, I enjoy researching, shopping, price matching, and scheduling… BUT that is a huge time sucker. Huge. I could go to all the conventions, learning stores and spend a ridiculous amount of time and money, or I could entrust someone else to do the curriculum vetting and lesson planning for me.
More time with my family and reaching financial freedom are top priorities for our family, and core factors in living with less.
Timberdoodle kits are lovingly and carefully curated by experienced homeschool moms. Timberdoodle is a small, family-run company, with both faith-based and non-religious options, and I can appreciate the work and heart they pour into making the kits the best they can be.
By having someone else pick out a fantastic curriculum lineup, I can get excited about the specific pieces in the kit, without overspending on unnecessary things, or wasting excessive time researching.
It's simple, pain-free and exciting when they release new kits every year! They also offer the ability to customize a kit and swap elements in and out to both meet a child's personal needs and your budget. I love that option and use it every time!
Timberdoodle Lesson Plans & Teacher's Handbooks Simplify Scheduling
Another stumbling block for a planner like me is lesson planning. Back when I was a preschool teacher, I spent hours and hours lesson planning and preparing, and I realized that all the planning actually wore me out before the day began!
As a simple living, minimalist family, we like a slower pace of life. I could make a rigid schedule and have every last page planned out, but that wouldn't lead us toward a simpler life.
Timberdoodle's teacher handbooks have a simple weekly checklist to help keep you on track throughout the school year, but without strict requirements. I call it "flow of life" and that flexibility is perfect for us. They also offer an online custom scheduler where you can edit and add to the printable checklist.
Having the lesson planning and scheduling done for me saves a lot of time and energy that I'm able to put straight into homeschooling my child!
Timberdoodle Offers Cohesive Education
In many cases, the curriculum offered through the years all works together, which means I don't have to worry if there is overlap or repeat or gaps.
For instance, while one curriculum is a default for the kits (currently All About Reading from Pre-K through 2nd grade), there is always an option to customize and use a different curriculum that works for your family.
For most subjects, including math, science, and language arts, there are at least two main curriculum types to chose from, including hands-on, literature-based, and computer-based (for older grades) learning.
When you find a particular curriculum that works for your family, there are benefits to continuing it for a cohesive and buildable education, though of course, this is not a requirement and may even bore some families!
Flexibility Equals Simple Living
Above all, flexibility is what allows us the freedom to have a simpler, slower family life. While routines and schedules often work for some people, other families will find them restrictive and boring.
It saddens my heart when I hear families say that they are bored while homeschooling. While there are many factors into those feelings, I would make an educated guess that they aren't confident enough in the idea of homeschooling to shake it up and allow themselves freedom.
Simplicity means that we can go spend a morning at the library. Simplicity means we can go on a field trip to a park or farm or museum. Simplicity means a day of sensory activities and digging in the dirt, and an evening doing logic puzzles.
Your priorities will direct your attitude towards homeschooling, and choosing a curriculum that works for the entire family is important. Timberdoodle does foster independent learning, but it's also a program that allows me to involved and fully vested in my daughter's education (without being an expert myself).
Let's Talk About the Stuff
Timberdoodle kits come in 3 sizes – basic, complete and elite, with the option to customize any of them.
Basic Kits have no frills and are not "complete". They lack science, history, geography, STEM, and assume you are using another curriculum for those.
Complete Kits will serve the average homeschooler. They include at least one thing in every subject matter and will provide an entire school year's worth of materials.
Elite Kits come with everything and then some. They are filled with extra books, multiple art projects, and additional hands-on puzzles and materials.
I typically choose to customize a kit that's a combination of the Complete and Elite levels. Usually, there are aspects of the Complete kit that we can either find at the local library, or have other resources for, and because my daughter is so kinesthetic, there are materials in the Elite kit that she can benefit from.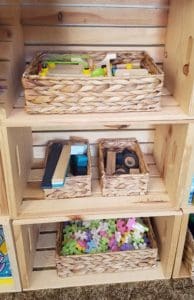 For the kit for infants through Kindergarten, many of the materials are hands-on, high-quality puzzles and "toy-like" learning tools. Our family has invested in many of the preschool and pre-k materials to serve as STEM-based learning toys instead of traditional toys from the store.
Our daughter has access to many of these tools throughout the day so learning is always taking place. This has helped to make them well-loved, purposeful and minimal.
Final Thoughts on Minimalist Homeschooling
There are families that choose to homeschool with as few books and materials as possible, and for the cheapest way they can. There is nothing wrong with this, but it's definitely not for everyone. It's certainly not what I desire for my family (and that's okay!).
Finding the curriculum path that makes your heart sing keeps the passion for home education alive. If you find you're stuck in a boring routine, try something new and ease up the schedule. You'll be amazed at what you find!
Watch the Video:
Related Articles on Homeschooling
WANT TO SAVE WHY WE LOVE TIMBERDOODLE AS A MINIMALIST HOMESCHOOLING FAMILY FOR LATER? PIN TO YOUR FAVORITE PINTEREST BOARD HERE: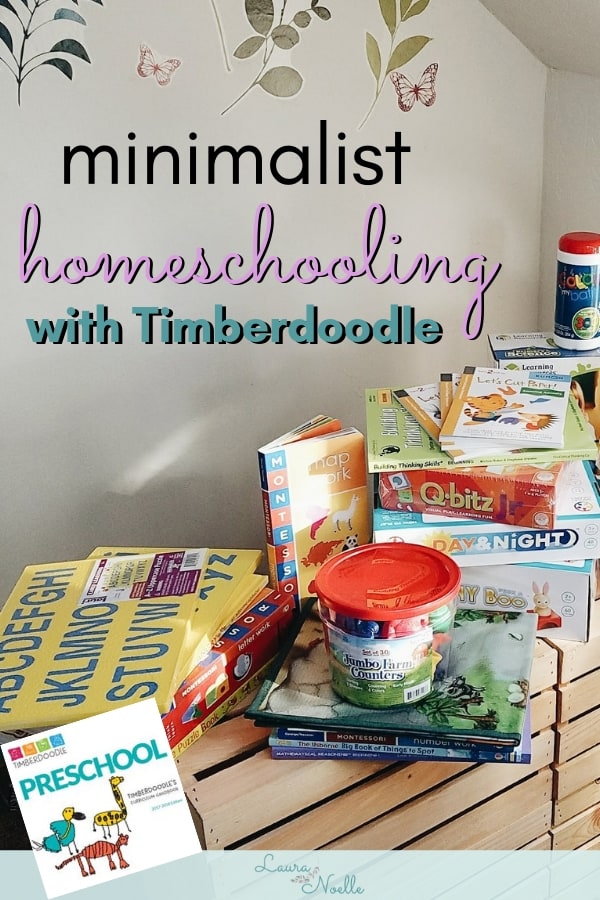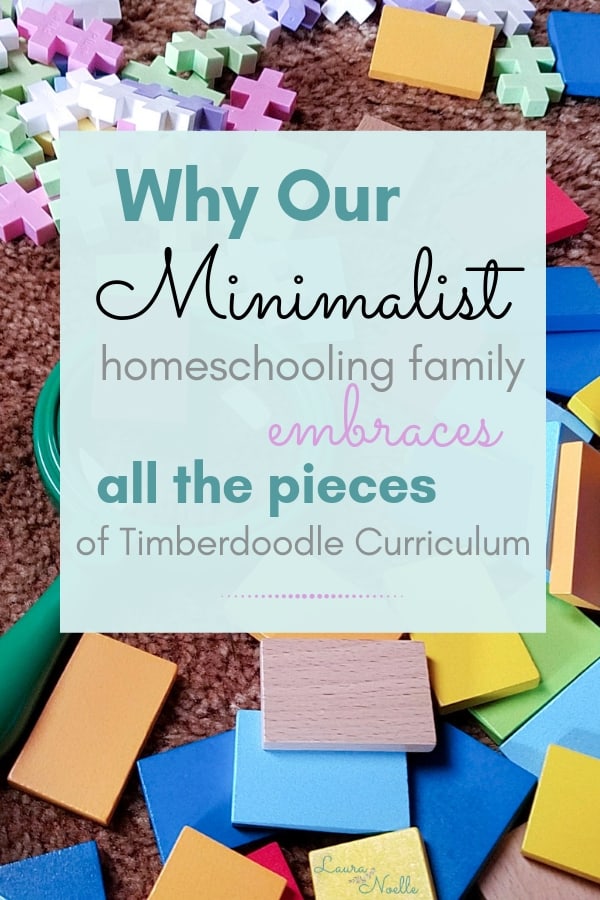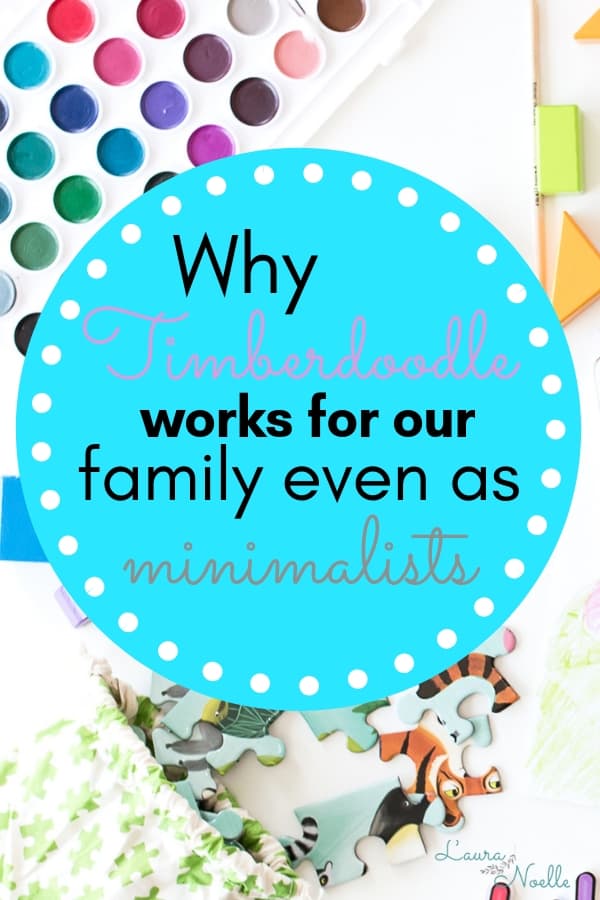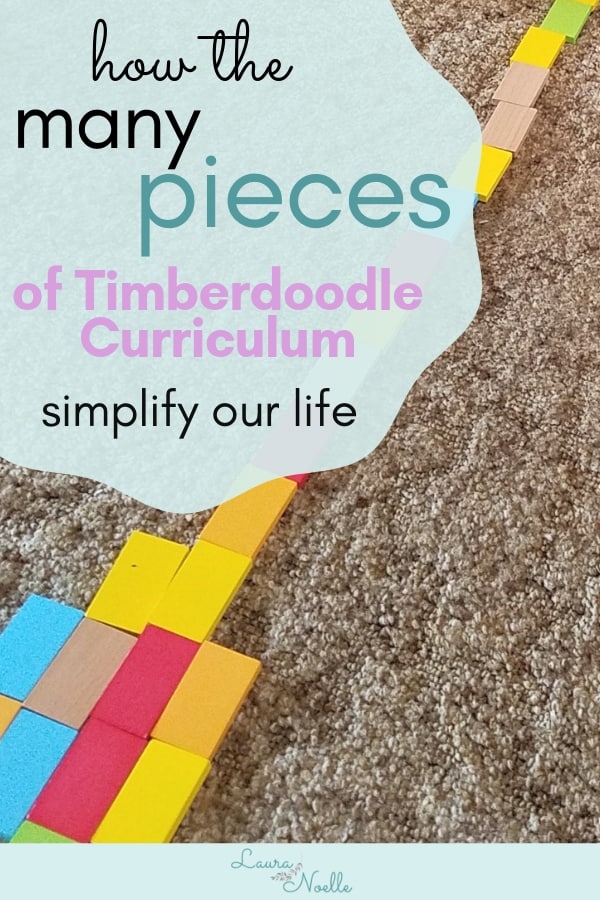 Why We Love Timberdoodle as a Minimalist Homeschooling Family