How to Set Up Preschool Homeschooling Learning Areas
This post may contain affiliate links, which means I may receive compensation if you make a purchase using one of these links.
Learn the basics of how to set up preschool homeschooling learning areas for creativity and focus. To begin, think about all the main learning topics you're going to cover: art, language arts, math, thinking skills, and fine/gross motor. Each of these areas can have their own designated space for focused learning.
Our preschool materials are in our living room and we used bookshelves (Target) and stacked wooden crates (Home Depot/Michaels) to hold the items. If I could put away some of the materials in a closet to rotate out, I totally would, but our current house doesn't have that option.
My daughter is three years old this school year and as a kinesthetic learner, she often gets out all the little pieces. But that's part of the learning process! We have essential pieces that allow her to explore and learn, like our art easel/blackboard, a tot table and chairs, and a peanut exercise ball for her to bounce on. Then each of the learning areas are divided up on shelves.
We use a combination homeschool approach of the kinesthetic materials from Timberdoodle and the more home integrated, sensory and family life skills of The Homegrown Preschooler with A Year of Playing Skillfully curriculum. The learning areas are primarily made up of the manipulatives from Timberdoodle's custom preschool box.
At this age, puzzles and building are often an emphasis leading into building thinking skills that peak natural curiosity. Cognitive puzzles like Day & Night (top shelf) are excellent for visual recognition, patterns and problem-solving skills.
The middle shelf is dedicated to math skills and contains one of our very favorites: Farmland Math counters. The farm play mat and curriculum book is a Timberdoodle exclusive, but the farm counters can be found separately. My daughter can spend an hour lining up the animals, matching and sorting by color or type. By far one of our most used materials!
Also on the math shelf are our three mathematics books: Poke A Dot Safari (huge favorite for my tactile sensory girl), Montessori Number Work (includes traditional sandpaper numbers on the pages which are so helpful for tracing and memory), and the Usborne Big Book of Things to Spot. Also hidden away for Pre-K is the Mathematical Reasoning Beginning 1 workbook, since my daughter is still a little young for workbooks.
The bottom shelf holds a basket of our very beloved Science materials from the Primary Science Lab Set, plus a Twisty Dropper and the H2O Color La La tablets.
My daughter is always digging in this basket for her goggles or magnifying glass and begs to play with the color tabs in a bucket of water all the time! It's a great way for her to learn the vital skills of pouring, color mixing and experimentation all at once.
The next stack of crates house the very popular STEM (science, technology, engineering, math) building sets. I love that these are high-quality free play toys, in addition to being guided lessons with directions and instructions in the Timberdoodle handbook.
From top shelf to bottom are the HAPE Dynamo Dominoes, Tegu Oceans Wooden Magnetic Blocks, and Plus Plus Midi 150pc Basic set (we have the pastel colors, they also come in Primary colors). While each of these sets does have a lot of little pieces (makes my minimalist brain panic), young children are drawn to the infinite possibilities set out by lots of small pieces.
One large item doesn't invoke creativity the way many small items do! Building requires the brain to problem solve and mentally move numerous pieces around until they fit in the desired shape. Kids need the extra step of those physical pieces to manually manipulate as their brains develop.
Next up are two more pieces of thinking skills games–Q-bitz Jr. game and Bunny Peek-A-Boo. Bunny is quite a favorite and comes with a set of cards with numerous ways to position the four wooden pieces differently, promoting logic and wonder. Also stored away is our Building Thinking Skills Beginning Workbook.
On the middle shelf is our HABA Wooden Zoo, and I've shared about this fabulous playset before. My daughter has loved this since she was one year old, and still eagerly plays with the wooden animals inside and outside their sturdy cardboard zoo habitat.
The bottom shelf is stuffed with Language Arts materials. Hidden under the fish colors puzzle are the Lauri Crepe Foam Alphabet Puzzles in lowercase and uppercase. There is a reason they are hidden…if she sees them, all the little letters will be strewn around the house in bowls of "alphabet soup" and other imaginative play! After almost losing them all numerous times, I hid them.
Our Language Arts Books (and one geography book) include: Montessori Map Work, Montessori Letter Work, Usborne Picture Puzzle Book, My First Spanish Word Book, A is for Angry, and Touch Think Learn: ABC.
The corner of our area houses some art supplies, including the books Draw and Learn Animals and Draw and Learn Places, watercolors, fingerpaints and lots of plain paper and coloring sheets. I sewed a "splat mat" out of flannel and PUL waterproof fabric to protect our floor, and it's been good to us!
In that same corner is our second hand Ikea Art Easel and Chalkboard, which our daughter is especially fond of.
We have two Target Room Essentials Bookshelves that hold a variety of other materials and toys we use on a daily basis. Stickers, crayons, and Color Wonder markers are quite popular, as well as our collection of puzzles.
The Mudpuppy On the Farm Puzzle Wheel is especially great for color matching and sturdy for rough little hands, as well as the HABA Little Hand Animal Puzzles. The small baskets I use to organize her supplies are actually bread baskets, and have held up well over the years.
On the bottom shelf are Melissa & Doug Beginner Pattern Blocks and a collection of PlayFoam, homemade playdough and various cookie cutters and a rolling pin.
On our last shelf are a collection of well-loved coloring books, about half her collection of board books, and a set of Hape Maple Wooden Blocks and plastic animals (mixed Terra Jungle Animal Set.
While this may seem like quite a lot of materials, and certainly preschool can be effectively taught with much less, I chose Timberdoodle as a way for my daughter to self-direct her kinesthetic learning. I've also chosen to focus on this as her primary play area with the exception of her play kitchen/baby dolls, calming corner, and imaginative dress up play. We are in process of de-cluttering her playroom with this in mind (see more on that soon!).
One final piece of history graces our school area, and that's the school desk I grew up with when I was homeschooled. It brings tears to my eyes to watch my daughter sit at that desk and color and I can see many years of eager learning (and maybe not so eager) happening in our home! Inside the desk are all her workbooks for the future and various other teacher supplies I'm hiding for the time being.
I have an additional "teacher box" on top of the crates that holds our curriculum handbook, scissors, construction paper, Time in Toolkit Peacemakers cards and Kumon Cutting Skills books. Take a peek inside these stashes in the video tour below!
Watch the Full Preschool Homeschool Area Tour here:
WANT TO REMEMBER THIS? SAVE PRESCHOOL LEARNING AREAS AT HOME TO YOUR FAVORITE HOMESCHOOL PINTEREST BOARD!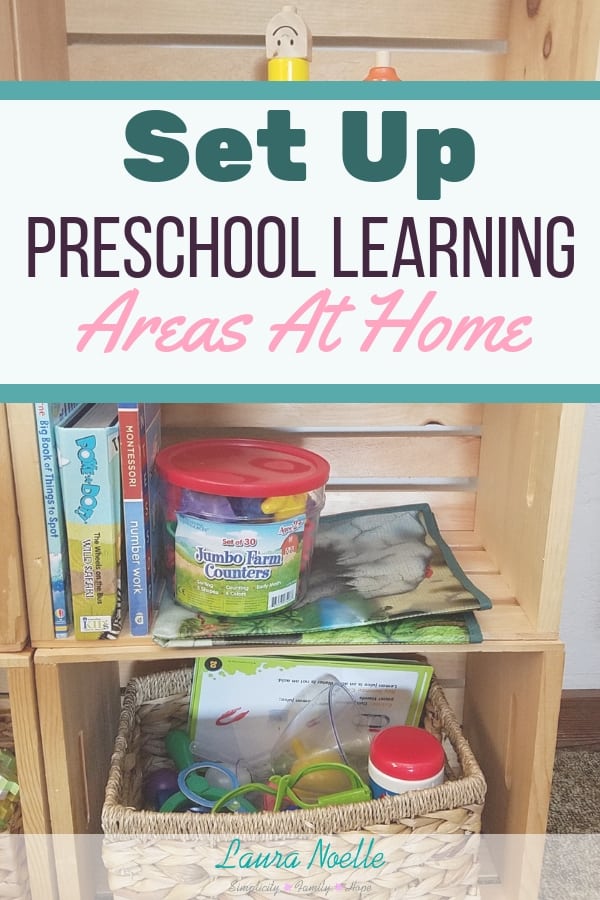 I'm joining in with Timberdoodle's Home Organization Blog Hop!
You are invited to the Inlinkz link party!