Motor Skills for Toddlers || Tiny Tots Kit Review
This post may contain affiliate links, which means I may receive compensation if you make a purchase using one of these links.
Toddlers are all about being on the go, and these fun additions help them to work on daily gross and fine motor skills.
The Timberdoodle Birth to Two Tiny Tots kit features four motor skills materials directed at toddlers. The kit also includes the book Active Baby, Healthy Brain which is a guidebook packed with exercises and activities for you to help your little one do from birth to age 5 for optimal brain development.
A special thanks to Timberdoodle Company for sponsoring this homeschool series of posts by graciously sending us this complimentary curriculum kit to see what we think. All opinions are our own!
Gymnic Over Ball
We pulled out the Gymnic Over Ball when my baby was around 6 months old. He's loved it from the start! The ball is so soft, with very slight bumps on the surface to help with gripping. He loves to hug it and has started to roll it as well. The ball is easily inflated by blowing it up with the provided straw, so it can be deflated and inflated on the go!
Easy to toss, catch, roll, kick, and bounce, this is the perfect first ball for infants and toddlers. The Timberdoodle handbook suggests utilizing the ball often with young toddlers to teach them to catch and kick. Older toddlers can begin to use it in more advanced ways as a basketball, soccer ball, bowling ball, and so much more! Beyond motor skills, children can also start to work on their social-emotional skills like taking turns and playing games together.
Wooden Pegging Game
I've always been a huge fan of Haba's wooden toys, and the wooden Palette of Pegs is no different! Fine motor skills like pincher grasp, along with stacking, sorting, and beginning color coordination and counting are naturally practiced with this game.
Featuring 16 pegs and 16 rings in 8 different colors, toddlers can mix and match, build towers, create patterns, and more. The Timberdoodle handbook suggests pulling it out to play around twice a week and working on skills in sequence.
Start with having your child remove the pegs from the board, then have them place the pegs into a container. Next, have your child place the pegs back into the board. Once they master that, they can start to place the rings onto the pegs as well. You can then move on to color matching, building towers, and more.
My son is an older infant, and enjoys taking the rings and pegs off, but has yet to learn any of the subsequent skills. While the wooden pegging board looks so simple, the skills being learned are invaluable. From hand-eye coordination to visual focusing, this activity is worth spending repeated attention on.
Pat-A-Cake First Book of Nursery Rhymes
This beautiful board book incorporates classic nursery rhymes, a few new poems, and engaging hand motions and movements to go with them. Pat-A-Cake encourages parents and caregivers to bounce, rock, wiggle, mime actions, sing, and move around with their child as they read each rhyme.
Rhyme and rhythm are vital components of regulation, so using these ditties throughout your day can bring smiles to a toddler's face, and serve as great distractions during emotional moments (and with toddlers–those are plentiful!).
Our favorites include Pat-A-Cake (of course), Hey Diddle, Diddle, Teddy Bear, Teddy Bear, and Three Little Kittens–but there are so many more in this book too! I love the cute illustrations, easy-to-read fonts, and the action suggestions. It makes it so easy to just grab the book and get to playing!
Spot the Dot Marker Kit
Here's your toddler's first art kit in a fun and manageable way! Spot the Dot Markers by Djeco feature 4 colorful "dot" markers in a hard, easy-to-grip shell. They aren't squeezable so no extra ink comes gushing out.
The kit comes with 4 designs, and each one has two pages to stamp and a reusable "frame" to place the artwork page in to create a fun picture.
My older daughter was eager to try it out and give us an example since my baby isn't quite ready to do much more than eat the markers.
The Timberdoodle handbook suggests using the dot markers once a week and getting creative with your own paper and art scenes!
Final Thoughts on Motor Skills for Toddlers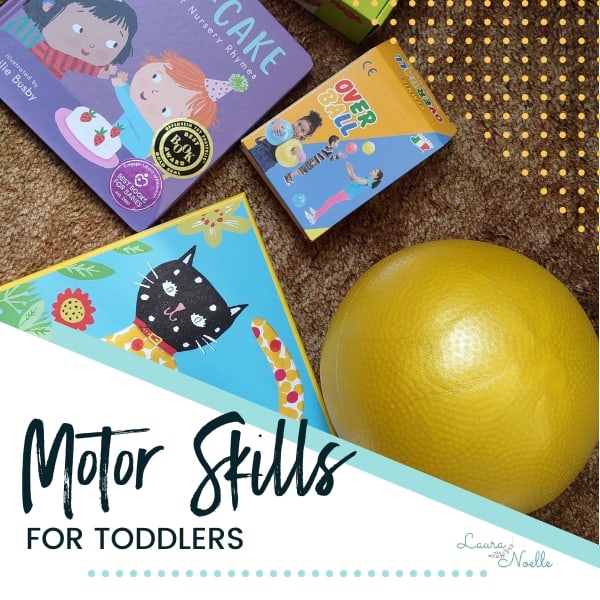 Working on fine and gross motor skills is key to early childhood development. Using Active Baby, Healthy Brain for daily movements, along with the Gymnic Over Ball, Wooden Pegging Game, Spot the Dot Markers and Pat-A-Cake Nursery Rhymes gives your toddler a variety of tools to work on those vital skills.
Another favorite from the kit that is excellent for motor skills are the Sensory Pop Tubes. They are perfect for little hands, and also provide auditory feedback which kids love! I reviewed those over here with Sensory Skills.
You can check out the Birth to 2 Tiny Tots Curriculum Kit from Timberdoodle here.
More Articles on Tot Schooling:
Want to save Motor Skills for Infants || Timberdoodle Tiny Tots Kit Review for later? Pin to your favorite Pinterest board here: