Feather the Owl Kid's Diffuser by Young Living || Demo & Review
This post may contain affiliate links, which means I may receive compensation if you make a purchase using one of these links.
Aromatherapy for kids is one of my biggest passions, and today I'm bringing you a review and full demo of my new favorite kids' diffuser–Feather the Owl!
As a minimalist, I appreciate multi-purpose items that serve our family and also add incredible value to our lives. Feather the owl meets my criteria for a multi-purpose, high-value item! Adorable visual appeal and 3 practical uses, all in a compact size. Young Living Essential Oils released Feather at the 2019 Convention, and let me tell you, the crowd went wild (including me), when we saw this amazing little machine for the first time!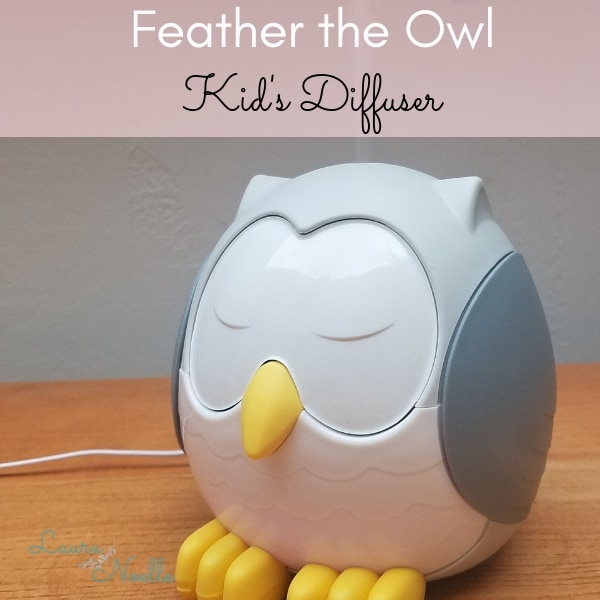 All About Feather's Features
Not only is Feather a full ultrasonic diffuser with three running modes (high runs around 5-6 hours, low about 8 hours, and intermittent runs 1 minute on/one minute off for around 10 hours), but it also has a night light and sound machine that work independently from the diffusing mode. And while it's not a full-powered humidifier, it definitely can add a little moisture to the air if that's desired.
How to Run the Diffuser
The diffuser function can be turned on when the top has been lifted off, water poured into the reservoir (no higher than the "max" line indicator), and a few drops of oil added as desired (though you can run it simply as a humidifier without oil as well), and the top replaced securely.
Simply tap the middle toe on the left to turn it on (when looking at the front of the owl). The first tap turns on "high" mode. A second tap switches it to "low". A third tap goes to "intermittent one minute on/one minute off". A fourth tap turns the diffusing function off.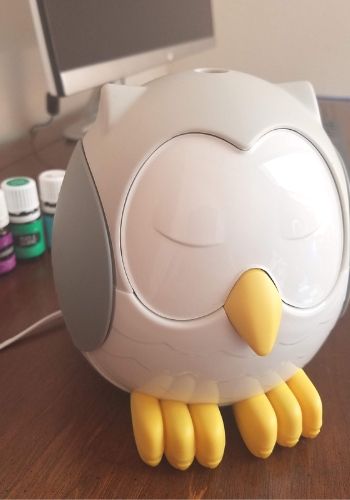 Feather runs with a standard AC adapter, so please use caution and ensure the jack is placed properly into the diffuser and the adapter plugged in by an adult into a safely grounded electrical outlet.
This one little owl is perfect for nurseries, kids' rooms, playrooms, living rooms, homeschool rooms, and really–anywhere in the house! =)
How to Work the Night Light
My three-year-old is fascinated with the Easy-Touch Talons™ you tap to change the colors and diffusing modes. The 10 beautiful LED color options change each time you tap a middle toe on the right side (when looking at the owl), starting with:
white light (default)
dim white
7 color cycle (changes every 5 seconds)
red
yellow
yellow-green
green
light blue
blue
lavender
light off mode (you can also press the middle toe for 3 seconds at any time to turn lights off)
I love that the lights can run independently of the diffusing functions, and are so easy to turn on and off! They do not have a timer function, however, and must be manually turned off.
How to Work the Sound Machine
A brand new feature that I am soooo in love with is that of a sound machine! On the back of Feather, there are two buttons, a musical note, and a volume button. Pressing the musical note will cycle through 5 unique and soothing sounds: rain, birds, ocean waves, fan/white noise, and lullabies.
The volume button cycles through low to high sound settings. To turn the sound machine off, you can either cycle through the volume settings, or hold down the volume button for 3 seconds.
Watch the Full Demo of How to Work Feather here:
Though Feather diffusers have been extensively tested for top-notch quality and durability, they are not a toy and do require adult supervision. Please place them out of reach of young children.
How Feather Compares to Other Diffusers
Feather the Owl is one of a kind! This feathery friend was designed to be a multi-purpose, compact addition to healthy homes, delighting both children and adults. While Feather includes the same diffusing mode and LED light options as other Young Living diffusers (like the Lantern and Desert Mist), the addition of the sound machine is completely unique.
In addition, Young Living's amazing heart for changing the world shows as a portion of all proceeds from Feather diffuser sales will be donated to the Tracy Aviary in Salt Lake City, Utah. Tracy Aviary is a nonprofit organization that dedicates research, outreach, and action to protect birds and their habitats.
If you're researching other diffusers on the market, you'll find that Feather the Owl can run 25-40% longer than other kids' diffusers. Not only that, but Young Living's quality testing is top-notch (for instance in testing, they drop each diffuser up to 30 times, ensuring that after each drop, the diffuser is still able to be plugged in and run normally!).
In addition, Young Living offers a one-year warranty on all diffusers in case of any manufacturing defects or product failure. In my own experience, I have owned 8 Young Living diffusers over the last 5 years, and all of them still work. I've only had to call Customer Service once when one plug adapter stopped working and they immediately replaced it. That's the only problem I've ever had with them! They are truly top of the line quality!
What Kids' Think of Feather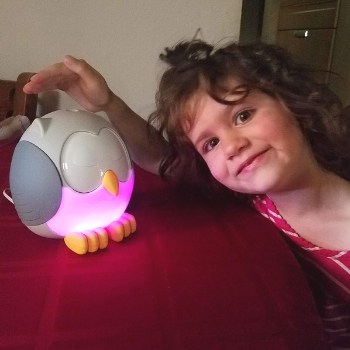 Young Living wanted to ensure that children truly loved this diffuser, so they put several diffuser models in front of a kid's panel, and they chose Feather as their favorite! My three-year-old daughter is truly in love with Feather and begs to turn it on all the time.
Top 10 Oils to Diffuse in Feather the Owl

Calming & Bedtime:
SleepyIze
Peace & Calming
Lavender
Gentle Baby
Grounding & Getting through the Day:
Stress Away
Orange
Northern Lights Black Spruce
When Everyone Needs a Boost
GeneYus (homework/study time!)
Valor (confidence & courage)
SniffleEase (for all the noses)
How to Clean Your Diffuser
Use a moistened small brush or swab to wipe down the inside of the water reservoir, gently wiping the ultrasonic plate and all the corners. You can use a little bit of castile soap or Thieves Household Cleaner for added cleaning power. Do not run water straight into the diffuser or get the outside or bottom of the diffuser wet.
Bring Feather the Owl to Your House!
You can order your very own Feather the Owl here. Each diffuser comes with a 5ml bottle of Lavender essential oil to get you started. You can purchase the diffuser with a retail account, or become a Young Living Member to get 24% off retail price. Membership has so many benefits, including becoming a part of the Floral & Spruce community, where we walk this journey to a healthier life with you!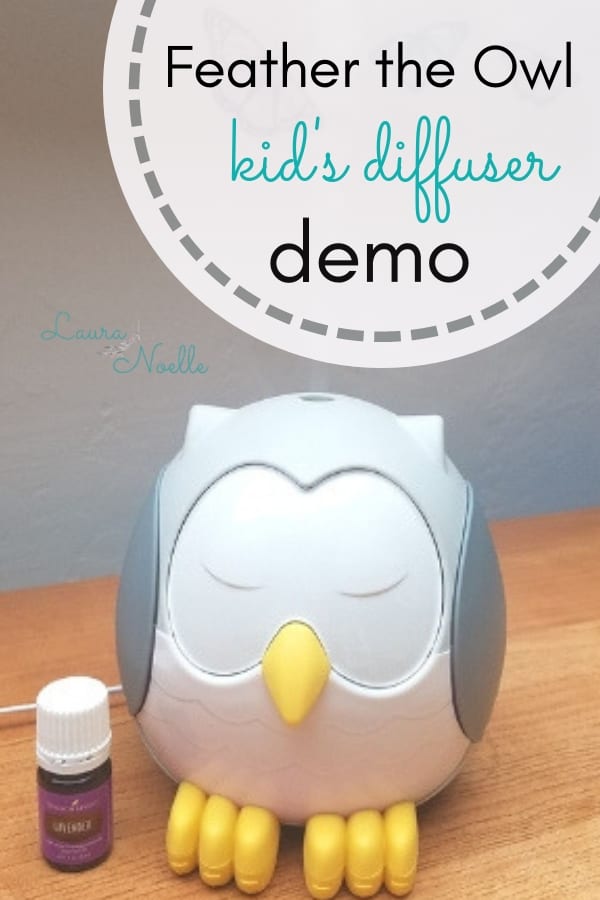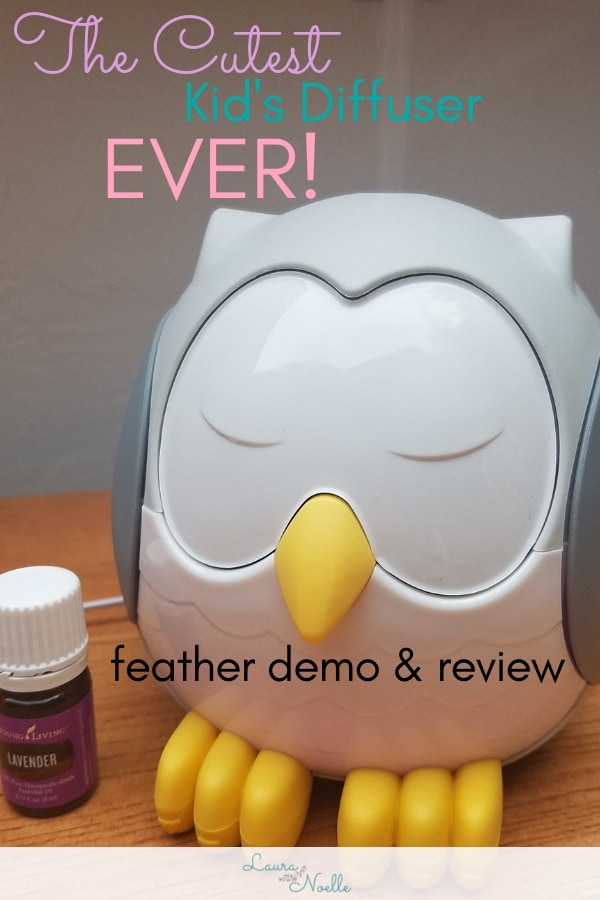 Feather the Owl Kid's Diffuser Demo & Review