How to Pack a Homeschool Co-Op Lunch Box for Picky Eaters
This post may contain affiliate links, which means I may receive compensation if you make a purchase using one of these links.
Packing a lunchbox for Homeschool Co-Op day is a challenge in itself, but add in a picky eater and it's just frustrating! Here's how I streamlined our system for simple school day lunches.
Our family joined a homeschool co-op last year when my daughter started preschool. I was so excited to be learning with other families that I neglected to even think about lunch hour… Or the fact that I would have to start packing weekly lunches.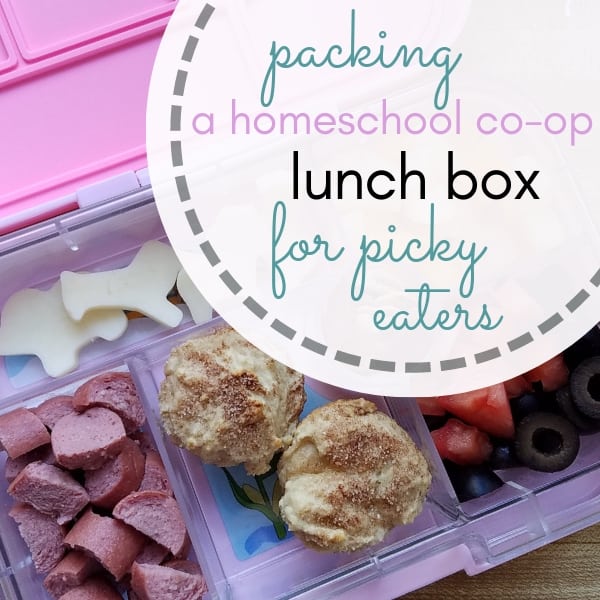 Add in the fact that my little one is an extremely picky eater and I felt at a loss for what to pack her. I was spending hours in the kitchen each week trying to make it special, and also filled with food she would eat.
Finally, I created a streamlined system and, thank goodness, she likes it! If you have a picky eater, these tips can help you set up a system to reduce your stress and time in the kitchen each week.
Gather Your Tools
Take into account the age of your child when picking their lunchbox, thermos, water bottle or lunch bag. There are many options available in different materials (plastic, glass, stainless steel), styles and colors! While I am typically a big fan of glass food storage, I knew that glass wasn't practical for my preschooler.
I like the look of stainless steel LunchBots, but they are on the pricey side and I was looking for something that would be very visually appealing to my child. When she's older, we will likely invest in a LunchBots box, but for early childhood, we chose a YumBox instead.
I let my daughter select the color that she wanted for an original YumBox bento lunch box. Her YumBox fits perfectly into her insulated Skip Hop lunch bag, and I put two small (thin) frozen blue ice in the bottom of the bag to keep food cool. She also has the Skip Hop giraffe backpack which she carries a jacket, change of clothes and other school supplies in.
If you're looking for something to hold hot or cold soup, pasta, and other liquids, a trusty thermal food jar is a must. For drinks, older children will want some kind of water bottle. We still use the stainless steel Munchkin 360 spill-free cup, but soon we'll upgrade to a more standard water bottle.
Pick Favorite Foods & Create a Weekly Meal Plan
It's totally okay for most kids to have one special meal each week that's exactly (or almost) the same. It creates a routine and they know just what to expect, so there aren't surprises and uneaten new foods.
Please know that packing one lunch a week is very different than packing daily lunches for a traditional school. If you happen to need to pack more than one lunch each week, I'd recommend picking a particular menu for each day of the week that needs a packed lunch.
While we want to keep it simple, we want to avoid repeating too much of the same food.
Also, while I'm a big advocate for healthy, fresh and raw foods, packing a lunch full of those things that a picky eater will accept isn't always possible. For simplicity's sake, we do the best we can with the resources we have, and allow some leniency to ensure that 1) she eats her food, and 2) I can spend less time in the kitchen on a busy morning.
Pickiness due to Food Allergies & Intolerances
Dealing with food allergies can inadvertently create pickiness because there may be a lot of things a child can't have. We discovered this when my daughter was found to have a severe egg intolerance. I am very careful about ingredient lists and when we are out and about, have to approve any food for her that I didn't bring myself.
This is stressful, and also makes her question what she's able to eat and what she can't. We are working on increasing her definition of "safe foods" but I also think there is a place for caution. I try to anticipate when other children may be bringing baked goods she can't have by providing our own alternatives, such as the Applesauce Muffins linked below, or some packaged treats from Enjoy Life, an allergen-friendly brand.
We also make our own "mug cake" to take in place of birthday celebration cupcakes or cookies.
Design Your Food Categories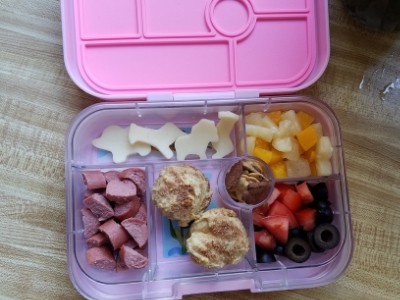 I really love the bento-style lunch box that keeps food apart (huge for picky eaters) and encourage a balanced meal. I like the YumBox pictures that go with each food group, and while I may not totally agree that these foods groups create a balanced meal, it does make for good variety for my child to choose from.
We generally follow the categories: dairy, protein, grain, veggie, fruit & treat. If we're doing grain-free, I'll usually put a second helping of vegetables in the "grain" spot. Customize it to work for your family's preferences!
Here's what works for us for a weekly lunch box meal plan:
Organic Beef Hotdog (Applegate) – cooked, cooled and cut
Cheese slices (I used mini cookie cutters here – if she ate string cheese I would just put one of those in, but she refuses them)
Fruit cup (juice drained) or chopped fresh fruit (grapes, strawberries or blueberries work well)
Vegetables: carrots, olives, tomatoes, green beans, etc.
Applesauce Mini Muffins (baked the day before)
Annie's Bunny Crackers or Grahams (sometimes these are in a separate baggie)
You know what your child likes to eat, so start there. You can always tweak the meal plan as you discover what makes things simple for everyone.
Add in Easy Snacks & Extras
Depending on your diet, this step will vary. Our family tries to eat healthy, but on our Co-Op day, I do let in a few extra packaged snacks and treats to save time. Also, a lot of her friends eat candy and chips at lunch, and having something out of a package helps to reduce the "I want that!!" meltdowns.
Here's what works for us:
Applesauce pouch from Trader Joes (rotate flavors)
Fruit Leather Buttons from Trader Joes (rotate flavors)
Fruit cup (juice drained and fruit placed in lunch box)
That's It fruit bar from Sprouts (rotate flavors)
(optional) Special treat – Enjoy Life chocolate chip cookies or brownie bar
Streamline Your System
Find a box, bin or shelf to store and collect shelf-stable lunch foods. When you set a menu of specific items, it's easy for you or older children to pack their lunch. Some people find that having each item in a box or bin allows for each grabbing.
I found that working ahead a few weeks and buying in bulk prevents me from stressing out each week.
I found that I'm prone to put off tasks that I dread to the last minute, and this system prevents me from doing that. I grab a handful of quart size baggies and place a fruit cup, applesauce, fruit leather and fruit bar in each one, then store them in the pantry in this bin.
Each week while I'm preparing her bento-box with fresh food, I can simply pull out a baggie and stick the packages in her insulated lunch bag, and she's ready to go!
When I started making lunches, I was spending over an hour in the kitchen before running out the door to get to Co-Op on time. With this system, I can spend an average of 15 minutes or less, cooking and chopping her fresh food and putting it into her lunch box. That's a huge time savings!
Ready to simplify your lunch box packing for picky kids?! You've got this!
Related Articles on Simplifying Homeschooling
WANT TO SAVE HOW TO PACK A HOMESCHOOL CO-OP LUNCH BOX FOR PICKY EATERS FOR LATER? PIN TO YOUR FAVORITE PINTEREST BOARD HERE:
How to Pack a Homeschool Co-Op Lunch Box for Picky Eaters