Simple Summer Learning || Hands-On Experiences for Homegrown Preschoolers
This post may contain affiliate links, which means I may receive compensation if you make a purchase using one of these links.
For many, summer is when family life speeds up. We've chosen to do the opposite and slow down, but that doesn't mean learning and fun stop! Here are some simple activities our family has enjoyed with our preschooler at home!
Crafting a slow, simple summer starts with intentionality, but I think it's well worth it for parents and children to embrace a season of fewer commitments and activities. The value of letting kids experience boredom has been circling recently and I wholeheartedly agree. Kids naturally will learn to be more creative and inventive when they are forced to be.
While there's nothing wrong with creating fun and engaging activities for our kids, there should absolutely be a balance of child-directed, imaginative play. In our school year, I lead more structured lessons with Timberdoodle Curriculum components, but during the summer, I let my daughter choose more things of interest to her.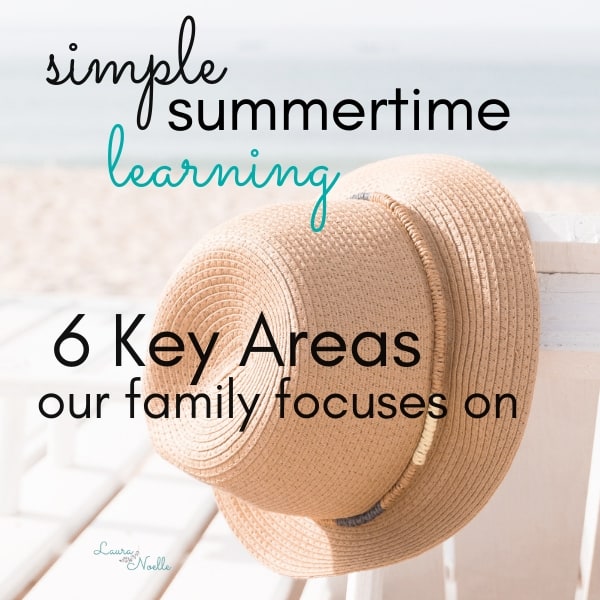 This means reading a lot of books, playing outside, and a few hands-on games, arts and crafts and sticker books. We've been focusing on a few areas for a well-rounded, yet simple, summer of learning. There is simplicity in experiencing and talking about the world around us, and while we may not think it matters, it truly does!
Sensory
My little kinesthetic learner loves to touch, so I always try to incorporate sensory bins and experiences for her. We have a bin of water beads on the floor in the kitchen so she can play while I cook. Her baby doll that she can feed water to resides in a bin in the bathroom. When she has a need to touch things, she often chooses one of these stations.
One day while I was decluttering, I found a bag of different colored sand and sand dollars. Instead of storing these items for years to come, I created a sensory sand bin for her to explore. It was a huge hit and has been pulled out several times. We discuss colors, what happens when we mix colors, and where shells come from.
To make these activities a little less messy, we have an outdoor "blanket" (a big pieces of flannel fabric), and an indoor "splat mat" (a baby blanket I made that is one side flannel and one side PUL water-resistant fabric) that we put down and direct her to keep the mess in the bin and on the mat.
Nature
We welcome the outdoors in summer! Lots of walks around town and to parks help us soak in the sunshine together, but our yard is also stocked with bubbles, a mud kitchen, a scooter, tricycle, sandbox and small pool (weather permitting). There is a lot I can teach my daughter, but there is so much that she learns on her own when she moves her body.
Standing back and letting her explore, try new things, and make decisions is often an amazing process to observe.
Sandbox play is incredibly helpful for tactile and sensory children as it helps them to experience new textures, calm themselves with touch and explore in an enclosed environment. Our sandbox gets hours of play and we only have a few simple multi-purpose sand toys for her. We explore the differences between dry sand and wet sand and how wet sand holds shape, while dry sand doesn't.
The simplicity of water play during warm weather always amazes me. Memories of my own childhood running through the sprinkler makes it all the more sweet to see her joy. We talk about the concept of contrast — cold, hot, wet, dry, a little and a lot.
Art
Our art cart gets daily use, and it's clear that my daughter follows in my footsteps with a passion for paper (eek). I was a child that made so many things from paper. I made my own paper dolls, paper houses, ornaments, signs, pictures, books… Well, I understand how my parents felt with paper covering the house because our little firecracker is now filling our house with paper creations!
I love her creativity, but we also try to recycle and reuse as much as possible. That means that every piece of paper in our home is covered with writing or pictures on both sides before it is put into the recycling bin (haha!). We also try to make use of paper that others are intending to throw out (just look around you and you'll likely find this easily too!).
Paints, markers, crayons, colored pencils, and stickers are used daily and she's practicing her fine motor skills (pre-reading skills!), precision, patience, and creativity all at once!
Emotional Regulation
My sweet girl is a passionate person, and has big emotions. I discovered Generation Mindful when she was a toddler and quickly implemented the Time In Toolkit for our family. We were beyond thrilled when they came out with SnuggleBuddies, soft and cuddly animals that match the characters in the toolkit program and offer child-directed and adult-directed opportunities to discuss emotions and move towards healthy emotional regulation.
My daughter loves snuggling her friends, talking about why they are named what they are (joy, power, balance, love, peace, intuition, forgiveness), and discussing what she's feeling while holding the color-coded mood emoji pillows attached to each one (mad/scared, happy, sad, calm).
Not only does this help her understand emotional awareness, but it also helps her to regulate her outbursts, communicate her feelings and move toward actions that encourage us to work together as a family. This is the core of growth mindset and a huge part of our learning process.
Science / STEM
Science is simple to teach through daily life. Bubbles, water, sand, mixing, pouring, measuring, colors, and wind are all around us. As much as possible, I try to incorporate nature and science together, but science and STEM with an emphasis on building, experimenting, and math can be done inside or out.
Balloons, bubbles, and kites have been some of the most powerful tools to teach about wind, force, effort, and weight. Kids think it's all play, but we know better!
When indoors, our STEM building sets frequently make a debut. Legos, magnetic blocks, and the Plus Plus Big building set are favorite choices.
Home Skills
A few months ago, we introduced a "payroll" chart for our three-year-old. We aren't very strict about it yet, but she does have the opportunity to earn a few cents by helping around the house with laundry, dishes, picking up toys, wiping the kitchen down, washing the floors, etc. We do these activities together and they are great for encouraging conversation while we work!
I recently invested in the Thieves Home Cleaning Kit, which comes with this amazing stainless steel old-fashioned bucket, and my girl quickly claimed it as "her bucket". She was very excited to fill it with water and help me wash the floors! Sometimes it's the little things that teach the biggest lessons.
Preparing for Pre-K
We are honored to be a part of the Timberdoodle Blog Team, and as we look forward to our Pre-K school year this fall, we also got a fun box of goodies to review. We've started diving in and I can't wait to share what my daughter (and I) think of them!
You can look for these reviews coming soon!
Smart Farmers Thinking Skills Game – August 2019
Bugzzle Logic Puzzle – September 2019
Usborne Zoo Picture Puzzle Book – September 2019
Smart Start STEM Pre-K Workbook – November 2019
Final Thoughts on A Simple Summer of Learning
Keeping things simple during summer will reduce everyone's stress and might actually lead to more learning. Homegrown kids have the advantage of being more involved with daily household life and less pressure to be involved in a hundred activities (though for older kids it's absolutely beneficial for them to take part in some activities!). You can have a simple summer and still have a great time as a family!
Related Articles on Simple Learning
Simple Summer Learning || Hands On Experiences for Homegrown Preschoolers
You are invited to the Inlinkz link party!