Thinking Skills Games || 2nd Grade Curriculum Kit Review
This post may contain affiliate links, which means I may receive compensation if you make a purchase using one of these links.
2nd grade wouldn't be complete without a stack of thinking skills games! These are by far my daughter's favorite things about Timberdoodle (okay, maybe it's tied with the art kits).
This year, our Timberdoodle 2nd grade curriculum kit comes with two individual-player games and one game for 2-4 players.
A special thanks to Timberdoodle Company for sponsoring this homeschool series of posts by graciously sending us these complimentary thinking skills games to see what we think. All opinions are our own!
Huddle Up
This is a delightful 2-4 player game that is great for everyone's logic skills–even adults! Recommended for ages 6+, Penguins Huddle Up is a multilevel family game that stimulates flexible thinking, planning, problem-solving, spatial insight, and concentration skills.
With two ways to play, you can vary the difficulty and strategy to keep things interesting. The handbook recommends playing at least one game a week. Our family pulls it out on Tuesday afternoons while the baby naps and plays a few rounds!
The goal of Huddle Up is to move your colored family of penguins from their scattered positions around the board to one huddle together as fast as possible, which means blocking other players from reaching their huddles too.
Play is simple. To begin, pick your penguin family color and take turns scattering your opponent's penguins around the board. On each turn, you can move one space, jump over another penguin, or dive into a water hole and pop up in another hole around the board. In the Junior game version, you just need all your penguins huddled together to win. In the Expert version, you need all your penguins to be the same height, meaning adult penguins have to be on the ground, and baby penguins have to be standing on ice blocks, but still huddled together!
Huddle Up reminds me a bit of Chinese Checkers in how the colored pieces are moving across the board, blocking other colors from moving. But the adorable penguins and the ice holes definitely give it a fun (and often unexpected) twist. Both my daughter and I love this game and it's always a toss-up as to who will win each round!
Walk the Dog
Walk the Dog is a 1 player SmartGame recommended for ages 7+. With 80 challenges moving from easy to expert, this game capitalizes on building logic, planning, problem-solving, spatial insight, and flexible thinking skills.
The challenge booklet provides set-up directions for each game and then following the rules (dogs and cats can't be right next to each other, and leashes can't be loose), the player tries to figure out the placement of the dogs and their walkers. Solutions are found in the back of the booklet, which is great for when mom can't even figure out the challenge!
The handbook recommends doing 2-3 challenges a week, and I have to beg my daughter not to work ahead too far! However, it is notable that the easy puzzles are where students are more likely to fly through, and the more challenging ones will exhaust their brains a little more later on!
Smart Cookies
Featuring 64 progressive logic puzzles, Smart Cookies is recommended for ages 6+ and offers a visually appealing cookie design that most kids are eager to play with. The book of visual logic clues offers increasingly difficult puzzles as the student works their way through it, trying to figure out where to place the 9 cookies on the baking tray in each puzzle.
Smart Cookies builds reasoning, logic, verbal precision, and perseverance skills–all of which are important building blocks for academic success! My daughter ooh-ed and ahh-ed at the box and dug right in immediately.
While the puzzles are quite easy for an adult to understand, the symbols and visual spacing of the clues are quite challenging for children, particularly younger ones. My daughter needed help at first to understand how the clues were set up and what they meant. Solutions are found at the back of the booklet.
The handbook suggests doing 2 puzzles a week to finish in a year, but it's hard to keep your eager learner from doing more! I have to beg my daughter not to race ahead too far so she has something fun to do later in the year!
I really appreciate how the visual clue book encourages sequential problem-solving. I've observed my child wanting to skip around instead of moving in order, left to right, on the page. When she does this, she gets frustrated because the clues build on each other and are not made to go out of order. I feel like this is an extremely valuable skill that she's learning in a hands-on way.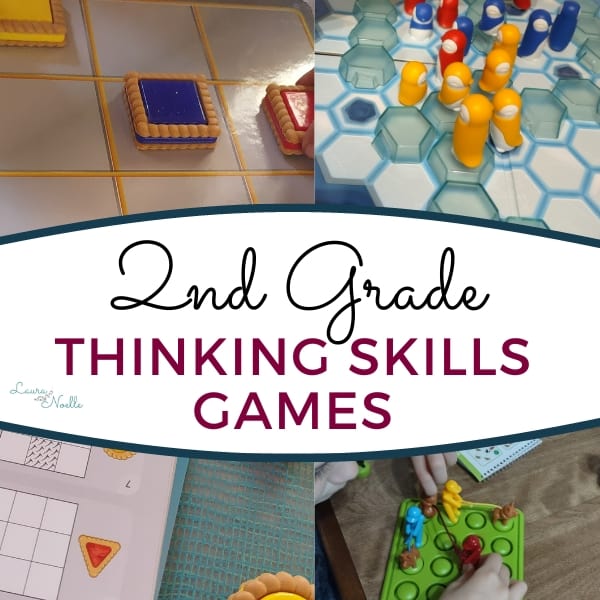 Final Thoughts on Thinking Skills Games
In our homeschool, I have Thinking Skills scheduled on Tuesdays and Thursdays. On Tuesdays, she does Smart Cookies by herself (and asks for help when she gets stuck), and then we play a game of Huddle Up later in the day. On Thursdays, she does her workbook, Critical and Creative 2, followed by a game of Walk the Dog. We always look forward to thinking skills days!
More Articles about Homeschooling: