Using the Time-In Toolkit: Teaching Emotional Regulation to Kids
This post may contain affiliate links, which means I may receive compensation if you make a purchase using one of these links.
A high pitch scream belts through the air, her little face red and tearful. "I don't like it!" She wails with emphatic passion before falling to the floor in a dramatic heap. It takes all my resolve to take a deep breath and remember that her overreaction to the simple task of brushing her teeth before bed is just a part of her early childhood emotional regulation learning.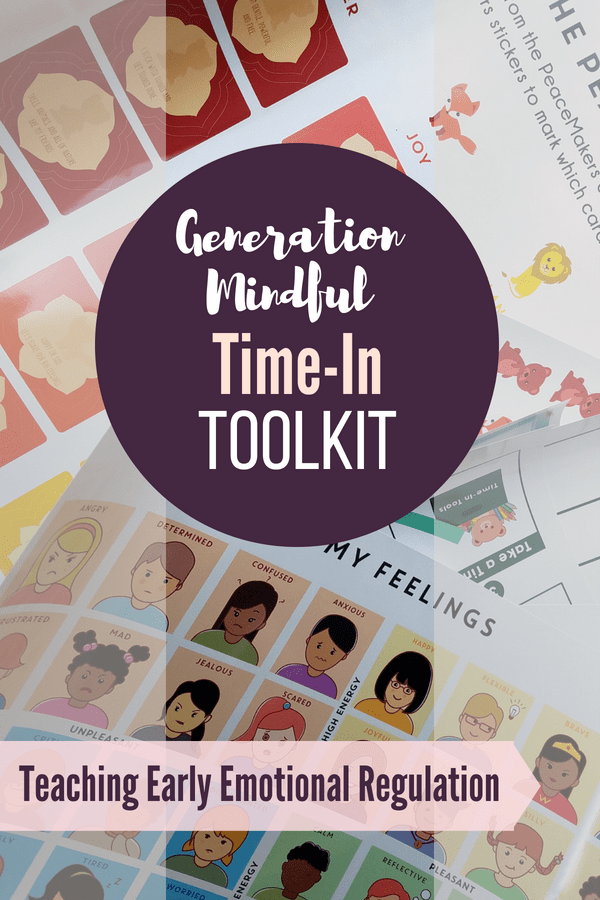 Yet, as any parent of a young child can attest, kids don't just suddenly learn how to handle their big emotions in appropriate ways, nor do they naturally integrate their innate worth and positive reactions (at least I didn't!).
My daughter's very explosive outbursts led me on a journey for social-emotional tools and I came across Generation Mindful, created by mom and teacher Suzanne Tucker. Her mission resonated with me as she's passionate about holistic health and positive parenting.
She created the Time-In Toolkit as a resource to help families create calming spaces, practice mindfulness, and model healthy ways to manage our bodies and emotions.
Tools for Regulation
While I'm a believer in natural consequences, the concept of timeouts never really made sense to me. Losing privileges that make sense, sure. A natural course of events can be a learning experience.
But for a young child who is inappropriately expressing emotions, the act of shaming, excluding or silencing them is not a learning experience. It just teaches them to stuff emotions and hold it all inside.
What does that do? It creates shame, blame, depression and anger. Been there, experienced that. Anyone else relate?
So what can we do instead? Equip children with emotional awareness, relational connection, words to communicate, and positive strategies they can choose from to help their bodies and minds calm down.
Using cute animals, colorful images, card games, and soul-feeding affirmations, the curriculum is designed for children to learn through hands-on play.
Unboxing the Time-In Toolkit was like a breath of relief and fresh air and I may have shed a tear or two of gratitude as I held these beautiful, inspiring and life-changing materials in my hands.
Often the education of our children is filled with rules, behavioral rewards and punishments, external motivators and the life-long idea that we must do certain things or be a certain way to be loved and accepted.
I have realized that one of the most damaging things I ever believed as a young adult was that I was NOT GOOD ENOUGH and I needed to CHANGE who I was to be LOVED. This is not true and our children need to learn this from a very early age.
Modeling healthy behaviors to our children, nurturing their emotional intelligence and letting them participate in making a record that learning has taken place can make a life-long difference.
What's In The Box
Creating A Calming Corner & Using Time-Ins digital manual & printables (emailed)
PeaceMakers Mindfulness Card Game
PeaceMakers Poster (20"x30") & Resealable Animal Stickers
My Calming Strategies Poster (20"x30")
Feeling Faces Poster (12"x16")
PeaceMakers Feel Emotions Poster (12"x16")
My Calming Corner Poster (8"x10")
Calming Corner Activity Mat (8"x10")
Calming Steps Poster (8"x10")
My Feelings Card Set
8 page printed Mini-Manual
32 sticky tabs to hang posters if you don't want to frame them
The posters are all rolled up together in your box, so it takes some time to unroll and flatten them. Though the kit comes with some foam wall mounting stickers, I would highly suggest framing the ones you want to utilize for functionality and visual appearance.
My Calming Corner
We are still working on creating our Calming Corner, but we got our posters into frames (not included in the kit). You can get frames from IKEA or a craft store.
I purchased two 20×28 poster frames from Michaels and trimmed 1 inch off each side of the large posters white space to make them fit–it worked great!
You also don't need to put up all the posters in one area–they can be spread around the home or simply pulled out as resources at specific times. Some of them have a lot of words on them, so we won't be putting those up right away as our daughter is only 3 years old. I chose image-heavy posters to start with!
The digital manual is very detailed and provides all the information you need to get started step by step. I chose to print it out (just under 100 pages including the printables), but it's easy to scroll through on a device as well.
How We Plan to Use The Time-In Toolkit
I purchased the Time-In Toolkit to be a resource for our family, but also to incorporate into our homeschool preschool. We will start slow, create a calming corner, start talking more about our emotions and looking daily at the PeaceMakers cards.
As my daughter grows, we'll add in more activities and deepen our discussions and learning. Many ideas for different ages are included in the digital manual, and I know I'll be flipping through it often as our learning builds.
I'm excited to help my daughter expand her emotional intelligence and learn that beyond happy, sad, scared and mad, there are more emotions we feel and healthy ways to express and process them.
For her to know that she is empowered to integrate those feelings and for our entire family to be more mindful of our emotions and how we express them.
No doubt, she won't be the only one learning from these materials!
To learn more about the Time-In Toolkit and Generation Mindful resources, click here.
Unboxing Video
WANT TO SAVE TIME-IN TOOLKIT: TEACHING EARLY EMOTIONAL REGULATION FOR LATER? PIN TO YOUR FAVORITE PINTEREST BOARD HERE: