Tangy Tangerine DIY Dish Soap
This post may contain affiliate links, which means I may receive compensation if you make a purchase using one of these links.
When simple, holistic living took me down the road to ditching harsh chemicals, I started to miss my scented products. I grew up on body spray, flavored lip gloss and candles. It was all about the scents. Getting into essential oils quickly replaced some of those things (diffusing, room sprays and perfume), but it's harder to get scented products just right.
I missed the yummy smelling laundry and dish soap, because, let's face it, castile soap just doesn't smell mouthwatering. I have to credit my husband for this particular scent discovery. In the past I've added Orange Essential Oil, but it just wasn't exactly what my nose wanted. Turns out, Tangerine is the perfect fit for us!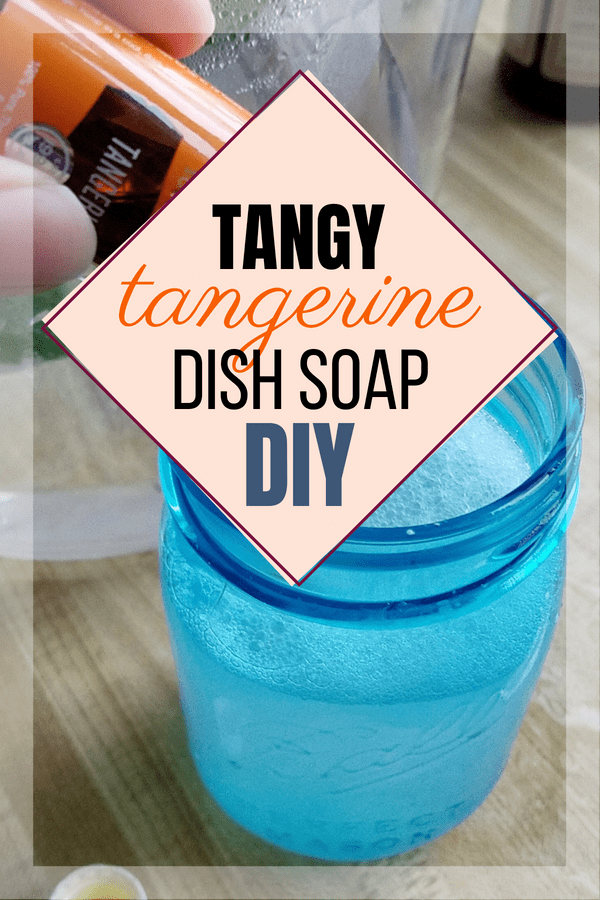 Washing Dishes Should be Fun
We don't have a dishwasher, and the cost of conventional dish soaps for hand washing can add up quickly, not to mention the undesirable ingredients they often have.
Years ago we ditched the toxins and switched to simple unscented castile soap diluted with purified water. It's easy to mix and I ended up buying castile soap by the gallon and sticking a pump top on the bottle for ease of use.
I've tried many essential oils for fragrance including Orange, Citrus Fresh and Lemon. While they are all nice scents, I wasn't totally in love until Tangerine!
I love my netted dishcloth from Norwex and use a simple Mason Jar for
mixing small amounts of dish soap for daily use.
Add 1-3 pumps of Castile Soap
How much soap you add depends on the size of your jar and how soapy you want your soap to be. Castile soap can be very drying to the hands, so if you're washing a lot of dishes as I do, you may need to experiment with using less soap in order to save your skin!
I typically use one full pump (about 1 oz of soap) for a 16oz jar of water.
Fill your jar with filtered or distilled water
Diluting your castile soap is important for cost-effectiveness and appropriate concentration. I use cold filtered water, but you may use distilled water or boiled and cooled water.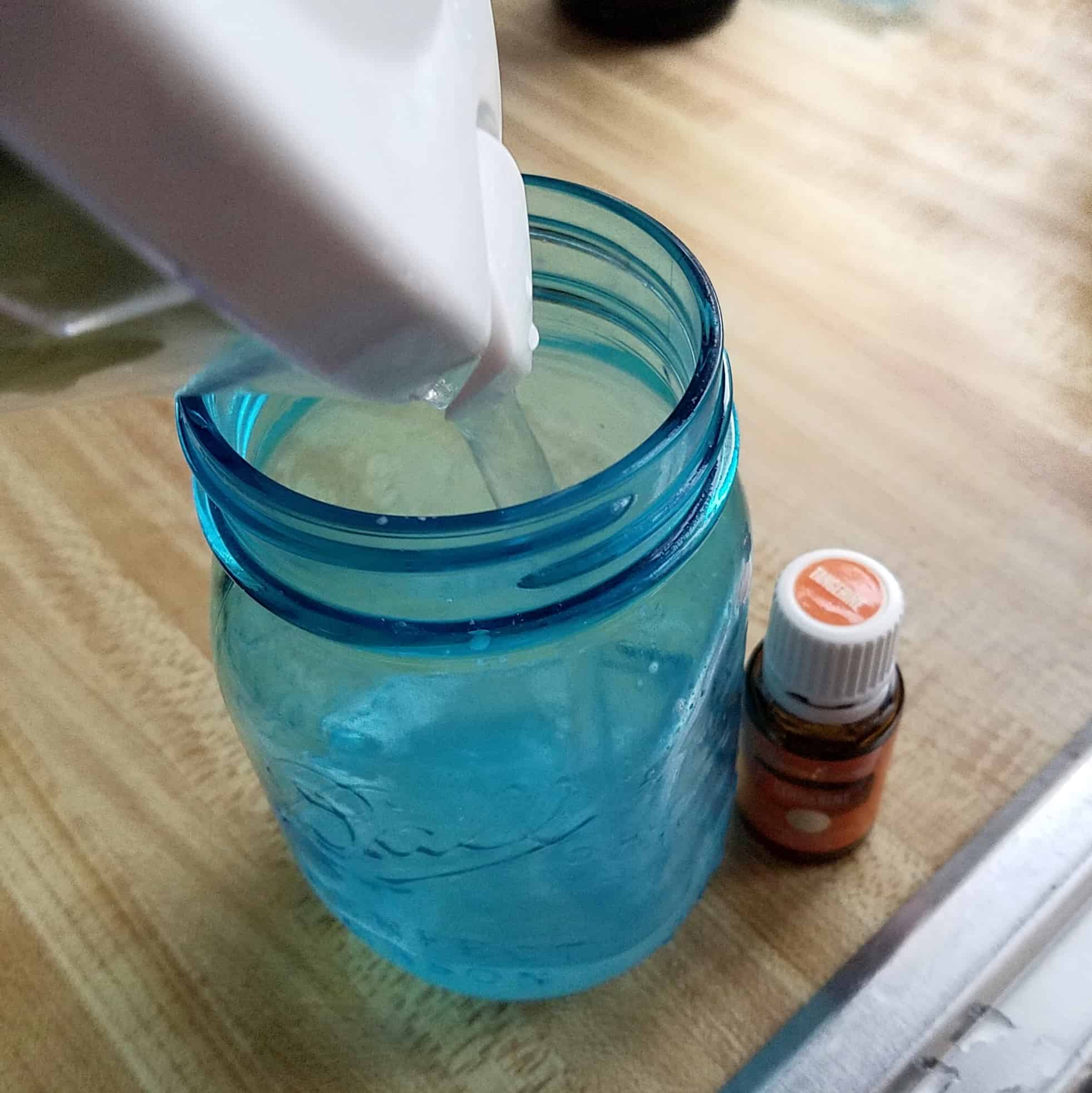 Use only pure essential oil without any added carrier oils or synthetics as those are dangerous to your health. I trust Young Living essential oils for our family. Usually 3-5 drops is perfect, though you can add more or less if your nose desires! Here's where we get ours.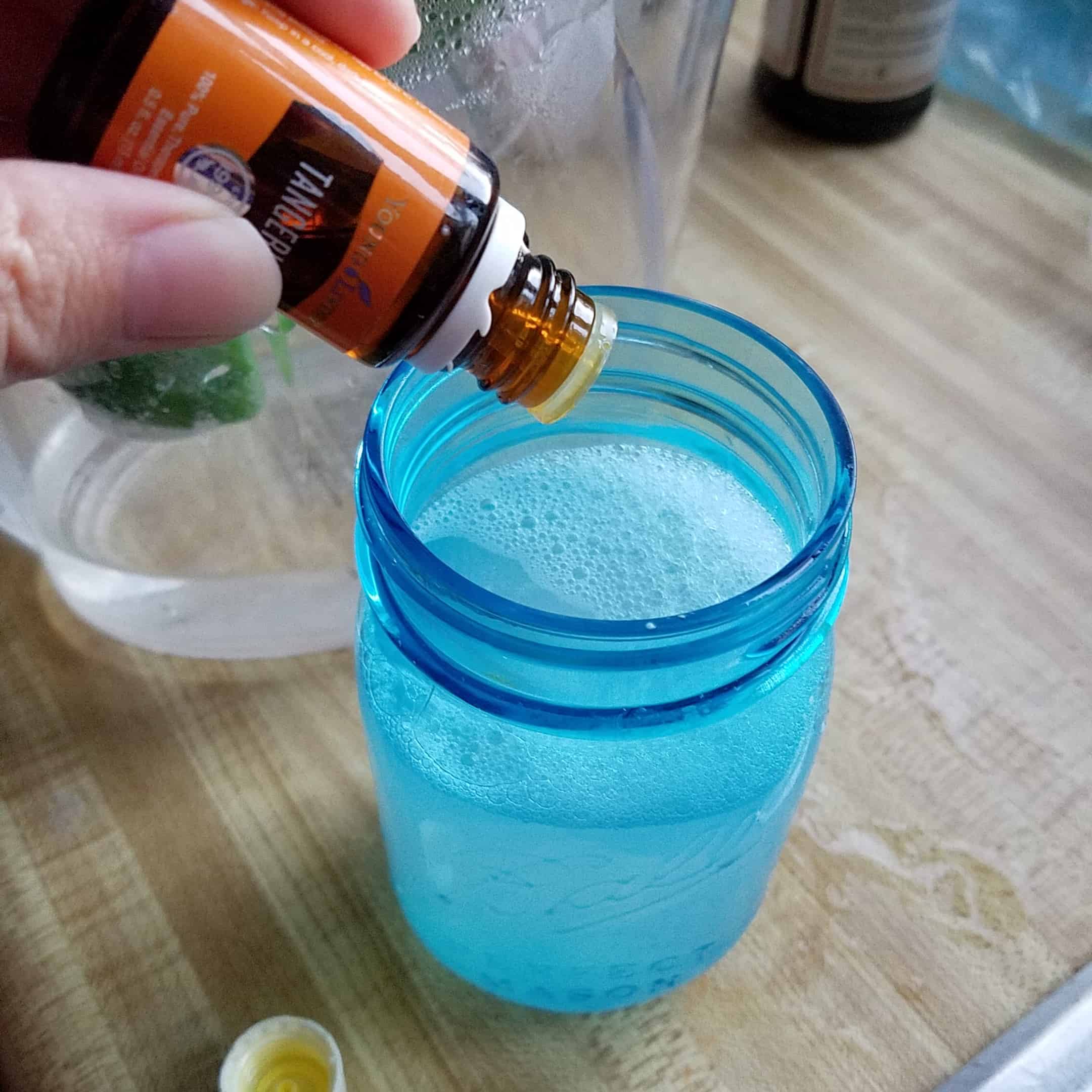 Swirl Gently & Use!
Swirl your jar gently to incorporate the oils and you're ready to get washing!
I have used soap pumps in the past from the craft store, but they broke quickly. Now I just dump a little into my dishwater or straight onto my dishcloth. Do what works for you!
I love that this dish soap can be quickly made in about a minute and smells absolutely delicious. Tangerine is an uplifting scent that inspires a positive outlook and keeps me feeling happy, even when the sink never seems to get empty!
WANT TO SAVE TANGY TANGERINE DIY DISH SOAP FOR LATER? PIN TO YOUR FAVORITE PINTEREST BOARD HERE: