Simple Home Office Organization
This post may contain affiliate links, which means I may receive compensation if you make a purchase using one of these links.
Nearly a year ago, we downsized and moved into a home with a beautiful loft space that instantly became my home office. I had the pivotal desk and cube organizer pieces from the start, but the rest of the organization fell by the wayside, or was continually destroyed by my toddler (momlife at its best…). So here we are, almost a year later and I'm so excited that my simple home office organization tour is complete!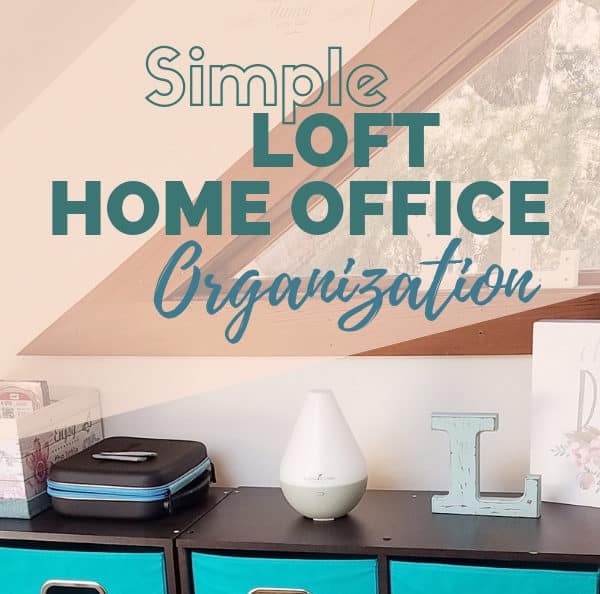 First off, most people comment on the fact that I have two desks in my office (wait…that's not minimal!). While it's certainly not necessary to have both, one is used as a small computer desk and the other as an open work-desk.
It also has to be noted that while I adore the large skylight over my computer desk, the sun shines straight down onto that desk, making work impossible most hours of the day. So…it's nice to have a work-desk out of the sun too!
My computer desk is a second hand piece that I adore and houses the basic supplies–pens, sharpies, highlighters, office supplies and electronics. When I have hours of computer work to do, my Stiner office chair is basic, but comfortable.
The work-desk is made from the Michaels' Recollections Cube Storage and holds more supplies like a paper cutter, postal scale, hole punches, stapler, extra office supplies, organza and plastic bags, postcards and cards, and other papers I still need to clean out (seriously, it's a job that never ends!).
There is a small 3 cube bookshelf on the floor that holds some of my most used reference books, personal development and business books, and two file bins–one for my business papers and one for my daughter's homeschool papers and curriculum.
The 9 cube organizers are the highlight of my office–filled with all my essential oil supplies: containers, books, roller balls, diffuser jewelry materials, etc. I've tried many different ways to store these business supplies and finally settled on the fabric bins in aqua and grey.
Of course, a diffuser is a must for the office and all the invigorating scents like Clarity, Envision, and GeneYus that help me focus and be productive!
The final wall of the office holds my sewing table, passed down from my grandmother's home. This is also my filming wall with botanical wall decals by Roommates, my exercise ball (doubles as a chair when I need to bounce around a little), and my Halo Ring Light for filming videos.
There is also a large white board against the wall when I need to do some large scale drawing and planning.
I feel like my office is in line with simple living, especially in regards to homeschooling and my home businesses. There is, of course, more decluttering that can happen, and will continue over the years!
See the Video Tour Here:
WANT TO SAVE SIMPLE HOME OFFICE ORGANIZATION FOR LATER? PIN TO YOUR FAVORITE PINTEREST BOARD HERE: