DIY Fairy Garden || Inspiring Creativity and Imagination in Kids
This post may contain affiliate links, which means I may receive compensation if you make a purchase using one of these links.
Inspiring imagination and creativity in kids is as simple as combining the endless possibilities of nature with the magical power of story props. Here's how to create a simple DIY Fairy Garden with your kids for creative play!
Children are born with the incredible power of imagination, but as they grow, that natural inclination starts to fade. As parents and caretakers, we hold the privilege of nurturing or stifling a child's imagination and wonder. In a tech-obsessed world, the importance of getting outside and playing is monumental–and it's simpler than you think!
Childhood should be magical, but I think there's a huge difference between magic created by adults and magic created by children.
In fact, I am personally convinced that when adults create the magic on a regular basis, a child's inner magic begins to fade.
This is a big part of why our family is anti-elf on the shelf. Sure, it's fun for the kids, but there's little left to the child's imagination when the adult creates the entire scene. This may not be true for every family, however, so if your family enjoys elf on the shelf, by all means–carry on!
That being said, the most powerful imagination, creativity, and wonder in a child's life comes from inside the child. Not from television. Not from movies. And not from you. If you're tired of making life magical for your child–this is your permission to stop!
Making Magic vs. Facilitating Story
While I encourage you to stop making the magic for your child, I do advocate that you facilitate storytelling and imagination. Providing your child with books, art supplies, a natural canvas, and creative props. These props can vary from pieces of nature–sticks, rocks, wood–to art materials like clay, or to store-bought simple items. That part is up to you and what your family's definition of simple is.
Instead of creating the story for your child, you're opening the door and letting them explore, create, and innovate. Younger children sometimes need a little help in explaining what props are and what they can represent, but after a while, their imagination will kick in.
An older child who is used to having a screen imagine for them may also have difficulty creating from a blank canvas, but give them space to be bored and their imagination muscle will improve over time.
Collecting Story Props
Our first fairy garden was small and simple, which worked well for my two-year-old daughter. She loved making the fairy fly around and her stories grew as the days went on. Every year now we have the opportunity to explore new mediums and grow the fairy garden as she wants to.
Store Bought Props
We got our first set of fairies and accessories on clearance from Big Lots and Michaels Craft Store. This worked out well since my daughter was not the most gentle at two years old and kept dropping the fairies, breaking off legs and wings. (It's important to note that these store-bought props are not toys and must be used with adult supervision). This year I think we'll be going the DIY route!
DIY Fairy Props
For children three and up, a fun option could be to use air-dry clay to mold their own fairies, houses, and accessories like tables and chairs. You can paint dried clay and use a waterproof sealant to preserve them.
It's fun to do an activity with your child, but also to allow them full creative control over how the materials end up looking.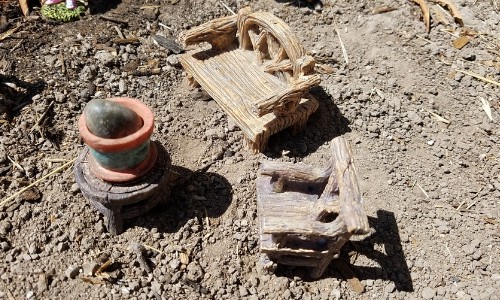 Setting Up Stories
After you collect your fairy props, find a place in your yard that has some open space. It might be dirt, rocks, grass or near a garden. Assist your child in setting up the pieces, but if they're older, observe how they desire to set up the space first.

Fairies in the Garden
A great place for a fairy garden is in plants and flower gardens. Consider creating a children's garden bed or butterfly garden with child-friendly plants, herbs, and flowers like Lavender, Sunflowers, and Basil. Invigorate their sense of sight, touch, and smell with textures, colors and natural fragrance.
Fairies love to hide and fly through flowers and children will enjoy incorporating the storytelling canvas of nature with their fairy props.
Final Thoughts on DIY Fairy Gardens
Help your children enjoy the outdoors with creative and imaginative play by creating a simple, DIY fairy garden with them. Not only does it build an appreciation for visual beauty through decoration, but it also sets the stage for creating stories and engaging play in nature's playground.
Related Articles on Kid's Activities
WANT TO SAVE DIY Fairy Garden || Inspiring Creativity and Imagination in Kids FOR LATER? PIN TO YOUR FAVORITE PINTEREST BOARD HERE: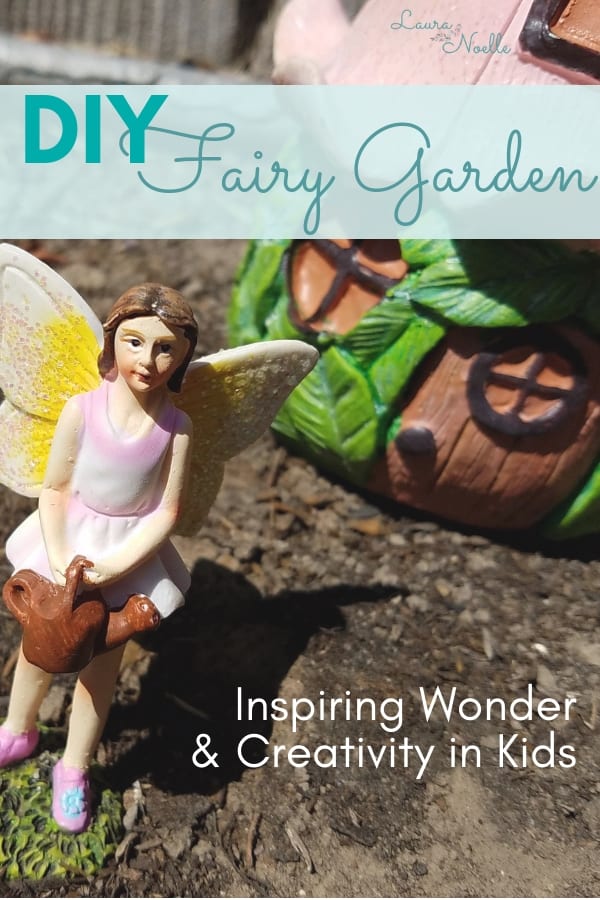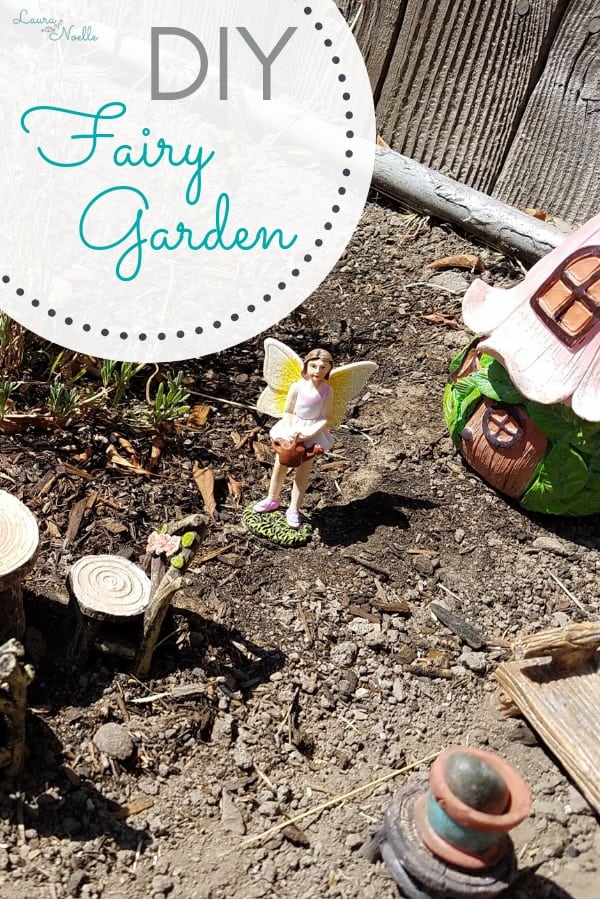 DIY Fairy Garden || Inspiring Creativity and Imagination in Kids