Minimalist Sand and Water Toys for Infants and Toddlers
This post may contain affiliate links, which means I may receive compensation if you make a purchase using one of these links.
Parenting with an emphasis on simplicity and minimalist living offers quite a few challenges, especially when it comes to kids' toys! There are just so many. Everywhere. All the time.
It's enough to give anyone a headache! (Oh wait, is that just me?!)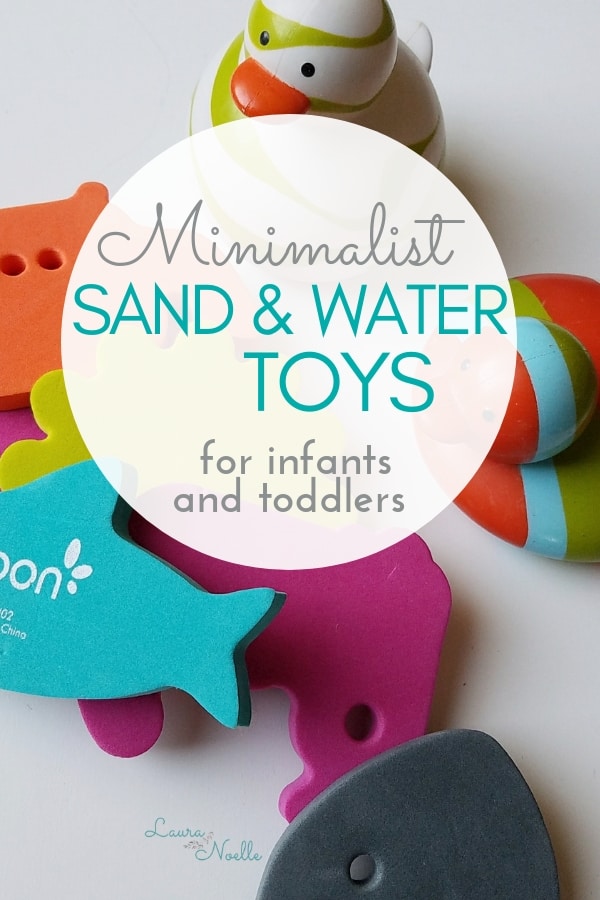 When I was pregnant with Maddie I began to research non-toxic, classic bath toys because I just couldn't feel comfortable with the plastic rubber ducks and traditional foam and plastic toys I was seeing everywhere. I found a few brands that offer some great durable and multifunctional toys, which I'd later come to appreciate even more!
My 5 Multi-Functional Favorites
Sand, Water, Bath
Maddie and I are huge fans of the Hape Beach Toy set. Made of BPA free plastic to European standards (Hape is a German company and European standards for chemicals are currently much more strict than the United States), I feel completely safe with my toddler handling these.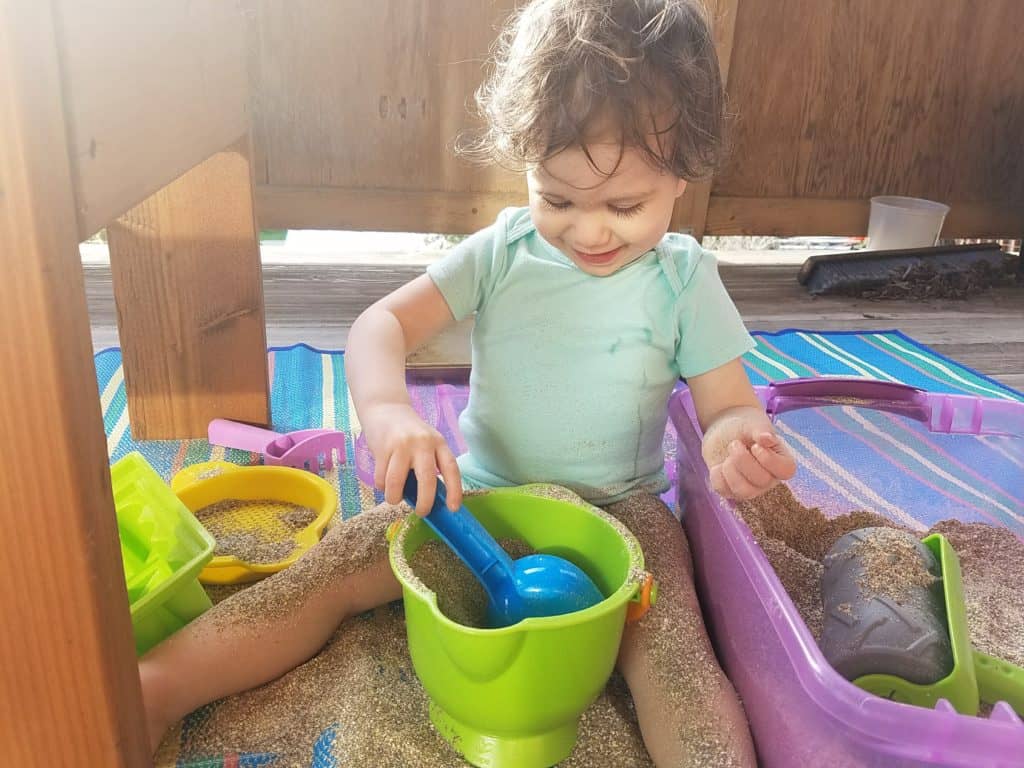 They are incredibly durable and after a year of use (and sitting outside in the sand table rain and shine) ours are still in excellent condition. The bucket is Maddie's favorite to carry around, but she is also a huge fan of the shovel!
Sand, Water, Bath
A good set of non-toxic stacking cups is a must-have if you're looking for multi-functional toys. My one word of caution here is make sure they are truly non-toxic, not just any set from the dollar store.
Cheap plastic often hides numerous toxins and stacking cups are very often mouthed by infants and toddlers so this matters!
The set we have is made by B Toys and I got it on clearance at Target years ago. I couldn't find it online but I highly recommend the alternative brand Green Toys here. Maddie loves to scoop, pour, and stack with these cups. Definitely worth the investment to get a good set!
Sand, Water, Bath
In my research, I found the brand Boon and was instantly impressed. All their toys are BPA free, Phthalate free and PVC free–all big deals to me. The unique designs of their toys make them appealing to kiddos of all ages, and they are versatile as well.
We had the whole 5 piece set of stacking boats, but since we already had stacking cups and I wanted to cut the clutter, I ended up keeping one and giving away the rest.
Maddie loves to pour water from the boat and also let the water sprinkle from the holes. I have Boon to thank for some of Maddie's early words being "boat" and "duck" =)

Water, Bath
Rubber ducks are often full of all kinds of icky things–toxic plastic and holes that let water in and encourage mold, so I was very hesitant to let any into our home. But Boon Odd Ducks waddled their way into my heart.
Not only are they made with safe plastic like all Boon products, but they are completely sealed so no water can get in. They are durable and very cute too!
Maddie adores each one of her set of 4 and has been known to even take one or two to bed with her. One of her favorite words is "duck". Yep, they're that precious to her!
Bath
Another favorite of ours are Boon Bath Appliques. We have the Dive set (see above with the ducks picture), but I can't currently find that set online. Appliques are fun as you get them wet, then stick them to the bath or shower walls. Maddie loves the ocean animals we have, but I also have admired the puzzles and more advanced designs Boon offers.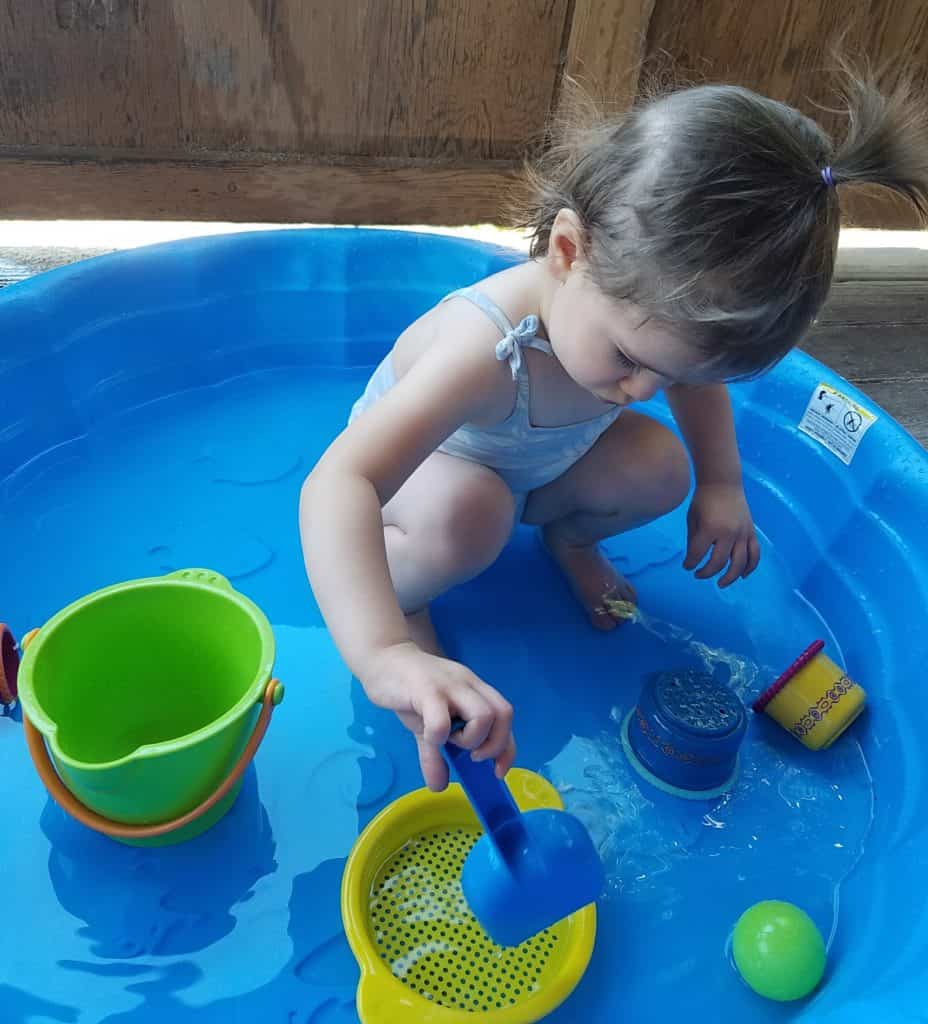 We have a few other sand toys (track roller and sand mold by Hape), this is pretty much our entire collection that we use for the bath, water play and sand play. It keeps Maddie occupied and creative, but not overwhelmed with too many options.
I call it perfect for her in this toddler stage!
What are your favorite infant and toddler bath, sand and water toys? Let me know in the comments!