The Goal Crushing Planner that Changed My Life
This post may contain affiliate links, which means I may receive compensation if you make a purchase using one of these links.
Does this sound familiar? You spy a new planner and it's so pretty–your favorite colors, snazzy modern features, stickers to go with it. Oh it's perfect. You bring it home, fill out the first week and then it sits. Under a pile of papers, bills, kids' homework. Maybe you use it to keep track of important dates, and maybe you don't (oops). But regardless, that planner you fell in love with certainly wasn't the goal crushing planner you dreamed of!
I'm a picky planner person. I have expectations for my planners–they need to have certain colors, details, worksheets and serve a purpose–getting my life in order! In my search for the perfect planner, I've used a large stack of them over the years, and I was always disappointed that they weren't moving my life in a forward motion. Until now.
I stumbled onto the Living Well Planner last year, and thought it must be too good to be true. So, in true frugal fashion, I avoided buying the physical planner and instead purchased the printable downloads and printed them myself–sizing, cutting, and hole punching into my Carpe Diem planner binder.
The best thing about my DIY Frankenplanner was customizing exactly what I wanted–I added all kinds of fun pages that I thought I needed. Only to find out, 8 months later, most months, those pages remained empty. I still love them, but let's face it, I'm super busy and I don't prioritize spending hours perfecting my planner (if you do–that's totally okay!).
So I finally broke down, and in my hands I now hold the physical Living Well Planner. Using it has shown me the reason that Ruth Soukup, a busy mom, and entrepreneur who created this fantastic resource, made it exactly the way she did.
It's all you need, with none of the fluff you don't. Many bloggers and entrepreneurs have also thrown out their separate blog/work planners and do it all in one planner now. I'm in the process of doing that myself.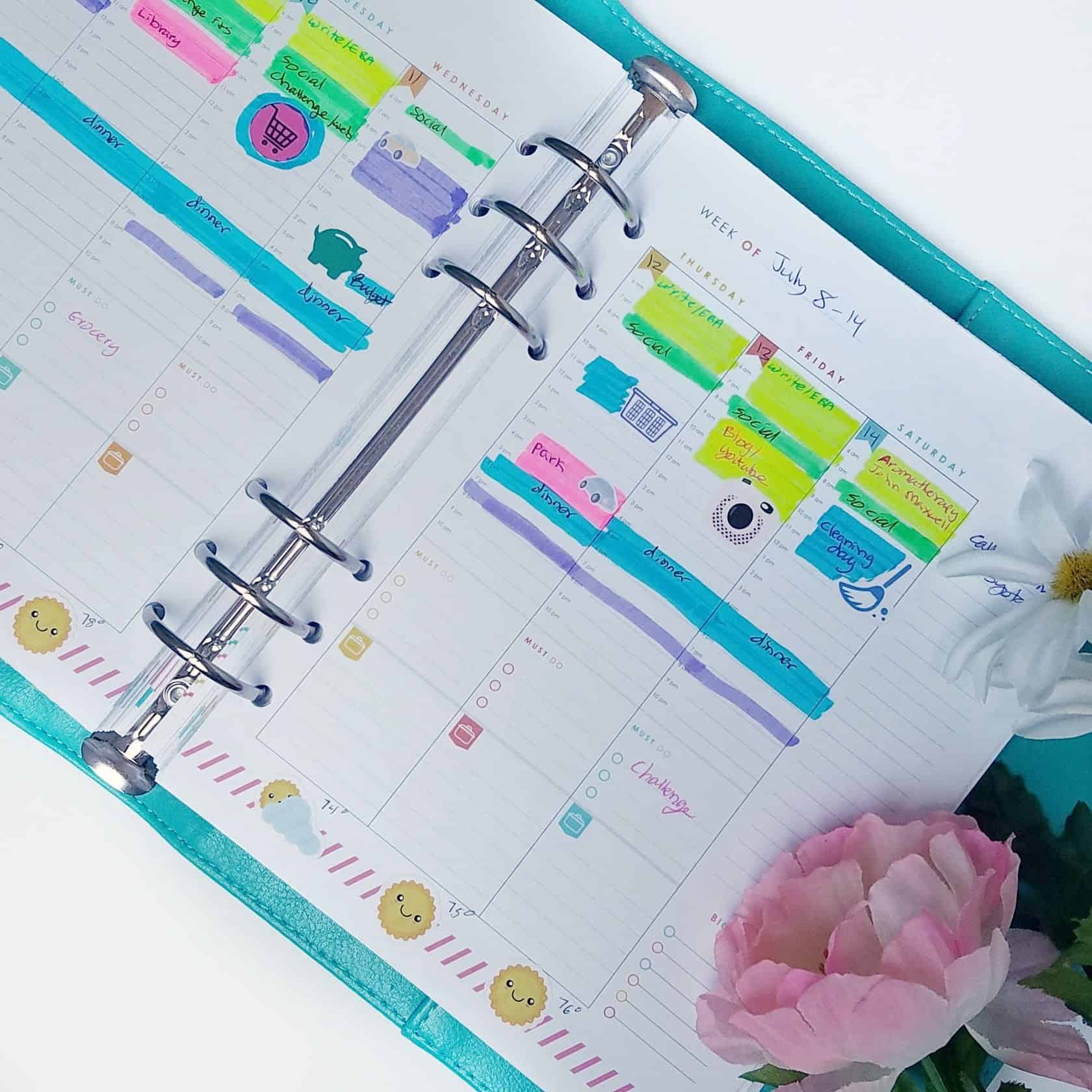 When a planner isn't working for me, I default to using it simply as a calendar, and in the digital age, that's a huge waste of money and resources. A planner should work for you, maximizing your output with minimal effort!
I lost my previous planner for 6 months, and didn't even think to look for it (gasp)
I wrote appointment times and dates on the monthly calendar spread, and STILL missed appointments (not kidding–one day my sister had to remind me via Facebook Messaging that I had a doctor's appointment in 10 minutes. I was still in my pajamas… Embarrassing!)
I started menu plans, blog planners, business planners… And ditched them all in a matter of weeks.
I hadn't written down any goals for my life in years.
In January, I began lists of dream life-long goals for six areas: Personal Growth, Fun, Health, Home, Finance, and Friends/Family.
I narrowed in on 3 major goals I wanted to accomplish this year (so huge)
Using the monthly Goal Crushing & Project Planning worksheets to map it out into monthly goal steps, one annual goal has already been met, and I'm daily getting closer to the others!
I started time blocking my days for more balanced work/family time with the Weekly Planning spread that also tracks my top 3 to-dos each day and has a space for meal planning
My Favorite Features
The Living Well Planner isn't magic–it does still require that you use it daily (full confession, I've still lost it under a pile of papers a time or two, but I'm more motivated to find it now!). Compared to the planners of my past, I think there are some really neat features that make this a goal crushing planner and set it apart from the rest.
Undated, start any time set-up
Long Term Goal Planning
Monthly Goal Planning
Goal Crushing & Project Planning Pages
Monthly Calendar Spread with customizable Monday or Sunday start
Weekly Spread for time blocking, top 3 must-dos, and meal planning
Monthly Budget pages
Monthly Expenses and Financial Goal Sheet
Monthly Thoughts & Thanks Gratitude Log
Cleaning Schedule Planning Sheet
Crushing It Central Digital e-Course Access

Design & Setup
There are two cover options, multicolor stripes or floral, and both are filled with full color inspiring quotes, fun colorful accents and plenty of room for doodles and stickers, if that's your thing! It's undated, so you can customize and start any month of the year with 12 full months of pages. There are stickers in the back to label your tabs and have a little fun.
Simply put, this year I've been more focused, determined, scheduled and productive. Every day isn't perfect of course, but it's the little things–the baby steps–that lead to overall goal achievement.
Without a specific (and short) list of important action items, our days will be filled with all the tedious tasks of life… cooking, cleaning, errands… And while these things are necessary to a degree, we often put them first, meaning our big goals for life never even get started.
The concept of a goal crushing planner is to make sure that we do something on our big goals first, before all the little time suckers take over.
The carefully designed pages of the Living Well Planner guide a cluttered and stressed mind to focus and clarity, and gratitude. I've learned to celebrate the little successes each day, which gives me more motivation to keep working tomorrow. I'm more present with my family because I'm not worrying about the million things I think I need to do.
I'm more grateful for the blessings I have all around me!
Crushing It Central
Did your planner come with a productivity course? Mine didn't! A huge bonus that comes with the Living Well Planner is access to Crushing It Central – a website filled with videos, printables, resources and access to an exclusive Facebook community.
Designed to take you step by step through customizing and getting your planner set up, mapping your goals, time blocking, meal planning and more, the yearly, monthly and weekly training is absolutely invaluable.
To live your best life, it takes intention. It takes dreaming and planning. And none of this happens by itself. I had to learn this the hard way! The videos and instruction in Crushing it Central are so valuable to me.
I love that Ruth gives us permission to get our new planners messy and ditch perfection (ouch, that's a hard one!). She walks you through every single step so there is ZERO excuses for letting a blank planner sit unused on the shelf. Did you hear me?! ZERO excuses!
Who Will Love It
I strongly believe that most moms, entrepreneurs, homeschoolers and dreamers will love the Living Well Planner. If you've struggled in the past to be consistent with a planner or reaching (and identifying) your goals, this could absolutely be life changing!
Crushing it Central will hand-hold the setup of your planner and get your started thinking about your dreams and goals (not your kids or your spouse or your neighbor).
You'll get excited as you see your giant audacious goals being broken down into do-able monthly, weekly and daily tasks. You'll think about ways to prioritize, accomplish and celebrate those goals and create a life you love. This. Is. Monumental!
Who Won't Love It
If your current planner meets all your needs and you love it–stick with it! Maybe you like the fluid blank pages of a bullet journal or composition book (go you!). The Living Well Planner has quite a bit of structure.
It's a framework that guides you to goal crushing for the busy, time-crunched woman. If you're gifted in designing your life and achieving your goals then you're already set and this planner won't change that.
The brand new 2018 edition has some lovely upgrades and I am absolutely loving it! You can see my full unboxing of the new planner here.
What's your favorite planner? Has it been everything you thought it would be?
WANT TO SAVE THE GOAL CRUSHING PLANNER THAT CHANGED MY LIFE FOR LATER? PIN TO YOUR FAVORITE PINTEREST BOARD HERE: