Here and There: learn about people here, there and everywhere || Social Studies Book Review
This post may contain affiliate links, which means I may receive compensation if you make a purchase using one of these links.
Social studies for early elementary (Kindergarten-3rd grade) is all about giving your child small tastes of what the world is like for other people.
Exploring diversity is an eye-opening experience that helps children appreciate the similarities and differences they have with other people. Books like Here & There are perfect for young students to explore the world around them.
A special thanks to Timberdoodle Co. for graciously sending us a discounted copy of Here & There in exchange for our honest review.
Here, There & Everywhere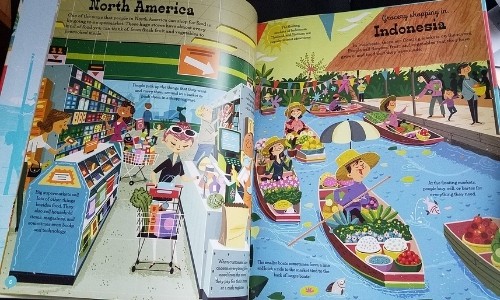 Here and There is 47 pages of full-color illustrations packed with dynamic information about cultures around the world. Published by Kane Miller and distributed by Usborne books, this high quality hardcover book will become a valued part of your homeschool or family library.
The publisher recommends this book for ages 7+, but it is included in the Timberdoodle Kindergarten Kit as an introduction to social studies.
Young children may not grasp all the information presented, but the pictures will spark conversations and engagement on an individual level. This book can absolutely be used across the elementary school years for various grade levels.
There are 11 categories included in Here & There, with 4-page spreads: grocery shopping, outdoor play, traveling to school, eating healthy, chores, celebrating the New Year, exercising, nature, festivals, transportation, and looking through a window.
What We Thought
There are many ways you can read this book with your kindergarten or early elementary student(s). Some children may have the attention span to sit through a reading of the entire book, but it may be more vaulable to pick one 4 page topic each week or month and focus in on that. Aside from reading about the topic, like grocery shopping, chores, or festivals, it would be fun to create extension activities where the family does that activity together and creates a dialogue around it. (Not a requirement of course, but a fun option!)
As I read through the pages with my kindergartener, she enjoyed looking at the pictures and asking questions, but didn't always understand the information I was reading. This is to be expected with younger children, and I assume that the more we read it together, the more she will begin to grasp different nuggets of information.
Parents should be aware that there are mentions of cultural celebrations and festivals which mention religious practices or beliefs, such as Day of the Dead in Mexico, Jewish Passover, and Christmas. However, in my opinion, they are tastefully presented and can spark further conversations in your family about your own beliefs and values.
Final Thoughts on Here & There
We are enjoying Here & There as a part of our social studies this year and look forward to reading it in future years as well.
Here and There is a part of the Timberdoodle Kindergarten Kit, and can also be purchased seperately here.
Related Homeschooling Content
Want to save for later? Pin to your favorite Pinterest board here: