Little Pilgrim's Big Journey Book & Coloring Book Review
This post may contain affiliate links, which means I may receive compensation if you make a purchase using one of these links.
Have you wanted to introduce your young children to classic Christian literature in an age-appropriate way? Introducing a beautifully illustrated adaptation made especially for little ones. Here's what we thought.
Little Pilgrim's Big Journey is a classic book recommended for ages 3-6. The companion Coloring Book is recommended for ages 3+.
A special thanks to Timberdoodle Co. for graciously sending us a complimentary copy of Little Pilgrim's Big Journey and Coloring Book in exchange for our honest review.
Overview
Pilgrim's Progress is a classic work of Christian literature, penned by John Bunyan in 1678. The original book is beautifully written, but also full of difficult language that is challenging to understand. Little Pilgrim's Big Journey is an adaptation for young children written by Tyler Van Halteren with stunning illustrations by Beatriz Mello.
The book has 224 fully illustrated pages with thick glossy paper and a beautiful cloth hardcover. There are special pages that introduce who John Bunyan was, what allegory is, and how to apply the lessons of the story to our own walk with God.
The story is broken into 10 easy-to-read chapters. After each chapter is a summary page that goes over the allegory elements of that chapter and features 2 comprehension/discussion questions. At the end of the book, there are also more questions for each chapter to help understand and apply the lessons.
The companion coloring book features 72 pages of sketch-like drawings for children to color in. The pictures match some of the illustrations in the storybook, with a few from each chapter.
The Story
Little Pilgrim's Big Journey features the allegorical story of our walk with God from belief to heaven by telling the story of Christian, a little boy on a pilgrimage from the City of Destruction to the Celestial City. The tale begins with Christian carrying an immense burden on his back and a hope that the King can save him from destruction.
As he sets out on the narrow path, he meets many people, both friends and foes. There is danger and peril, and rest and release. He journeys to the cross where he is set free from his burden. Along the way, he makes mistakes and wonders if the King will still love him, but he's encouraged by wise guidance. In the end, he and a friend make it to the Celestial City and are embraced by the King, in a true picture of how God forgives and accepts us even after we make mistakes.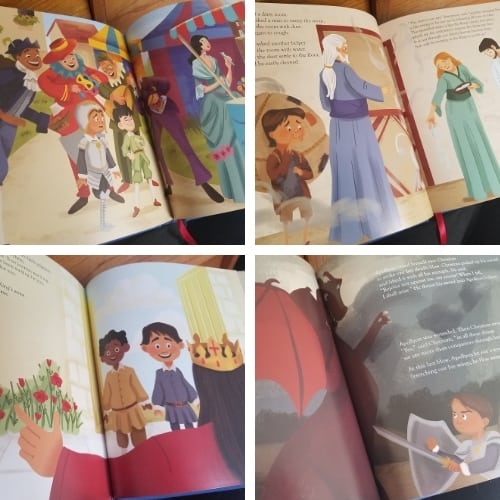 Children will be enthralled with the adventure and illustrations of this little pilgrim's journey as he makes friends, fights a dragon, is imprisoned, and faces impossible odds to seek the truth.
What We Thought
I remember my mom reading the original Pilgrim's Progess text to me as an elementary student and much of it was hard to understand and grasp. Yet, the journey will always be impressed on my mind. For years I've wanted to find a children's version to read to my daughter. When I saw this newly released book, I had to give it a try!
While recommended for ages 3-6, I will point out that some of the words are still large and difficult to understand for young children (think "formalist", "hypocrisy", "delectable", etc). While reading, I stopped to explain these words to my 5.5-year-old, but sometimes she still looked at me with glossy eyes. So many of the words in the story are "Christian" words that as an adult I take for granted, but she has never heard.
With that in mind, I plan to re-read this book to her so that her understanding can deepen, our conversations can broaden, and she can more fully grasp the meaning behind it. I also think that this book would be appropriate for older children, at least until age 8, and perhaps beyond.
However, regardless of the big words, the story itself is very easy for children to follow and understand. What most young children struggle with is comprehending what "allegory" is. At the beginning of the book the author wrote out an explanation of how the story has a deeper meaning and explores biblical truthes as we go through the Christian life.
Depending on how spiritual your family is, your child may or may not be very familiar with these concepts, and it may take more conversation and examples to help them grasp it. We absolutely loved the summary pages after each chapter as a quick review of what the allegory represented in that chapter and how it could be applied to life. The discussion questions were very helpful as well and my daughter was eager to answer them and talk more about what it meant.
My initial goal was to read one chapter a day for 10 days, but my daughter begged for chapter after chapter and we ended up finishing it in about 4 days. While I read, she colored a picture in the coloring book. Since the reading is fairly quick, she only colored about 12 of the 68 pictures in the coloring book, so it will last for several readings through the book, or for multiple children.
It really amazed me as we discussed each chapter that she really was starting to grasp the concept that Jesus died for our sins, rose again, and offers us eternal life in heaven, regardless of our shortcomings. The conversations were precious, and truly the best part of reading this book together. We eagerly await the upcoming release of the Part II book about Christina's journey to the Celestial City.
Final Thoughts
Teaching our children about God can feel intimidating, but stories and tools make it a little easier. The story and discussion in Little Pilgrim's Big Journey help young children to understand God's great plan for our lives and that life may not be easy, but He will be with us each step of the way.
This book would be a great inclusion to a homeschool Bible class, as well as a wonderful addition to every family's personal library.
Little Pilgrim's Big Journey is available from Timberdoodle Co, in addition to the companion Coloring Book.
Related Homeschooling Content:
Little Pilgrim's Big Journey Book & Coloring Book Review