Language Arts for Toddlers || Tiny Tots Kit Review
This post may contain affiliate links, which means I may receive compensation if you make a purchase using one of these links.
As toddlers learn to speak, they put together their whole framework of language, comprehension, and analysis. From silly songs to fun stories to seek and find, these books help little ones develop their word skills.
Timberdoodle curriculum kits base infant and toddler language arts on the concepts of talking, reading, singing, and signing with your baby. The Birth to 2 Tiny Tots Kit comes with a large library of books to engage your child with music, movement, laughter, and conversation.
A special thanks to Timberdoodle Company for sponsoring this homeschool series of posts by graciously sending us this complimentary curriculum kit to see what we think. All opinions are our own!
Baby Babble Books
The baby babble books are designed to help little ones turn their early language skills (babbling!) into speaking new words. With touch-and-feel and lift-the-flap elements on each page, toddlers will interact with the pictures while you read the words and encourage them to repeat the new word.
The Timberdoodle kit comes with the "Bb!" and "Ck!" sound books. Each word in the corresponding book begins with that sound, laying a familiar foundation with repetition and practice. We love reading these books and discovering the coat in the closet and the baby under the blanket. Such surprises delight babies and toddlers. My little one screeches with joy when he sees his face in the mirror on the page or finds a baby behind the flap.
I love that these books are sturdy board books and were carefully crafted to incorporate kinesthetic, visual, and auditory sensory experiences. It truly makes learning fun!
Very First Book of Things to Spot &
Very First Book of Things to Spot at Home
I've used Usborne Things to Spot books with my older child, and knew these Very First Books of Things to Spot would also be hits!
Very First Book of Things to Spot features 28 thick cardboard pages of brightly illustrated animals, people, vehicles, plants, and more. Each page asks several questions about things to seek and find in the pictures. Some pages have peek-through cut-out holes for added texture and sensory input as well.
Similarly, Very First Book of Things to Spot at Home shows different rooms in a home, meal time, laundry, cooking, playing outdoors, and getting dressed. The questions range from finding colors, objects, counting, and other elements of visual perception like height and size.
The Timberdoodle handbook suggests reading from one of these books at least once a week. Initiating a conversation with your toddler, asking them questions, and helping them find the answers will assist with language comprehension and so much more.
Don't Tickle the Tiger!
An absolute favorite in our family for the little and bigger kids, Usborne's touch-feel-hear book Don't Tickle the Tiger! roars and makes animal sounds when you tickle the animal on each page! With auditory, visual, and tactile input, this book is a winner for little ones (and big ones–my seven-year-old loves it too).
The last page of the book is especially a hoot as a whole animal orchestra breaks out in song when you press the button. I can't think of a more attractive way to get little one's interested in reading and loving books!
The Timberdoodle handbook suggests reading this book as a part of your regular reading rotation. Because it includes touch-and-feel, it also doubles as a sensory experience!
A to Z: An Alphabet of Animals
The A-Z Board Book is an interactive way to teach letters to toddlers with lift-the-flaps on every page. Beginning language skills require toddlers to start associating letters with sounds and objects, and help them to build their vocabulary too!
A fun and curious animal is under each flap, encouraging toddlers to work on their motor skills and literacy at the same time. I love that the animals are a variety of simple (lion, owl, dog), and also more complex (urchin, narwhal, iguana).
The Timberdoodle handbook suggests reading this book often in your daily reading rotation.
Ditty Bird Song Books
If remembering all the words to kid's songs isn't your jam, you'll love the novelty of the Ditty Bird board books! And even if you are a kid's song connoisseur, you'll probably still adore the catchy tunes with a press of a button. We've been reading, listening, and singing along since my baby was born, but toddlers will really get into the groove!
Music can play a key role in helping little ones to pick up complex language skills faster. Each Ditty Bird book features 6 short songs, activated by a button on each page, and accompanied by a fun illustration.
Ditty Bird Children's Songs has classics like "The Wheels on the Bus" and "Head, Shoulders, Knees and Toes". Ditty Bird Learning Songs has counting and learning songs like "One, Two, Buckle My Shoe" and "Ten in the Bed.
The Timberdoodle handbook suggests making these books a regular part of your reading routine. Remember that they are so much more than just literacy, but also music appreciation, rhythm and rhyme, and cause and effect learning.
Final Thoughts on Language Arts for Toddlers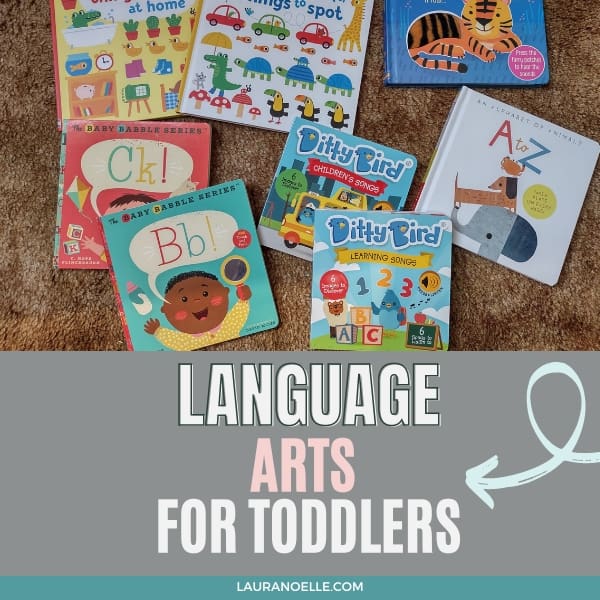 Toddlers are beginning to speak words and make language associations with you and others, so reading and talking daily will have a monumental effect on their growth. Incorporating music and tactile input adds extra benefits of sensory and memory integration for learning.
You can see the entire Birth to Two Timberdoodle kit here.
Related Articles about Homeschooling
Want to save Language Arts for Toddlers || Timberdoodle Tiny Tots Kit Review for later? Pin to your favorite Pinterest board here: