Emotional Intelligence for Kindergarten || Timberdoodle Elite Kit Review
This post may contain affiliate links, which means I may receive compensation if you make a purchase using one of these links.
Big emotions are often more than young children can handle, and sometimes as parents, we get overwhelmed with it all too. Timberdoodle values emotional intelligence, and here's what we thought about the materials provided in the Kindergarten Elite Kit.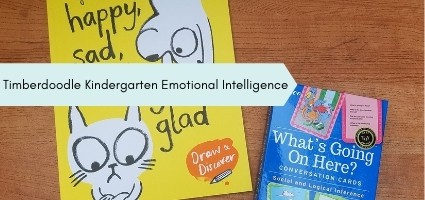 Emotional Intelligence is key to every child's healthy development. We want our children to be able to identify and express their own emotions in an appropriate and healthy manner, but we also want them to be able to interpret and understand other people's emotions. It's the basis of all human relationships and social awareness.
And just like so many areas of life, children aren't naturally aware of what their emotions are or how to deal with them. It's something that must be taught and developed in them. There are many wonderful books and resources available, and Timberdoodle carefully chooses a few great tools for each of their curriculum kits from infants through kindergarten.
Timberdoodle's Kindergarten Elite kit (you can see the whole kit here) has 2 materials provided for Emotional Intelligence–a drawing/doodle book, and conversation cards.
A special thanks to Timberdoodle Company for sponsoring this homeschool series of posts by graciously sending us this complimentary curriculum kit to see what we think. All opinions are our own!
Happy, Sad, Feeling Glad
The Timberdoodle K Handbook suggests completing 1-2 pages a week.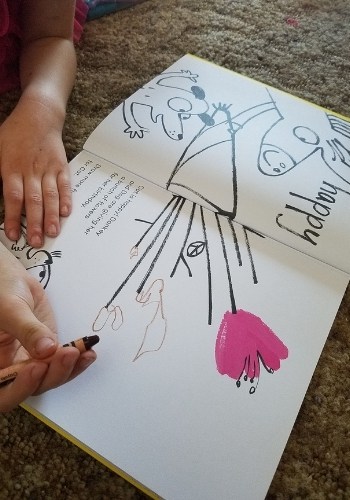 When I first saw that so many doodle books were included in the kindergarten kit, I immediately thought it was too many, and assumed some could be skipped. However, I then stumbled upon some articles that touted the benefits of doodling for children (and adults), and these days it's widely spread that doodling is in fact an important part of learning literacy. Immediately, I was thrilled with all the doodle books this year!
My daughter was also very excited with the doodle books. She loves art, drawing, coloring, and painting. She regularly brings me pictures she has drawn on her own that are all sorts of creative. That being said, she does struggle in one area–performance anxiety. When asked to draw a particular thing, whether it's a flower or an animal, she recoils with a wail "I don't know how to draw that–you do it!"
As a parent, this is frustrating. "Just try it, draw it however you want!" More whining and wailing. I get it though. A blank canvas is scary. What if you mess up? Someone is watching you! Perfectionism runs deep in our family, so I'm ready to tackle this now with her in any way possible.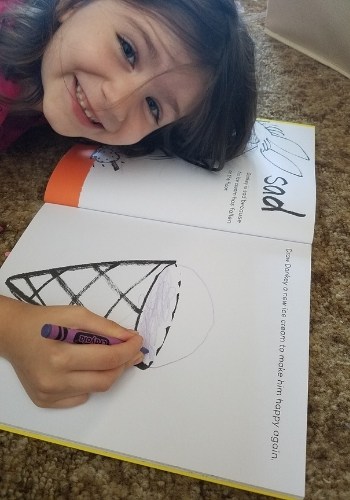 Happy, Sad, Feeling Glad has one thing in our favor — there is always a "starter picture" that the text asks you to add something to. On the first few pages, I had to reassure her and show her how she could add to the picture and enhance it. That she wasn't going to mess it up, it was going to look awesome no matter what she drew.
We had to talk through it, but eventually, she did make some artistic attempts. It took some guidance, but things are improving.
I like that the book offers cute illustrations that can double as more coloring opportunities if the child wishes, but also are fine without being colored in.
When we open a new page I ask my daughter to tell me what she sees happening on the page, and what emotion she thinks they are expressing. Seeing her correctly identify the emotion based on the facial expressions of the animals led to good conversations about what the emotion is and how it is shown. But even if a child is unfamiliar with an emotion from the picture alone, the words on the page that you read aloud clearly tell what is happening in the story and open the door for conversation.
The book begins with basic emotions like happy, sad, and excited, but it also covers more complex emotions like guilty, jealous, cranky, curious, proud, startled, cheerful, and miserable. The fun animal characters start the story situation, but the student is given the opportunity to finish it. Whether it's decorating a cake, imagining what scares the critters, or solving problems like drawing friends for a lonely creature or new clothes for an embarrassed pup, I feel like this book is filled with clever and creative ways to learn and talk about emotions and social situations.
You can find Happy, Sad, Feeling Glad here.
What's Going on Here? Conversation Cards
The Timberdoodle K Handbook suggests discussing 1-2 cards each week.
Teaching emotional intelligence is a combination of real-life learning, and learning from stories and conversations. My daughter and I both enjoyed the "What's Going On Here?" conversation cards, designed by the women-owned company Eeboo, with the goal of teaching social and logical inference in children of all ages.
The box is filled with 2 teacher instruction cards and 50 story flashcards. I handed my daughter one card and asked her the first question "tell me what's going on here?". After she narrated what she saw, I flipped the card over and asked her the rest of the questions written on the back. Each card features 3 additional questions specific to the story and characters on the card, such as "what is the bunny saying?" or "what do you think the cat will do?".
The questions vary, but they center around why certain animals are acting the way they are in the picture and what the characters are saying, feeling, and thinking, as well as what the child thinks they may do next. By looking at social clues (facial expressions, body posture and movements, story setting and actions), the student is challenged to think logically and critically about what may be happening and how the scene can play out–appropriately or inappropriately.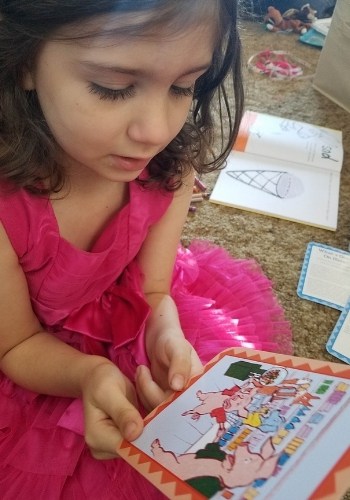 My daughter was so excited about these cards. She loves to talk so it's no surprise that "conversation cards" are a hit! And unlike most academics where there are defined "right" or "wrong" answers, emotional intelligence offers a vast gray area of interpretation and problem solving. It provides the perfect opportunity to discuss different actions and outcomes, all the while gaining insight into what your child thinks and feels about things.
You can even take it one step further and ask your child if they have ever felt those emotions or been in a similar situation. These kinds of conversations encourage empathy and understanding, for both the adult and child!
You can find What's Going on Here? Conversation Cards here.
FINAL THOUGHTS ON KINDERGARTEN EMOTIONAL INTELLIGENCE
The value of talking about emotions and teaching young children about various social situations cannot be understated. Using fun animals and common social situations like fighting over a toy, throwing a tantrum in the store, winning or losing a game, feeling left out, making a mistake, helping a friend or showing love to family members, "What's Going on Here" conversation cards create a dialogue about important feelings that happen throughout life.
It's more than just naming feelings–it's learning to emphathize with others and build solid relationships. In the end, those are some of the most important skills a child will ever learn!
Related Articles on Homeschooling
Want to save Emotional Intelligence for Kindergarten || Timberdoodle Elite Kit Review for later?
Pin to your favorite Pinterest Board here!