A Maternity to Nursing Wardrobe with PinkBlush Maternity
This post may contain affiliate links, which means I may receive compensation if you make a purchase using one of these links.
Maternity clothes have always caught my eye, even before I was pregnant. I love the different styles and ways to show off the bump and hide (or accentuate) all the changing our bodies do as we go through these months of quite literally–massive growth!
I'm a fan of multi-functional wardrobes and sometimes, what fits early in pregnancy, doesn't really work so well at the end! This means you have to shop smart, looking specifically for styles that will grow with your body and be flattering at pretty much any stage of the bump.
One of my favorite stores to accomplish this at is PinkBlush Maternity. I've browsed their online boutique quite a few times, and they so generously offered to send me some complimentary outfits to style. Since I'm 36 weeks along now, there were a few things I was looking for in these clothes.
First, I needed something that would accommodate my giant belly these last few weeks. And second, I really wanted outfits that would transition nicely from maternity to nursing clothes. Nursing clothes are an even smaller market than maternity clothes, though you might end up wearing them for a longer period of time.
I found PinkBlush to have a very nice selection of nursing dresses and tops that can be styled to fashionably hide post-baby pooch and still deliver a chic and comfortable design.
The first outfit I chose was one of their gorgeous maternity/nursing maxi dresses. The Aqua Neon Floral Draped 3/4 Sleeve Maternity Maxi Dress caught my eye immediately on the website, though I must say I was a little surprised to see that it photographs in slightly different color tones than it is in person.
While bright (it does say neon!), I found this dress to be super comfortable, flowy, stretchy and very accommodating for a huge bump, post-baby pooch and potential nursing.
Some of my favorite features: floral print, a sash that can be tied in front, side or back, discrete overlapping on the chest (no plunging neckline!), and nearly to the floor length.
PinkBlush's selection of maxi dresses is truly impressive–there are endless colors, prints, lengths and styles! Perfect for every season.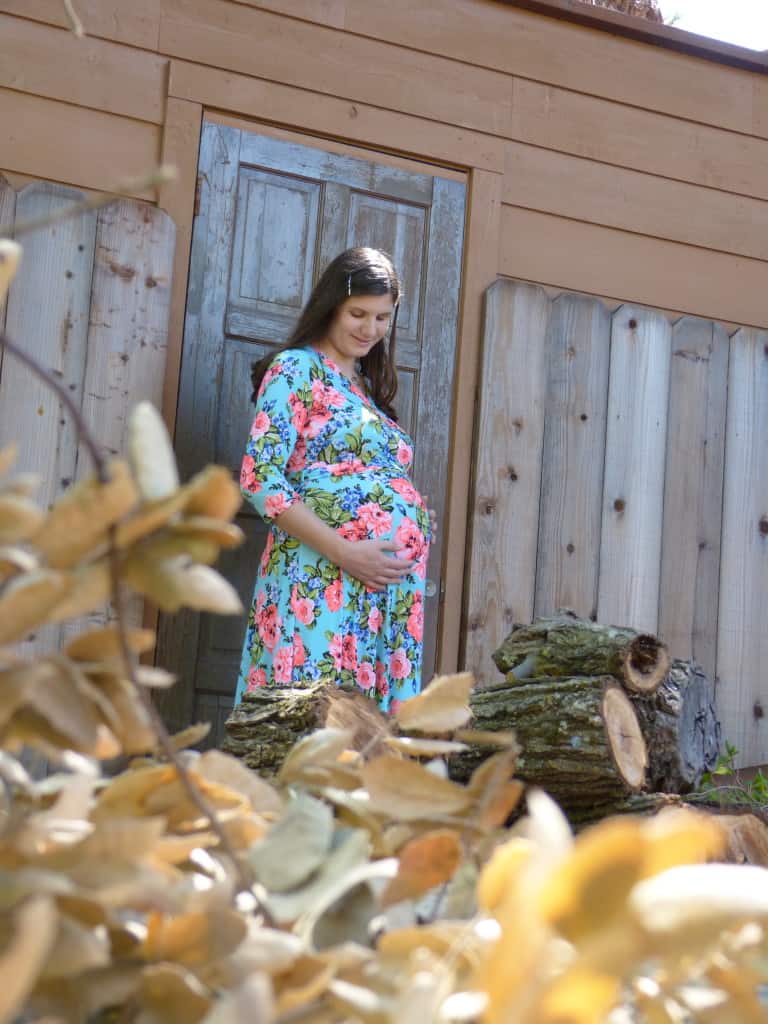 The second piece I chose was the Navy Blue Floral Draped Maternity/Nursing Top which is perfect for summer and also would pair nicely with a sweater for fall/winter. I love how light and airy this top is and how loose it fits over a giant end of pregnancy belly!
As the name depicts, this top truly has an elegant drape over the belly or pooch and easy nursing access. An attached bow adds an element of chic style.
The final outfit piece pairs perfectly with the top–Blue Basic Maternity Skinny Jeans. For most of my pregnancy, I've avoided maternity pants because they can be difficult to fit in appropriately. I was nervous to see if the size chart on the website would really fit me and I was completely amazed!
This is the first pair of skinny jeans I've ever been able to fit into, maternity or not! They are super stretchy, soft, full panel (love!) and basically just fit like a dream. Is it weird to say that they fit like butter?! I am truly a fan of these pants!
I love that PinkBlush offers clothing for women in all stages of life–women's clothes at www.shoppinkblush.com and maternity and nursing clothes at www.pinkblushmaternity.com. In my experience, PinkBlush offers impeccable style and quality clothing and I highly recommend them!
Check out the video review here:

Thanks to PinkBlush Maternity for sponsoring this post!
maternity clothes, maternity dresses, maternity boutique, maternity maxi dress, pinkblush maternity